Dear SAM: A Love Letter From a Summer Intern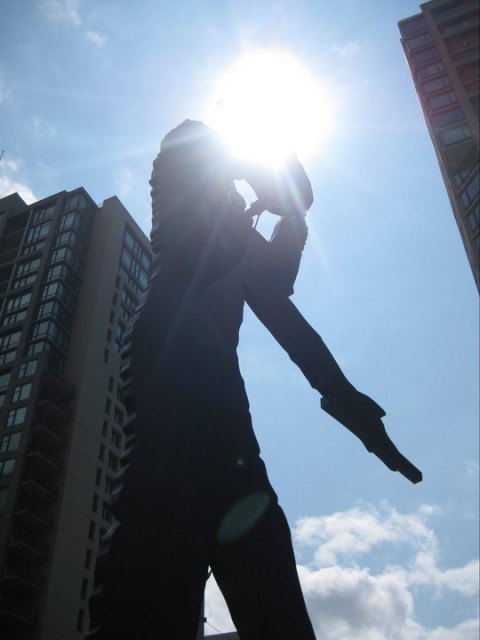 Dear SAM,
I usually begin letters more eloquently than this. There's usually a smooth intro, a "how do you do," a nifty tidbit about my life. But brutal honesty is all that's coming to mind now and I think we're now close enough for that. So here it goes: I am going to miss you immensely. And here's why…
After spending Christmas break at home and having a great time with friends, family, in Athens, Georgia, I realized I needed to do something mentally and creatively stimulating with my summer. This could take many forms I thought, so I started thinking of what I was studying, what interested me most, and what I wanted to know more about. Now, I could nerd-out with you for hours-days!-on my interests, questions, and ideas about museums—you've seen me do it many times (thank you colleagues and librarian Traci) so I'll keep it short here: I wanted to know how museums' contextualization of different cultures, specifically African, influence people's perceptions about these cultures, their art and histories, and their current issues. I also wanted to know how a museum functions, survives, and thrives as an organ in the body of a society and what cells (departments) contribute to its functionality and public role. So I started applying to summer internships at a variety of museums.
When you called and asked if I would be interested in working in your Communications Division (I still and will always remember that phone call, Calandra), I was utterly enthused and kind of shocked. After listening to the job description, I said yes to the opportunity and started counting down the days.
Arriving in Seattle at 20-years-old was also a thrill. I was born in Seattle and left at age 5 for Austin, Texas, then Athens, Georgia, and then Amherst, Massachusetts where I attend Hampshire College. I was in Seattle almost every summer after moving, but visiting a place with your family predetermines a lot of your time and experiences in a place. I was excited to have the coincidental opportunity to connect with my Northwest roots and develop a more intricate understanding of Seattle, its pockets and residents, and the Northwest region of the country.  And this summer I think I have a done a pretty decent job of that with regular visits to Ballard, the U-District, Fremont, Capitol Hill, and the list continues on…
When I arrived, Beauty & Bounty: American Art in an Age of Exploration was about to open and it became a regular feature in my internship. Although I don't have a specific affection for most 19th-century, American art Beauty & Bounty revolutionized my understanding of arts' importance, showing me a knowledge of history can enrich artwork more than the work alone. Already SAM was influencing my understanding of museums and their exhibitions, and my work in Communications and Public Relations deepened those understandings with everything we had to do to promote the exhibition.
There were press releases to draft, media kits to compile, projects to develop, meetings and viewings to arrange, and conversations to be had. All of these tasks sharpened my writing, organizational, and analytical skills but more interestingly, I had to learn Communications'/PR's role and how it works, how it contextualizes museum exhibitions and the museum to the public. I was learning how to portray an exhibition to varied and specific audiences and how to use promotional techniques to develop effective projects to advertise exhibitions and get people into the museum to see them.
For example, we developed Beauty Shot Fridays, a project asking SAM's Facebook fans to submit photos to a weekly, Beauty & Bounty/Reclaimed-related question. We uploaded submissions on Facebook at the end of every week. Sometimes we would offer free tickets to cool events to the best submission. Once we were even approached by MiiR, a Seattle-based water bottle company, to collaborate together in a joint-promo via Beauty Shot Fridays. Every week I'd help develop a question, post it, upload submissions, send out thank-you's, and write a blog post pertaining to a selection of submissions. I feel incredibly lucky to have been given access to a Communications skillset, a "here's how you do [insert here] in Communications and PR."
There were other projects too. I was asked to interview Mika Tajima, SAMNext's current featured artist. That was an awesome experience and not just because I got to talk to her about her work and interests, but also because I was trusted to develop interesting and appropriate questions and obtain useable material for promotional uses. That was a highly rewarding experience. Check out the video here: Two Minutes With Mika Tajima
I attended meetings about campaign design and organization and gleaned a lot of knowledge from those experiences:  the purpose of a campaign, what questions to ask, how to make it effective, and how to coordinate designers with curators with public relations with social media. The layers of my internship kept growing and my mind and ideas kept expanding. Every day I learned something new and no day was dull or ordinary. I woke up every morning anticipating another day at SAM's Communications Division.
So SAM, tomorrow morning is going to feel weird and off-kilter. I will undoubtedly jump out of bed at 7am, ready for another day of work-related adventures at your Watermark offices, only to realize it's no longer an internship day… People have been asking me what I will do with my last week in Seattle. I should be focusing on what I will be doing. But at this moment, it's hard to be thinking of anything but what I won't be doing: drafting, brainstorming, emailing, collaborating with an awesome group of people, receiving/delivering everything from Get Out bags to notes to your sisters Seattle Asian Art Museum and Olympic Sculpture Park, and passing time in your hallways of paintings, masks, and sculptures.
SAM, I very much fell in love with your Communications Division: their projects, their positivity, their "common goal" attitude, their creativity and out-of-the-box ideas. Each member contributed to a wonderful experience working in you, whether it was Calandra asking me what projects I wanted to do or Madeline showing me how to effectively use this blog and your Facebook page, Cindy showing me how to use research tools like SurveyMonkey or Stephanie telling me about awesome local art events and off-the-wall films. Everyone contributed to an amazing experience here. I had a most ideal internship with you and absolutely loved it. I'm grateful and appreciative for the opportunity, the engaging work I was given to do, the incredible people I was able to meet—even if for only a conversation, and, most of all, for the mentors I hope to be continually inspired and challenged by. So SAM, thank you for a mindblowing and meaningful experience and enriching summer. I hope I see you again in my future and that we can stay in touch. Upon my Wednesday departure, there will be a small, SAM-shaped hole in my heart. Thank you and best wishes!
Top photo: My Internship Backyard Sculpture and Daily Companion