An Entrancing Music of Pakistan and India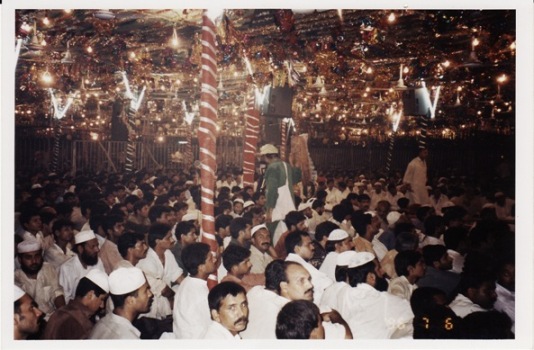 Those who went to the Meany Hall concert of Pakistani musician Ustad Nusrat Fateh Ali Khan in 1993 will still remember the thrill of hearing his voice and his group—with the audience dancing, and dollar bills being thrown onto the stage! It was a taste of the power of qawwali, the musical tradition of Sufis in Pakistan and India.
Nusrat Fateh Ali Khan became insanely popular outside of Pakistan, mostly due to his amazing voice and partly through his projects with Peter Gabriel and later, Eddie Vedder of Pearl Jam. He was the first musician in the "world music" category to make the Top Ten, and almost the first citizen of Pakistan to be given a visa to travel in India. A few weeks ago, the 50 Great Voices series on All Things Considered devoted a segment to him; you can hear it at http://www.npr.org/templates/story/story.php?storyId=123973589
But there is much more to qawwali than the superstar life of Nusrat. Mysticism, its history in bringing people together across divides, people travelling great distances to shrines of Sufi saints for commemorations with singing that goes on all night . . . Even this one photo suggests the life of qawwali outside the concert hall, among a gathering of Sufis.
Lorraine Sakata speaks at SAAM on April 10 as part of the Saturday University series, on "Qawwali: From Sufi Ritual Music to World Pop." Prof. Sakata brought Nusrat to Seattle for a year as artist-in-residence in the School of Music at the University of Washington. Even more to the point, she has done fieldwork in Pakistan over the past 23 years. For details:
http://www.seattleartmuseum.org/calendar/eventDetail.asp?eventID=18631&month=3&day=10&year=2010&sxID=&WHEN=&sxTitle=
Sarah Loudon
Gardner Center for Asian Art and Ideas
Photo: Tom Sakata