Object of the Week: Moon Jar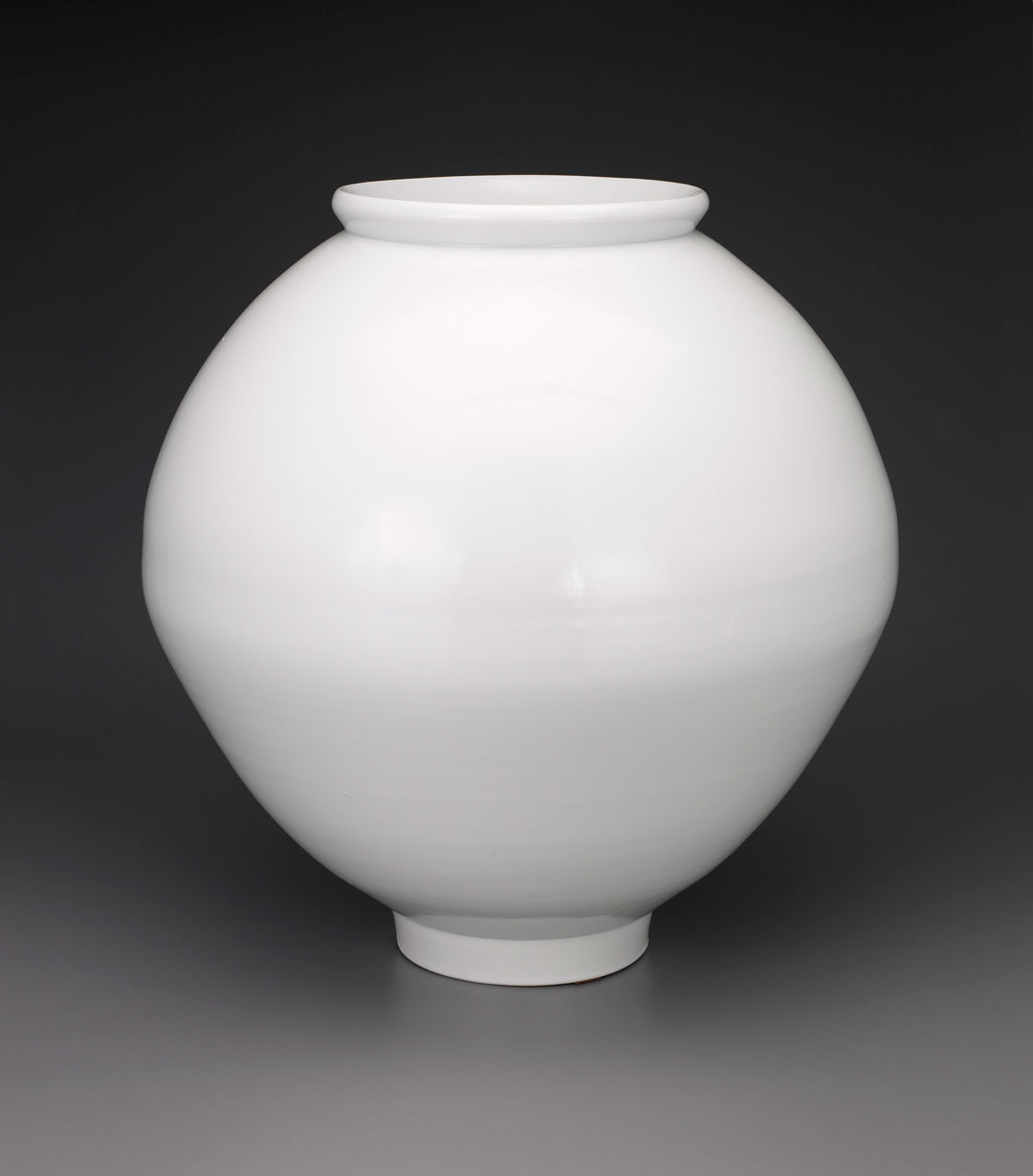 In honor of Women's History Month, Object of the Week will—throughout the month of March—highlight works by women artists in the SAM Collection.
Though its surface appears to be seamless, Park Young-sook's Moon Jar is actually made from joining two halves in the heat of the kiln. The process dates back to the Choson period (1392–1910) in Korea, when spherical porcelain moon jars decorated the imperial court and the homes of the nobility. In alignment with the Choson royalty's Confucian practices, the simplicity of these jars symbolized purity and austerity.[1] Through integrating the techniques of this period, Park has created her own moon jars, which infuse the traditional ceramic form with her own contemporary artistic vision.
In addition to referencing imperial tradition, Moon Jar also reflects Park's upbringing. She grew up near Bulguksa, a historic Buddhist temple. "If you dig just inches into the ground, the earth was full of ancient ceramics," she discusses in a 2016 interview. "Bulguksa was my childhood playground. As a child, I'd explore all the ancient histories that surrounded me, which had an enormous impact on who I was to become."[2] While studying those histories and experimenting with materials as an emerging ceramicist, she connected with mentors in the field. She cites their guidance as essential to the creation of her world-renowned moon jars.
Though Park honors the Choson vessels of the past, Moon Jar is not an exact recreation. She spent years developing her practice and choice of materials in order to produce jars that are more elongated with thinner walls. Drawn from specific deposits to produce the desired white hue of her jars, the clay she uses takes six to 10 years to mature. She is also highly attentive to conditions in the kiln, monitoring aspects such as air flow and variations in temperature. Owning and operating her own kiln since 1982, Park has carefully perfected her methods.
However, she speaks frankly about the precarious undertaking of creating a single moon jar, even when everything is done correctly. Nine out of ten jars will not survive in the high temperatures of the kiln due to splitting or collapsing. As a finished product, Moon Jar appears effortless in its resemblance to the full moon. Though unseen, the immense amount of labor and history that undergirds the work only adds to its luminosity. This work is not currently on view but it will be exhibited when the Seattle Asian Art Museum reopens in late 2019.
– Yaoyao Liu, Museum Educator
[1] Lee, Soyoung, "In Pursuit of White: Porcelain in the Joseon Dynasty, 1392–1910," Heilbrunn Timeline of Art History, October 2004, http://www.metmuseum.org/toah/hd/chpo/hd_chpo.htm.
[2] Kim, Hong Nam. "A Conversation With the Artist Young Sook Park in Her Studio, A White Porcelain Story," July 29, 2016, http://www.yspceramicart.com/interview/2016/7/29/u8ic37xwa0djfi2qvct8jic2hs51h6.
Image: Moon Jar, 2007, Park Young-sook, porcelain with clear glaze, 20 x 19 1/2in., Gift of Frank S. Bayley III, in honor of the 75th Anniversary of the Seattle Art Museum, 2007.86 © Young Sook Park