Object of the Week: Woman's Kimono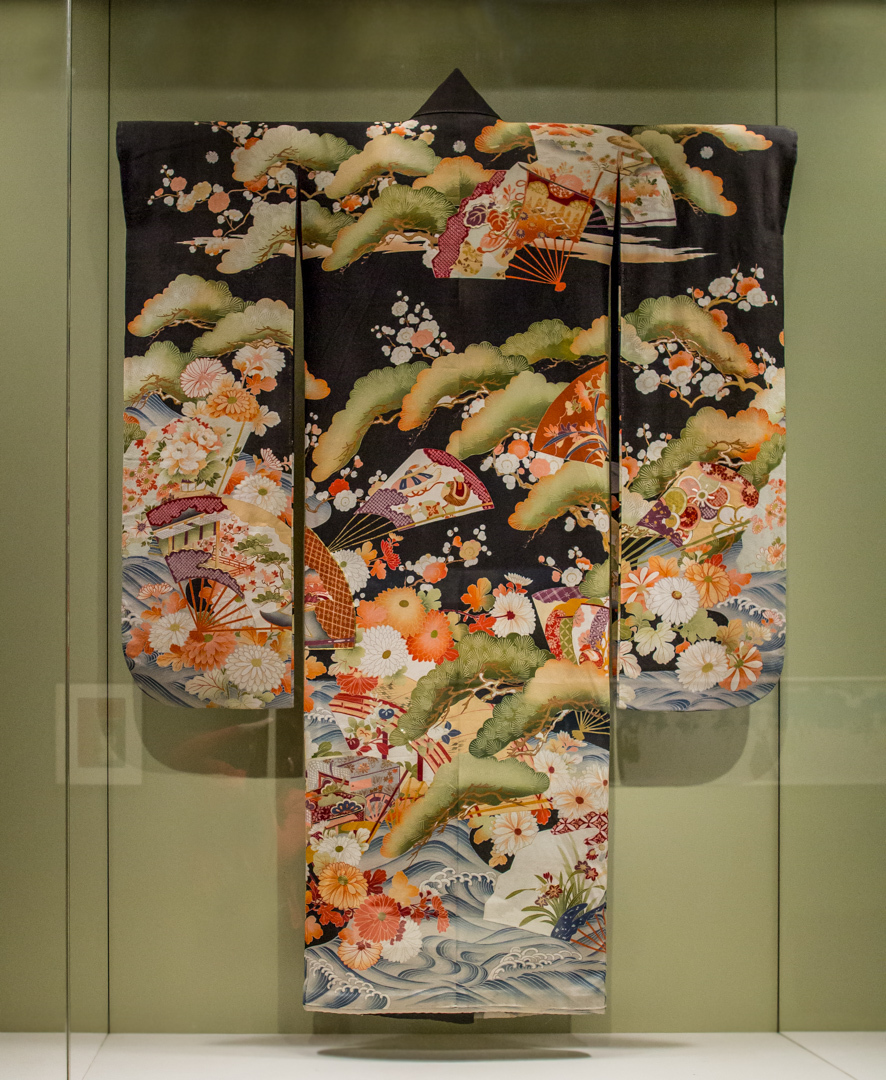 This time of the year (on the West Coast, at least) always reminds me of my favorite line from the poem Spring by Edna St. Vincent Millay: "Comes like an idiot, babbling and strewing flowers."1 With cherry blossoms blooming, flowers cropping up overnight, and the impending spring equinox, it's hard not to feel deep excitement about the changing season.
The pictured kimono, or furisode, perfectly captures the frenzied energy with which spring arrives. Turbulent waves rushing forward, overlapping with flowers, trees, and fans, together evoke the lush abundance of March, April, and May. Set against a black background, the colorful composition feels especially saturated—almost unreal. Luckily for us, just a quick glimpse outside offers a very real reminder that spring indeed brings with it unbelievable hues of pink, purple, orange, and green.
Made of silk, this furisode is one of a few examples in the SAM collection exhibiting yuzen: a freehand paste-resist dyeing method. Developed in late 17th-century Kyoto—where the production of kimono textiles reached its peak—yuzen allowed artists to create designs painted by hand with a rice-paste coating. This process ultimately liberated designers from the repetitive patterns associated with other dyeing techniques, such as shibori. Resulting in large pictorial images such as this spring landscape, yuzen brought a wholly new aesthetic to kimono decoration.
The furisode is a kimono distinguished by its long, billowing sleeves that, when worn, sway gracefully as the wearer moves; its elegance is echoed throughout its form and sumptuous design. If you're in the galleries and need a vernal pick-me-up, this beautiful kimono can be found in Talents and Beauties: Art of Women in Japan on the third floor.
– Elisabeth Smith, Collections Coordinator
Image: Woman's kimono (furisode), 20th century, Japanese, silk crepe with embroidery and paste-resist dyeing (yuzen-zome), 64 5/8 x 49 1/4 in., Gift of Jean B. Rolfe, 81.14, photo: Natali Wiseman