Sometimes, when I'm writing about remarkable artworks we have at SAM, I feel a bit like Levar Burton. SAM's Sdláagwaal (horn ladle) is an incredible thing . . .
Sdláagwaal is displayed adjacent to a bold piece by living Native artist Robert Davidson. Standing in the galleries and seeing these pieces next to one another is like watching the traditional conversing with the new, visually. We can also imagine Davidson speaking his comments about the Sdláagwaal, recorded in a 1995 SAM catalogue:
This person had a sure understanding of space. Not just the graphics, but even beyond, the whole aesthetics of spoon. It's almost like a swan. My first reaction was raven, but then you look at the long neck.

It is almost like a mandala, it becomes a concentration object. When I go fishing, the net is like that, a meditation point. We're watching that net. We can watch for three, four, five hours, waiting for that fish to strike. Same with carving. You could work three, four, five days to get that line right, that undercut right. It's almost like a meditation.1
Has anybody ever applied the term "aesthetics of spoon" with such awesome and apt grace (or been brilliant enough to apply it at all)? Davidson's phrasing would never have come to me, but I understand immediately the qualities to which he refers. Every aspect of the Sdláagwaal bespeaks perfection. It has been carved with adze and knife from a mountain sheep horn, steamed so that the wide bowl of the ladle might be formed, and fashioned by someone with a clear mastery of the technique. With the precise lines that cover the ladle, the artist shows awe-inspiring precision. The formline designs on the bottom of the ladle fill the pictorial space with perfect balance and symmetry.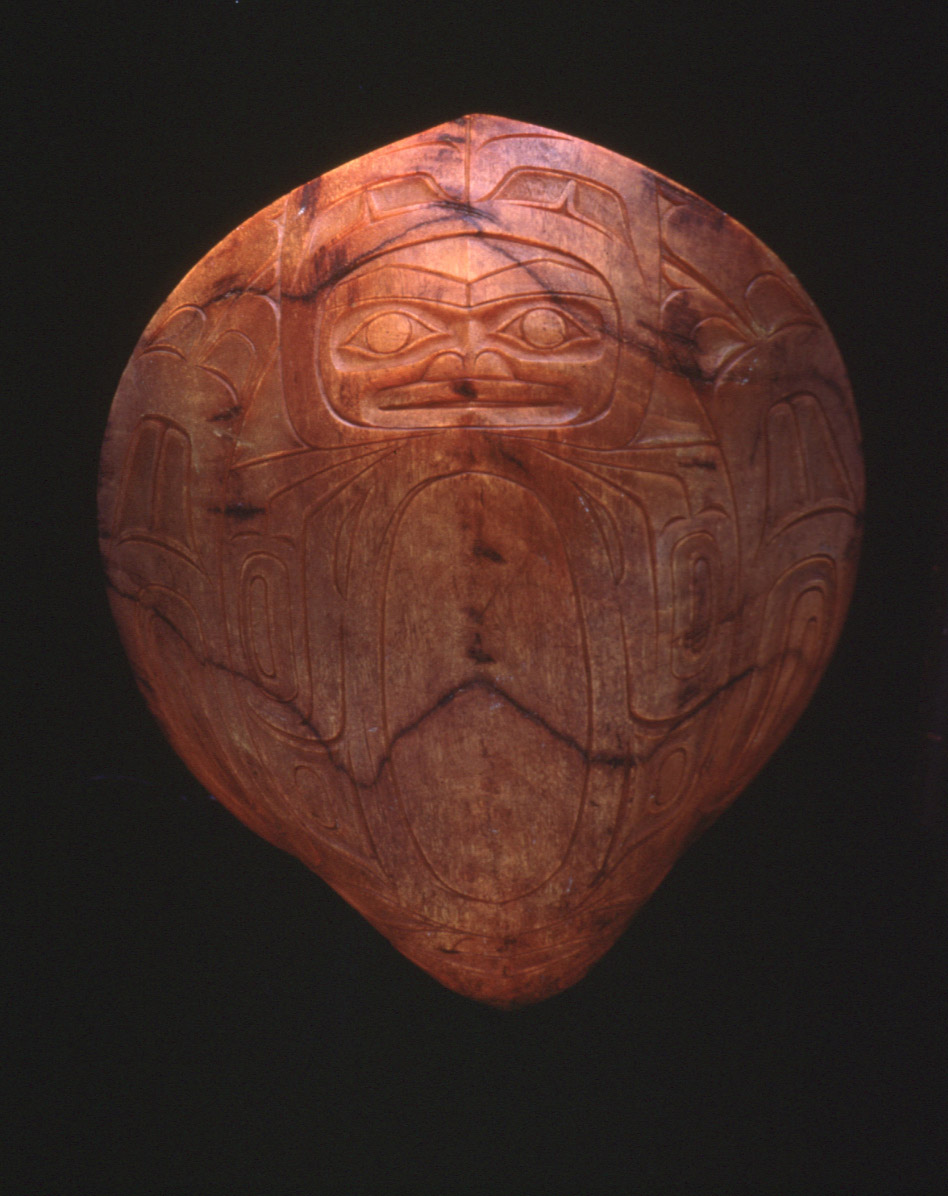 Another authority whose voice we should listen to regarding the Sdláagwaal is Bill Holm, a recognized scholar, longtime curator, and prolific author on Native American art in the Pacific Northwest. The gallery bracketed by the museum's four great Arthur Shaughnessy house posts, also has a monitor playing several videos where we can learn from Bill Holm about the history and making of the posts. Back to the Sdláagwaal, of which Holm writes:
Among the artists of the Northwest Coast there were some who had complete mastery of the materials, techniques, and design system with which they worked. The maker of this horn ladle was one of those artists . . . . The formlines comprising the design are broad and simple, without extraneous elaboration. Their execution is flawless.2
To have people like Davidson and Holm, who really know their stuff, compliment the Sdláagwaal with such glowing words brings heaps of praises on its maker—who must have been quite an impressive individual, indeed.
–Jeffrey Carlson, SAM Collections Coordinator
1 Robert Davidson, quoted in The Spirit Within: Northwest Coast Native Art from the John H. Hauberg Collection, Seattle: Seattle Art Museum, and New York: Rizzoli, 1995; 118.
2 Bill Holm, Box of Daylight: Northwest Coast Indian Art, Seattle: Seattle Art Museum and University of Washington Press, 1983; 84.
Image: Sdláagwaal (horn ladle), ca. 1860, Haida, mountain sheep horn, 14 ½ x 6 ¾ in. Seattle Art Museum, Gift of John H. Hauberg, 85.356.