Now that the Asian Art Museum has expanded, we can fit this monumental sculpture by Do Ho Suh inside the galleries! Some/One is part of Be/longing: Contemporary Asian Art and while the Asian Art Museum is temporarily closed we are taking you behind the scenes of installing this impressive and important artwork.
Some/One, 2001, represents artist Do Ho Suh's interest in individual and collective identity. A minimalist sculpture, Do Ho Suh explores how art transforms public and private spaces through a painstaking amount of intricate detail that is not always apparent at first sight but is an integral part of the artwork. Some/One, as the title of the work indicates, juxtaposes the collective—represented by a larger-than-life armor sculpture—and the individual, consisting of life-size shiny-metal dog tags, each unique and representing a single soldier. This allegory is carried forward by contrasting the hard, insensitive character of armor with the delicate aspect of the dog tags, which are made up of thin sheets of metal and embody the poetic symbolism of fallen warriors.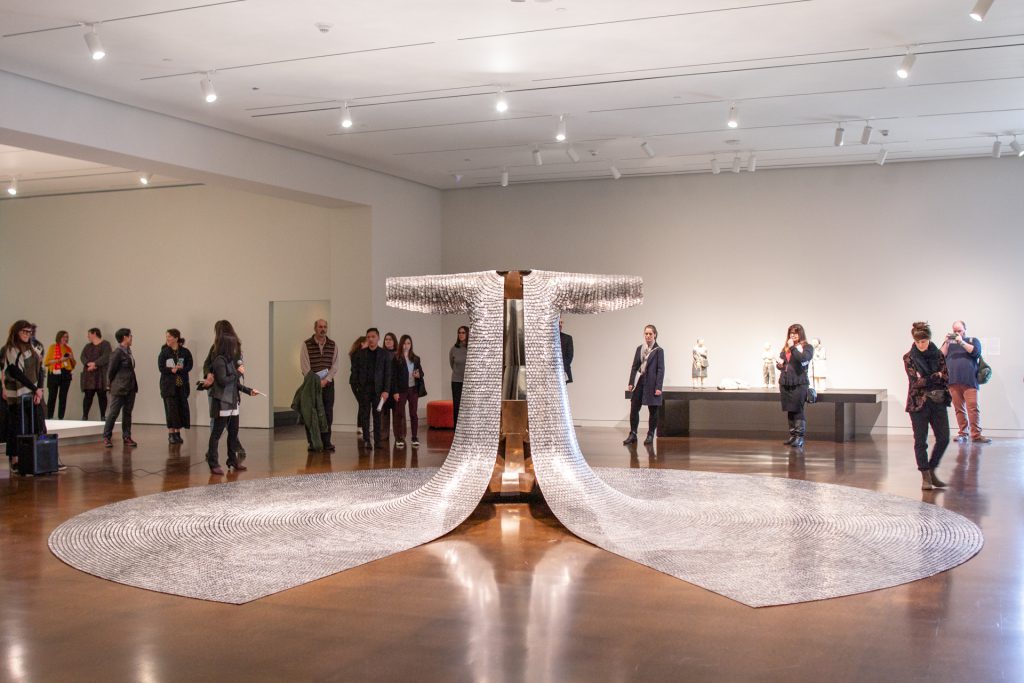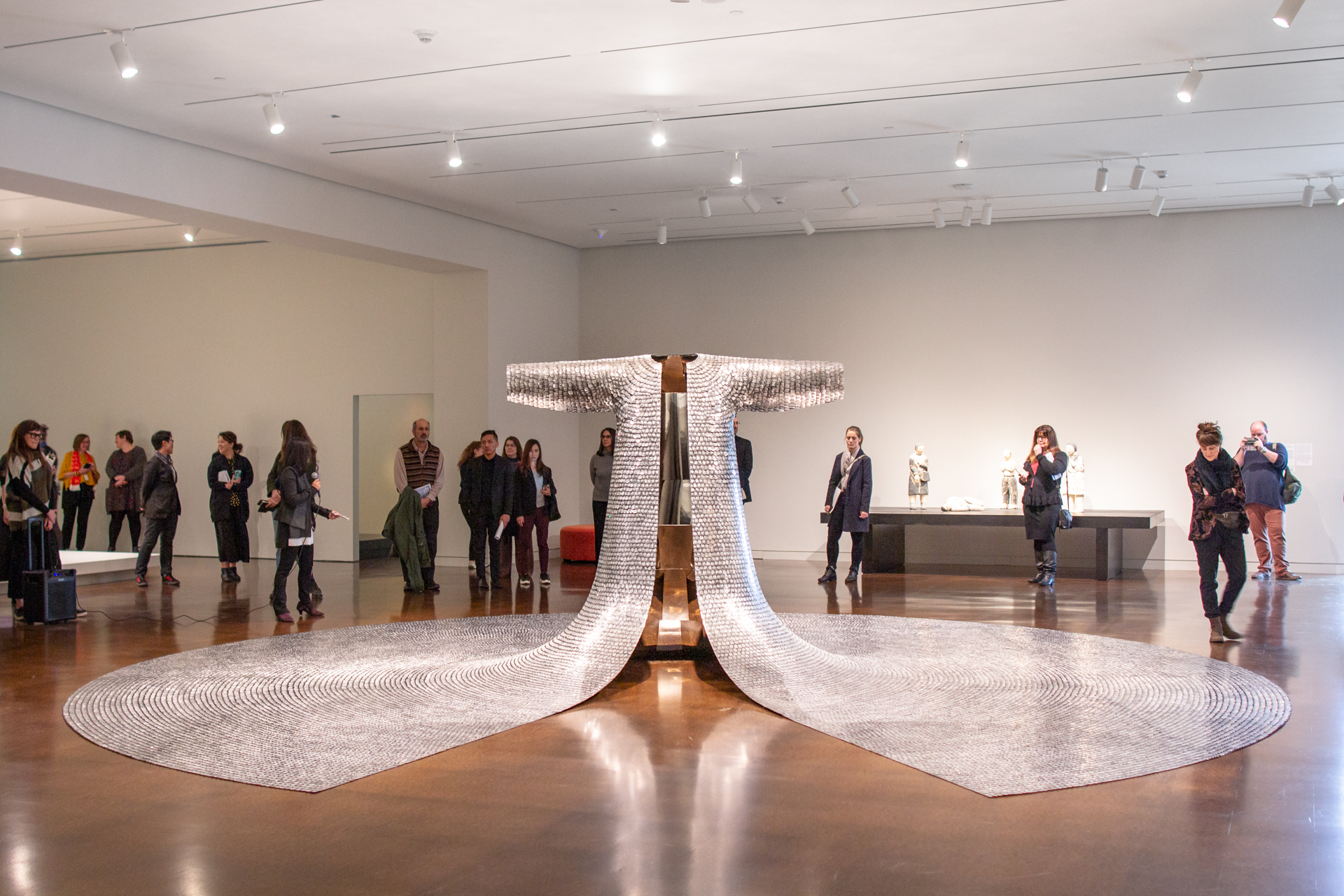 While the Asian Art Museum was closed for renovation and expansion we reimagined the presentation of art to include community perspectives on art works. Below is a reflection on Some/One from artist HollyAnna CougarTracks DeCoteau Littlebull. You might remember her large-scale artwork on view at Arts at King Street Station as part of yəhaw̓. Check out some photos of Bigfoot, the artwork referenced in her statement.
The one thing that people of all races have in common is we have our protectors. My Crow family recognizes me as a warrior, because I used to be a police officer and got shot in the line of duty, and survived. We use either elk hide or buffalo to dress our warriors, which takes on a similar shape, and sometimes paint the rawhide side with the story of that veteran. It's a way of them owning their story and being able to wear it with pride, but it also has the sad side to it too: the death, the destruction, the pain. With my contemporary artwork, Bigfoot, there are plastic toy natives next to the head, there's one with the war bonnet on, and he's representing the warriors in my family. It's about dealing with the past, with assimilation, with boarding schools, with genocide. Bigfoot talks about the foundation and accepting your past even if it's ugly. That's what this artwork does here too. War is not pretty.

– HollyAnna CougarTracks DeCoteau Littlebull, artist
We also include community voices on the free smartphone tour featuring artworks from SAM's Asian art collection. Listen to musician Deems Tsutakawa discuss this artwork and how he relates to it in his own life.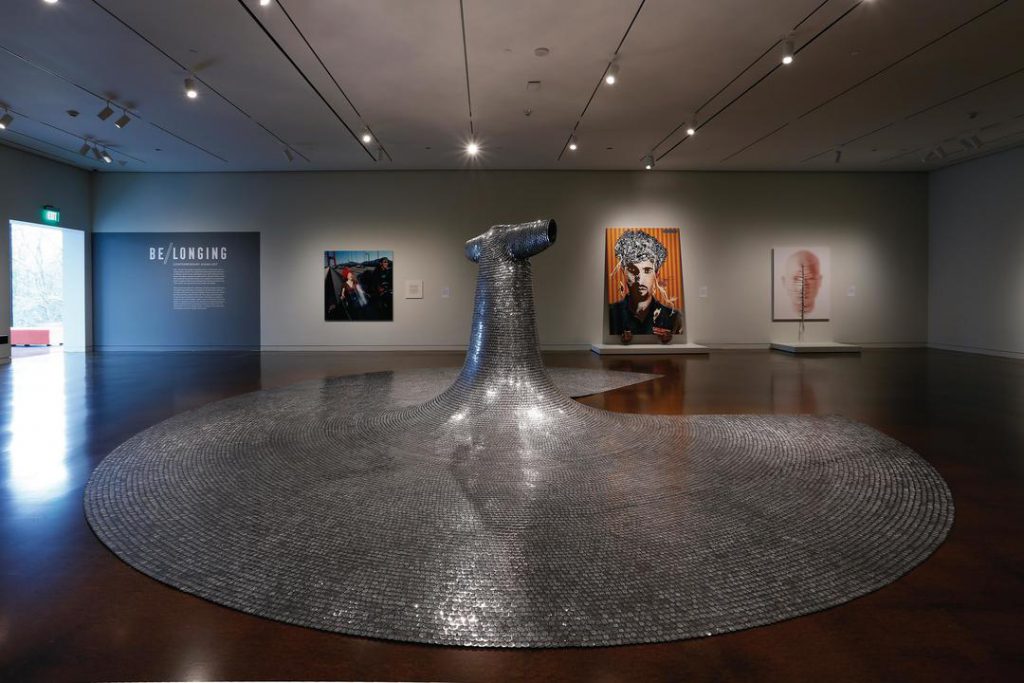 We worked to represent a variety of voices in presenting Do Ho Suh's Some/One because the sculpture is about both the individual and collective identities. One of these voices belongs to the artist. In an interview with Art21, artist Do Ho Suh talks about the dream that inspired Some/One.
"I saw this light in the stadium, and so I thought there's some kind of activity going on. And as I approached the stadium… I walked slowly and went into the stadium on the ground level, and then I see this reflecting surface in the dream. And I realized I was stepping on these metal pieces that were the military dog tags. And it was slightly vibrating; the dog tags were touching each other, and the sound was from that. And from afar, I saw the central figure in the center of the stadium. I slowly proceeded to the center, and then I realized it was all one piece that gradually rose up and formed this one figure…. So, that was the dream and the image that I got. After that, I made a small drawing. The small drawing was about this vast field of military dog tags on the ground and then a small figure in the center…. That was the impact that I wanted to somehow convey through that piece."

– Do Ho Suh, artist
We are humbled by the generosity of our donors during this unique time. Your financial support powers SAM Blog and also sustains us until we can come together as a community and enjoy art in the galleries again. Thanks to a generous group of SAM trustees, all membership and gifts to SAM Fund will be matched up to $500,000 through June 30!
Photo: Jueqian Fang
Stay Home with SAM is supported in part by