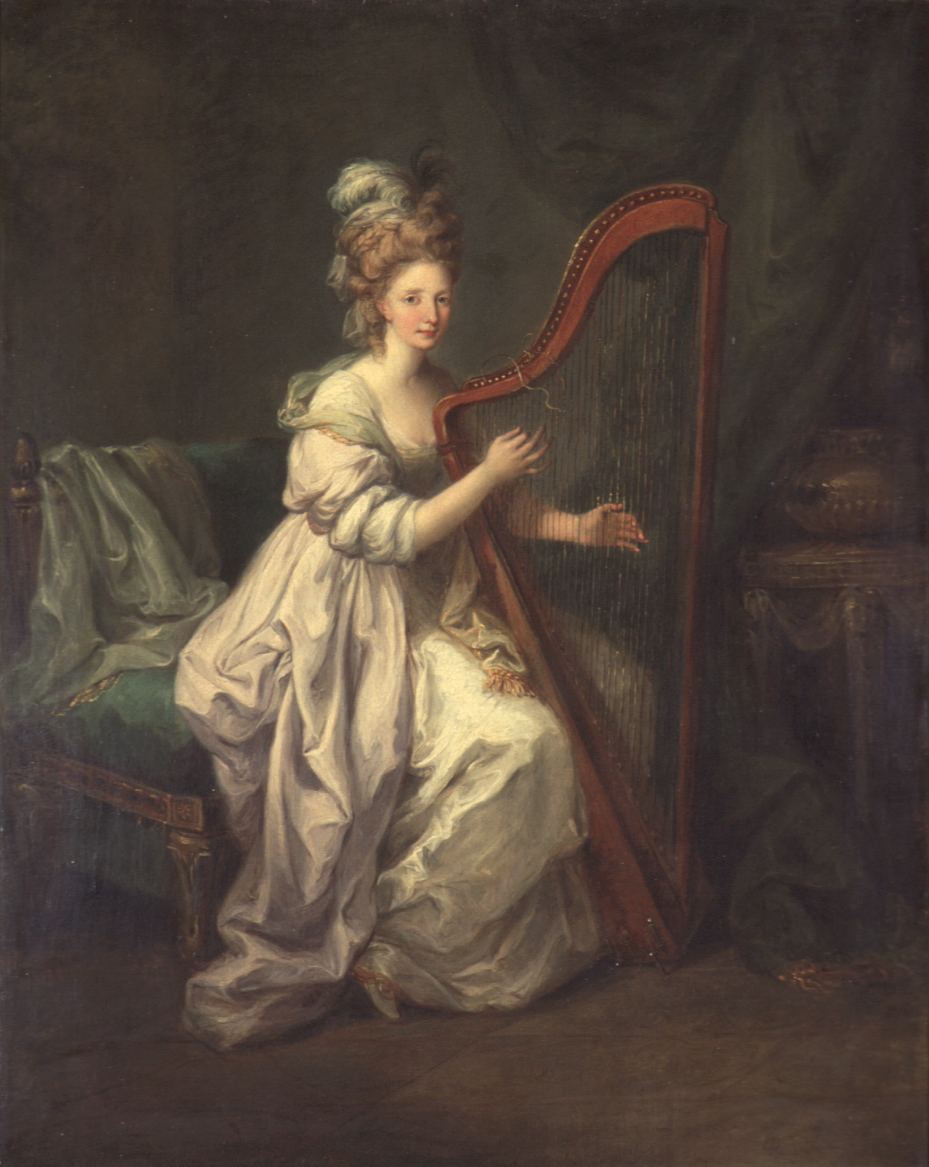 In honor of Women's History Month, Object of the Week will highlight works by celebrated women artists in SAM's permanent collection throughout the month of March.
Angelica Kauffman (1741-1807) was born in Switzerland, but she traveled extensively throughout Europe in her early life. She started painting by assisting her father, a muralist, but she was somewhat of a child prodigy who quickly developed her own career as a history painter and portraitist, which soon supported both her and her father. At age 25, she moved to London, where she made such an impact on the arts community and market that a contemporary quipped, "The whole world has gone Angelica-mad."[1] At age 27, she was elected as one of two female members of London's newly-formed Royal Academy of Arts (RA). Kauffman's trademark was to put female subjects first and foremost, and she often used her own likeness. Her Neoclassical personifications of art were more than the inert Renaissance damsels commonly used: they were women artists (see Self-Portrait Hesitating Between the Arts of Music and Painting below). Pretty impressive stuff.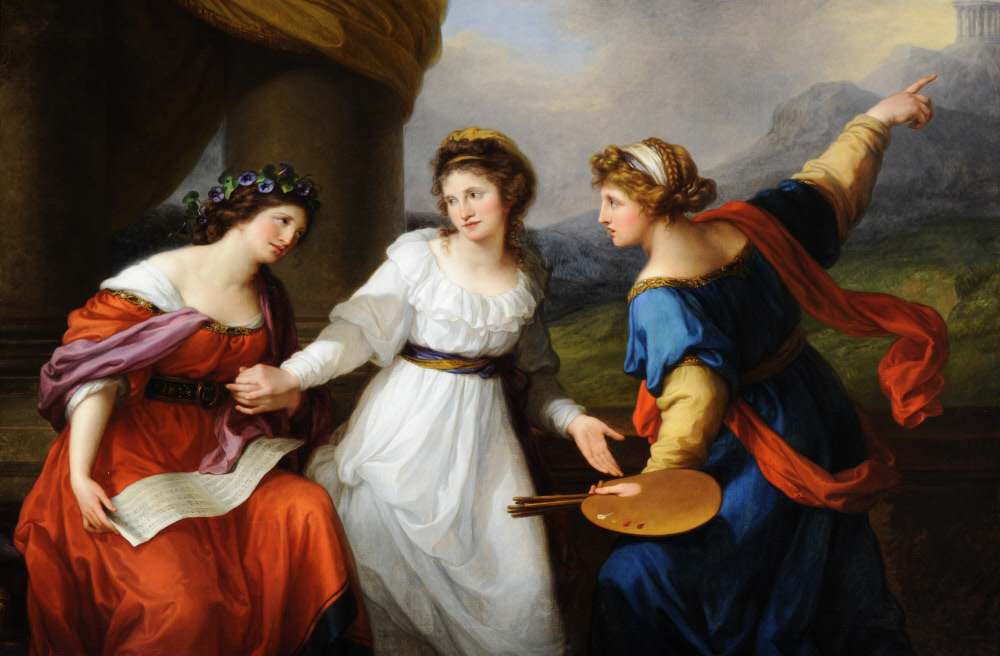 But even knowing this illustrious resume, the feeling that pervades this possible self-portrait Woman Playing a Harp (ca. 1778) is one of uncertainty. The woman's fingers seem too hesitant to be making any sound, and her eyes telegraph a wariness of her audience. My reading could be influenced by the strange times we currently find ourselves in, but I don't think it's just me. A Seattle Art Museum staff member, working from home, gave this painting new life as a quality art meme.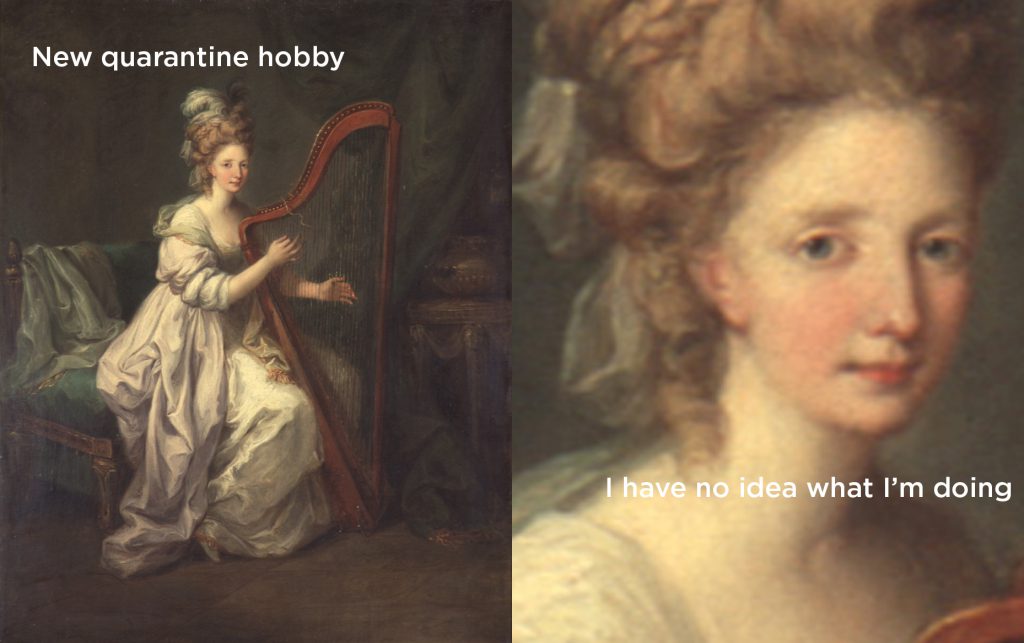 The more I looked into Angelica Kauffman's work, the more I witnessed refreshing moments of "un-confidence." Just look at Self-Portrait Hesitating Between the Arts of Music and Painting (1791). Kauffman was a talented cellist and singer, and as a young woman she was torn between a career in painting and one in the opera. This self-portrait honestly portrays the common agony of having to choose a life path, decades after Kauffman chose painting. Many women today can likely identify with this feeling: you can be London's finest hostess, speak five languages, take the art world by storm, and still feel completely unsure and inadequate sometimes. And that's okay.
Admittedly, there are benefits to being multi-talented. Kauffman was commissioned not only for portraits and history paintings, but also for decorative work that adorned some of England's greatest estates. However, her practice was not easily categorized in a culture of male super-painters, and this brought its own challenges. In the words of painter and Kauffman scholar Sarah Pickstone, "She was so flexible as an artist, making furniture decorations, ceiling decorations, that when the Victorians came along, they dismissed her as a purely decorative artist, and I think that can sometimes happen to women's work."[2] Kauffman's history as a founding member of the RA was largely erased after her death, and over a century passed before the academy elected any more female members.[3]
Kauffman's legacy has started to shift, however, as creative historians have come to appreciate her complex life and practice, including those "feminine" decorative arts. It follows a promising trend toward women being valued for their professional activities and qualities outside of a patriarchal framework. The RA is bringing Kauffman back into their history by planning a major exhibition of her work for Summer 2020. Though it may likely be postponed, as the museum is temporarily closed due to the coronavirus, that's just another uncertainty we will have to embrace.
– Linnea Hodge, SAM Curatorial Coordinator

[1] Brighton Museums, "Angelica Kauffman: An Eighteenth-Century 'Wunderkind,'" 19 February 2015, https://brightonmuseums.org.uk/discover/2015/02/19/angelica-kauffman-an-eighteenth-century-wunderkind
[2] Royal Academy of Arts podcast, "Sarah Pickstone and Rommi Smith discuss Angelica Kauffman," 3 April 2018
[3] Annette Wickham, "A 'Female Invasion' 250 Years in the Making," 13 May 2018
Images: Woman Playing a Harp, ca. 1778,Angelica Kauffman, oil on canvas, 34 7/8 x 27 1/4 in., Gift of Mrs. Lew V. Day in memory of her husband, 66.63. Self-portrait of the Artist hesitating between the Arts of Music and Painting, 1794, Angelica Kauffman, oil on canvas, 70 x 98 in., Nostell Priory, West Yorkshire