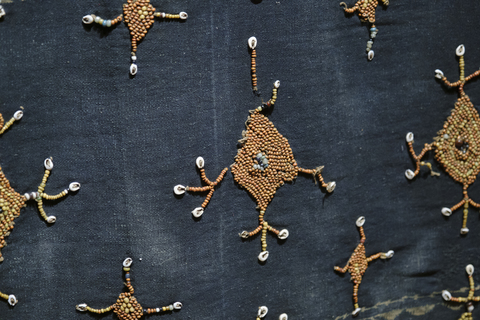 SAM News
Patricia Belyea of Okan Arts, a textiles and tours small business, wrote about Ikat: A World of Compelling Cloth at the Seattle Art Museum. You've got two weeks left to see this dazzling show, which closes after Monday, May 29.
"There is much to see at SAM—from glances across whole galleries to up-close inspections of the threads and patterns!"
For Alta Journal, multimedia artist Perri Lynch Howard reflects on the many meanings she's found over the years in Gloria Tamerre Petyarre's Leaves (2002), a beloved work in SAM's collection (that's now on view).
"I remain transfixed by Leaves, a monumental work informed by totemic geography, dreamtime, and ancestral wisdom rooted in the land."
The American Alliance of Museums' blog on "How Museum Stores Are Embracing Sustainability and Inclusivity"; they include a mention of SAM Shop's featuring of works made by local Indigenous artists.
Curiocity shares "15 of the absolute best beaches you can find in and around Seattle," including the Olympic Sculpture Park and its pocket beach.
"The Olympic Sculpture Park is just straight up one of the coolest spots in the city."
Local News
"Renders new truths from old objects": Hannelore Sudermann for University of Washington Magazine on Abstract Truth, Preston Wadley's show now on view at Bellevue Arts Museum.
As more works from the collection went on sale at Christies, Margo Vansynghel of the Seattle Times dove deep to find out "what happened to Paul Allen's Northwest art collection."
At the opening night of the 49th Seattle International Film Festival, the organization announced that it has acquired the shuttered Cinerama theater. Crosscut's Brangien Davis shared the good news.
As for the big question on Cinerama fans' minds: 'We will have chocolate popcorn, absolutely,' SIFF artistic director Beth Barrett said in a phone call on the eve of the festival. 'That was one of the first questions for all of us, too,' she added with a laugh. 'The deal did not hinge on it, but it seemed important emotionally.'"
Inter/National News
Jaeyong Park for Artsy on "10 Standout Artists at the 14th Gwangju Biennale," including former Saturday University guest Yuki Kihara.
Via Tessa Soloman for ARTnews: "Manet's 'Olympia' Will Travel to the United States for the First Time This Fall."
Via Eve M. Kahn for the New York Times: "Vanished Murals From the Empire State Building Rediscovered."
"Bernard Goldberg Fine Arts gallery will offer these works, two oval murals of damsels engulfed in rainbows of blossoms and foliage, which the German-born artist Winold Reiss painted in 1938 for a Longchamps restaurant at the Empire State Building's base. (It's now a Starbucks.)"
And Finally
Via NPR: "Meet the father-son journalists from Alabama who won a Pulitzer and changed laws."
– Rachel Eggers, SAM Associate Director of Public Relations
Photo: Alborz Kamalizad.