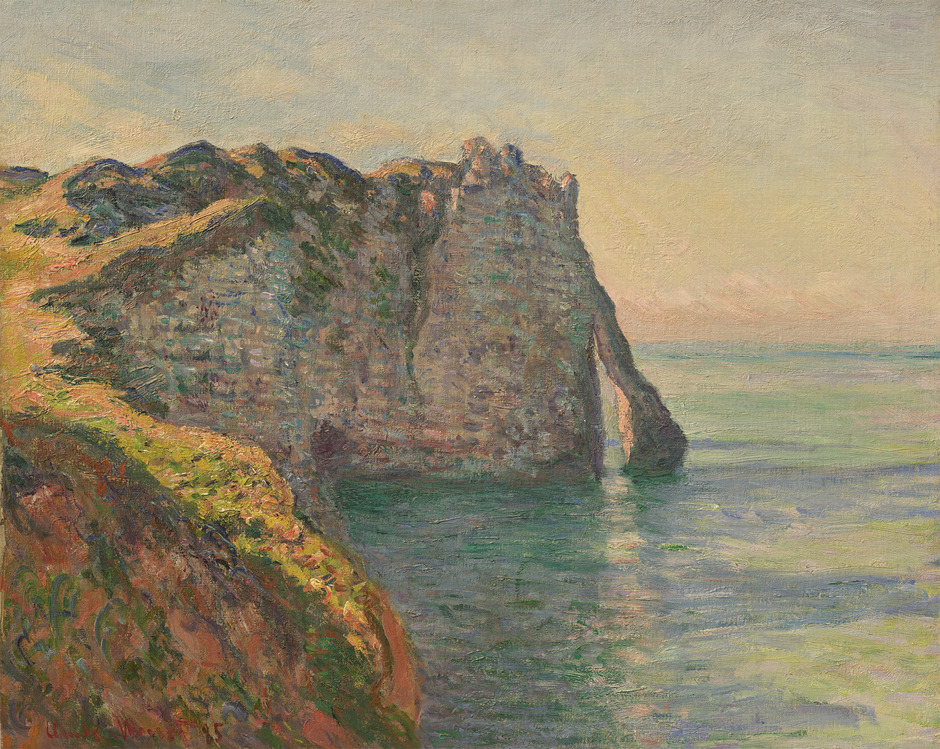 SAM News
Monet at Étretat has docked at the Seattle Art Museum! Seattle Met, Seattle PI, and Curiocity all recommend the exhibition that tells the story of Claude Monet's journeys to the fishing village.
Curator Chiyo Ishikawa appeared on Evening Magazine for a sneak peek at the show's luminous paintings. She also spoke with Gayle Clemans for her review of the show in the Seattle Times and with Crosscut's Brangien Davis for her weekly ArtSEA letter.
"When you arrive in the last gallery, SAM's painting—"Fishing Boats at Étretat"—glows against the plum-colored walls, along with seven other Étretat paintings by Monet. It's a glorious room, with seascapes and monumental rocks that emerged from Monet's brush as he laid down quick strokes of the varied colors he observed in the moment."
"Here we see the man not as the progenitor of mass-produced prettiness, but as a stalwart artist trying to both please a fickle art market and express something true about nature, atmosphere and his home environment."
Local News
Roxanne Ray for the International Examiner on Tacoma Method, a new opera about the 1885 violent expulsion of Chinese people from Tacoma composed by Gregory Youtz with libretto by Zhang Er.
"What the reception to Seattle's greatest film can tell us about the city's on-going homelessness crisis": Here's Andrew Hedden for Real Change on the 1984 documentary Streetwise.
Former KUOW arts reporter Marcie Sillman and beloved arts advocate Vivian Phillips have launched a podcast called "DoubleXposure," reports Jade Yamazaki Stewart for the Seattle Times.
"Phillips says one of her main goals in the podcast is to 'desegregate the arts from other essential needs' and to frame it as something just as crucial to human life as things like housing and electricity. 'It's an integral part of everything we do, but we tend to segregate it and make it an add-on,' she says."
Inter/National News
Artnet takes you inside the studios of 17 artists, asking about their most essential tools for creation.
After the deadly June 24 collapse of a condominium in Surfside, Florida, a wave of support has arrived. Hyperallergic's Valentina Di Liscia reports on "a new art fundraiser [that] will help the victims and families impacted by the tragedy."
Siddhartha Mitter for the New York Times on a new installation by Firelei Báez at the Institute of Contemporary Art Watershed in Boston; one component is a massive sculpture that imagines Haiti's San-Souci palace emerging from the Atlantic Ocean.
"It's such a palimpsest," Báez said, looking over the water to the downtown skyline. "Thinking of centuries of development that have happened here — what was negotiated for that to happen, what was given and what was taken?"
And Finally
Rick Steves on "traveling in a reopened world."
– Rachel Eggers, SAM Associate Director of Public Relations
Image: La Falaise d'Aval, 1885, Claude Monet, French, 1840-1926, oil on canvas, 25 9/16 × 31 7/8 in., Hasso Plattner Collection