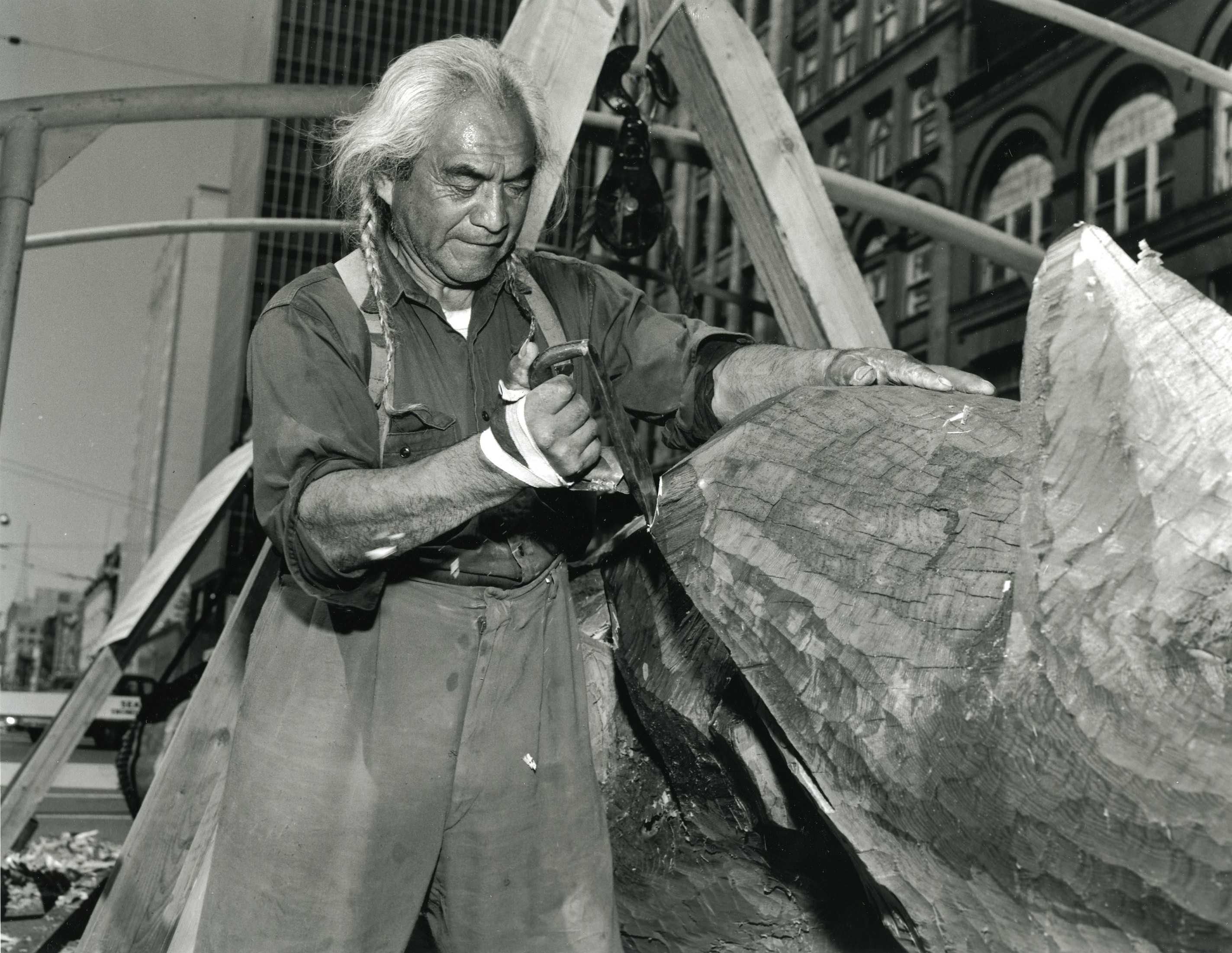 Joe Hillaire Kwul-kwul-tu, (meaning "spirit of the war club") was a man of indomitable spirit, grace, intelligence, and talent. For his Lummi people, he perpetuated song and dance traditions through the Setting Sun Dance group, was instrumental in reviving the Lummi Stommish water festival (and Chief Seattle Days at Suquamish), taught totem carving and canoe-making, and was a voice for social and political causes. Of parallel importance were his actions as a liaison between Native and non-Native people. He imparted knowledge of Lummi heritage to anthropologists Bernhard J. Stern and Erna Gunther (curator of the Northwest Coast Native exhibit at the 1962 Seattle World's Fair) and ethnomusicologist Willard Rhodes, as well as to the Boy Scouts of America and various school groups in the Seattle region. Hillaire also provided guidance to business and civic leaders, and traveled throughout the U.S. and to Japan with the objective of fostering inter-cultural friendships and bringing attention to Native culture.
The 35-foot-tall pole depicted in the image to the right was carved by Hillaire in 1961 as a part of a two-pole project to call attention to the upcoming 1962 World's Fair in Seattle. Kobe is Seattle's sister city and the story pole was a goodwill gift meant to point out commonalties between the two cities, ease the memories of WWII, and promote trade between the U.S. and Japan. Hillaire's approach is richly symbolic: two sisters grow closer as they acknowledge the things they share, like the salmon, mountains and sea, and the rising sun (Japan) and setting sun (Seattle). The monster blowing a dark cloud symbolizes the darkness of war, while the sun alludes to the hope of peace.
Images from Joseph Hillaire's Trip to Kobe, Japan (1961)
Joseph Hillaire and the Saga of the 1962 Seattle World's Fair Totems
Lummi artist Joseph Hillaire was commissioned to carve two story poles in connection with the 1962 Seattle World's Fair. In celebration of its 50th anniversary, we are remembering Hillaire's contributions to the Century 21 Exposition in a series of weekly posts. Please check back each week or subscribe to our RSS to learn more about Joseph Hillaire and the Saga of the 1962 Seattle World's Fair Totems. 
Top Photo: Hillaire carving the pole for Kobe, Japan, in Seattle's Pioneer Square, 1961. Photograph by Harvey Davis. Post-Intelligencer Collection, Museum of History and Industry.