Joseph Hillaire: Carver of the Century 21 Exposition Totem Pole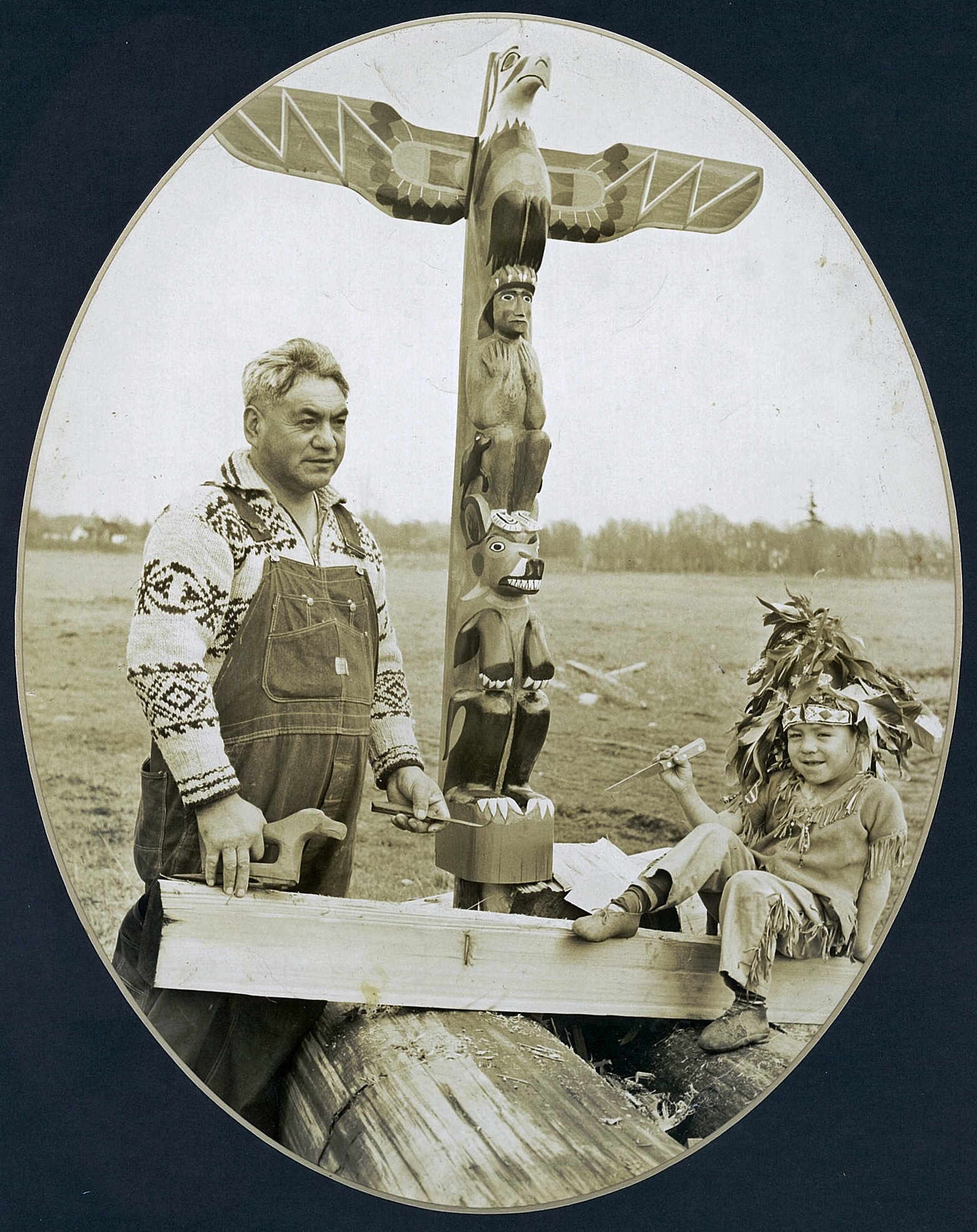 Joseph Raymond Kwul-kwul'tu Hillaire (1894–1967) was an artist, storyteller, performer, Native activist, and diplomat. When Joe Hillaire was born, lingering distrust permeated Native-White relations. Many of Joe's totem poles were created as civic monuments and served to bridge cross-cultural understanding, as well as to project the rich Lummi oral traditions.
Hillaire's monumental carvings are "story poles"—the deeds of ancestral heroes and their encounters with supernatural beings appearing on both sides of the pole. When Hillaire learned carving from his father at sixteen, Coast Salish totem pole carving was a recent practice. While this art form was adopted in shape and size from northern Native groups, it displayed more naturalistic figures (adapted from traditional interior house posts) and arranged them in narrative fashion.
In 1961, Hillaire was commissioned to create two totem poles for the Seattle World's Fair celebration, one to tour the United States to promote the Fair (and the unique heritage of the Northwest) and one for Seattle's sister city, Kobe, Japan. The Land in the Sky Pole—which tells the story of the adventures of two brothers who enter the sky world—traveled to 300 cities and towns before it was returned to Seattle for the April 21, 1962 opening of the Exposition. By the time it was completed the sixty-six year-old Hillaire having carved on it in twenty-five states! The Land in the Sky Pole was never erected at the Seattle Center but stood near Chief Seattle's grave on the Suquamish reservation from 1963 until 2005, when it was deemed unsafe and taken down, and returned to his ancestral home, the Lummi reservation near Bellingham, WA.
Joseph Hillaire and the Saga of the 1962 Seattle World's Fair Totems
Lummi artist Joseph Hillaire was commissioned to carve two story poles in connection with the 1962 Seattle World's Fair. In celebration of its 50th anniversary, we are remembering Hillaire's contributions to the Century 21 Exposition in a series of weekly posts, starting this week! Please check back each week or subscribe to our RSS to learn more about Joseph Hillaire and the Saga of the 1962 Seattle World's Fair Totems.
Hillaire and grandson, Ernie Lewis, 1950s. Photograph courtesy of Pauline Hillaire.