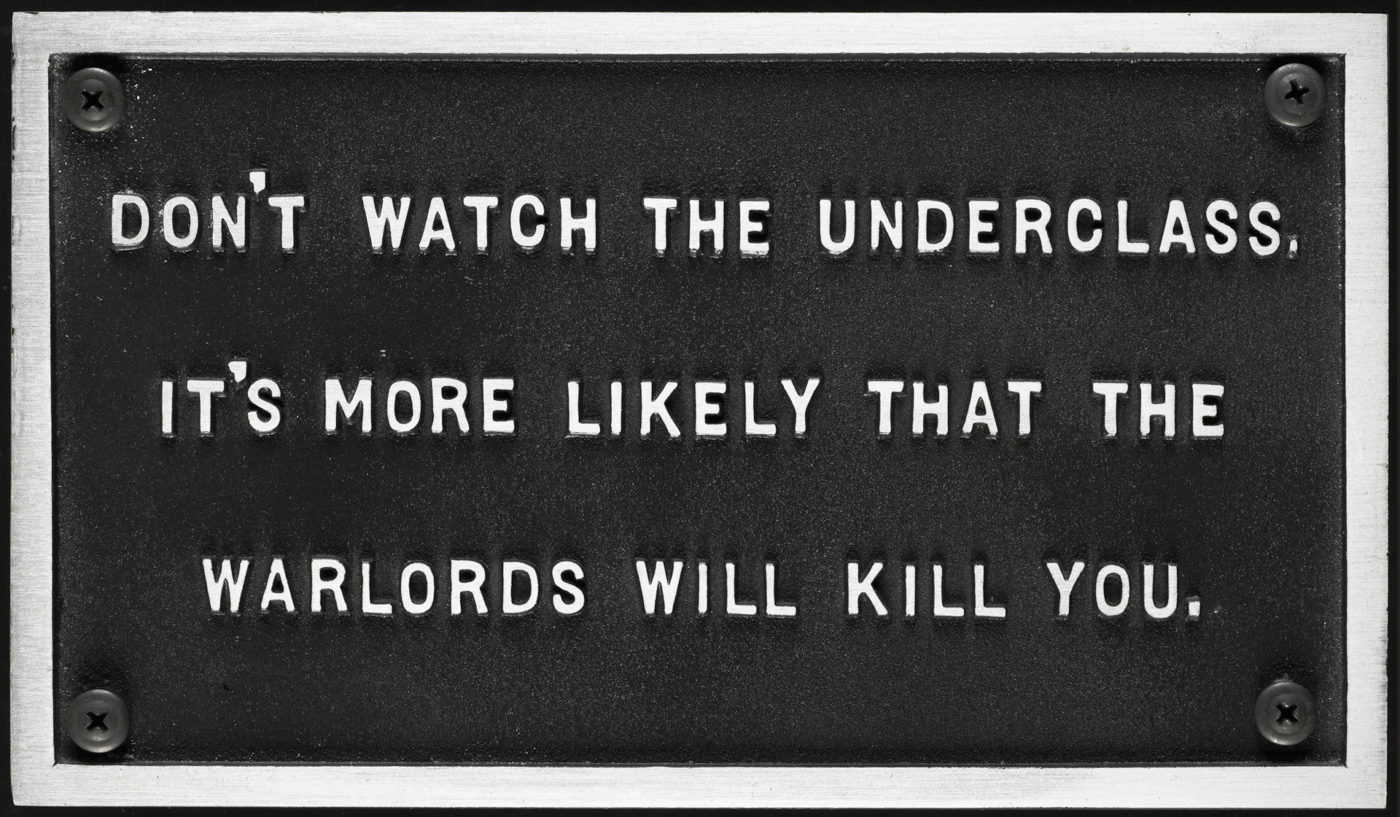 For decades, language and its public dissemination has been at the center of Jenny Holzer's practice. A previous Object of the Week post by Rachel Hsu chronicles the artist's Inflammatory Essays, multi-colored posters anonymously wheat pasted throughout New York City in the late 1970s and early 80s. Each poster and its essay, as the title suggests, are provocative and confrontational, drawn from writings of dictators and anarchists, functioning as subversive critiques of power that might otherwise go unnoticed.
Just a few years later in 1982, phrases such as "ABUSE OF POWER COMES AS NO SURPRISE" and "MONEY CREATES TASTE" were projected on a digital billboard in Times Square. Part of a body of work known as her Truisms, these succinct and unnerving assertions speak to deeper truths about the often-contradicting ideologies and values that undergird our society.
In addition to the Inflammatory Essays and Truisms, another work by Holzer in SAM's collection is the cast aluminum plaque that reads: "DON'T WATCH THE UNDERCLASS, IT'S MORE LIKELY THAT THE WARLORDS WILL KILL YOU." Her aphorisms poetically call attention to self-evident and often universal truths, in this case about power, propaganda, and its abusers. Subverting the traditional use of a plaque—designed to mark historic sites, events, and people—Holzer deftly shifts the plaque's intrinsic power and authority in new directions. The work is as potent a message today as it was nearly thirty years ago, speaking to Holzer's penchant for identifying lasting social and political issues.
In an early interview, Holzer stated that, "From the beginning, my work has been designed to be stumbled across in the course of a person's daily life. I think it has the most impact when someone is just walking along, not thinking about anything in particular, and then finds these unusual statements either on a poster or in a sign."1
Today, our bloated media ecosystems look a little different, forcing us to scroll and sift through endless grids of text and image. And while this might not be the type of public, egalitarian viewing experience that Holzer once imagined for her work, there is something exciting about it being posted on Instagram—our new commons—and (hopefully) jolting us out of our normal routines and ways of thinking.
– Elisabeth Smith, SAM Collections and Provenance Associate
---
1 Jeanne Siegal, "Jenny Holzer's Language Games" in Arts Magazine, December 1985. pp. 64-68.
The Survival Series: Don't Watch the Underclass, It's More Likely That the War Lords Will Kill You, 1983-85, Jenny Holzer, Cast aluminum, 6 x 10 x 1/4 in., Gift of the Collectors' Forum in honor of Susan Garcia, 98.19 © Artist or Artist's Estate