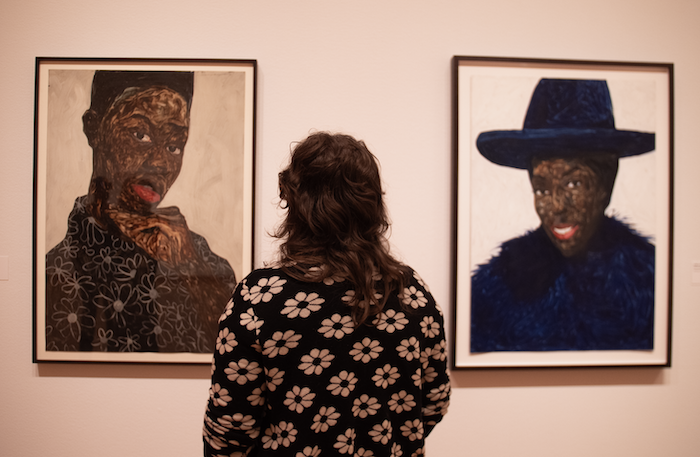 SAM News
Amoako Boafo: Soul of Black Folks, the Ghanaian artist's debut museum solo exhibition, is now on view at the Seattle Art Museum! Evening Magazine interviewed Ramzy Lakos, SAM's Educator for Digital Learning, about working with the artist to create a Seattle-exclusive smartphone tour for visitors that shares the artist's perspective.
"It's very personal, I think, to paint someone's skin using your fingers. And it also leaves a trace of the artist on the painting itself. And I think that's something he wants you to feel; he wants you to feel like he's there in the gallery with you."
And at the Seattle Asian Art Museum, don't miss historical Japanese prints and Toulouse-Lautrec works in Renegade Edo and Paris. KUOW's Mike Davis recommends the show in the most recent edition of his "adventures in art." And in a recent Stranger Suggests, Charles Mudede recommended the "expertly curated" exhibition.
"This was not the stuff of the warrior class. This was the floating world of fleeting and popular pleasures: music, theater, whore houses. Also fleeting was the nightlife of Belle Époque Paris brilliantly and famously captured by the prints of Henri de Toulouse-Lautrec."
Local News
"Seattle's Museum of Museums to shut down after three years": The Seattle Times' Margo Vansynghel reports on the sad loss for the city's museum community.
In her latest ArtSEA post, Brangien Davis of Crosscut shares details about "the fancy new entrance to the Colman Dock ferry terminal" debuted recently by Waterfront Seattle as part of the massive waterfront renewal project.
"Unearthing Japanese American history at a dig site in North Seattle": The Seattle Times' Tat Bellamy-Walker on the former site of Green Lake Garden Co. and the archaeology project to reveal its story as home to a Japanese American community before WWII-era incarceration.
"'We're digging up these histories, but this history is all around us,' [archaeologist Alicia] Valentino said. "These people didn't just disappear. They're in the community today.'"
Inter/National News
In another archaeology story, Hadami Ditmars reports for the Art Newspaper on the discovery of a "1,000-year-old fish trap and the remains of the ancestral village of ȾEL¸IȽĆE (pronounced Tel-eech)."
Melena Ryzik for the New York Times on the new Louis Armstrong Center, which joins the Louis Armstrong House Museum in Queens for even more ways to celebrate the famed jazz trumpeter, singer, and bandleader.
"It Was Like Pastel Bauhaus": Artnet speaks with artists Gary Panter and Wayne White about working with the late Pee-wee Herman to bring "Pee-wee's Playhouse" to life.
"Paul [Reubens], Ric, and Wayne, we're all painters,' Panter said. 'We really brought the sensibility of art and art history to the set. Paul was more of a conceptual artist. He had a lot of input, and we had endless ideas.'"
And Finally
"Meet the diplomat in Seattle who's become a social media star by folding origami cranes."
– Rachel Eggers, SAM Associate Director of Public Relations
Photo: L. Fried.