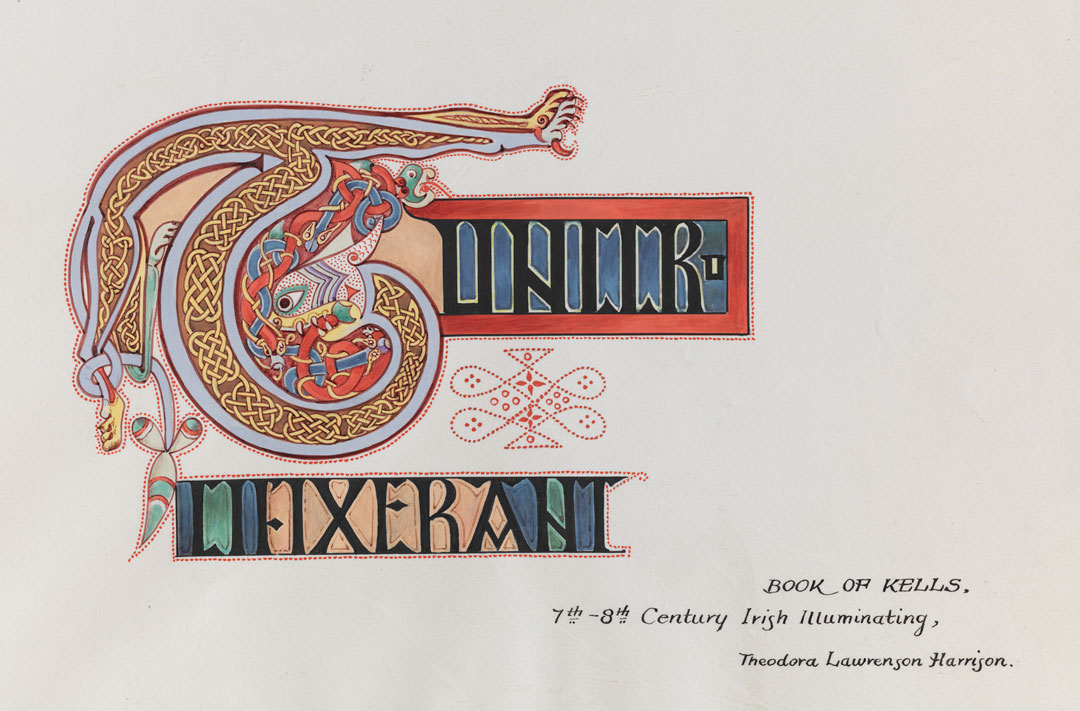 No celebration of Women's (or Womxn's, if you prefer) History Month would be complete without a mention of International Women's Day, a holiday in March celebrated worldwide with roots in early 20-century Socialist demonstrations for increased visibility and support for female workers.[1] Although International Women's Day 2019 has already passed, Theodora L. Harrison's meticulous reproduction of a medieval illumination is a wonderful reminder of the value of artistic work created by women.
Harrison (born in Ireland in 1890) lived in Seattle for over 20 years and enjoyed a prolific career as an illustrator, watercolorist, local art gallery director, and president of the Women Painters of Washington association. Throughout her life, Harrison achieved international success as an illustrator, and championed diverse artists at the Little Gallery in the Fredrick and Nelson department store, right here in Seattle.
This illustration is a precise rendering of the Latin text "Tunc crucifixerant," from folio 124r from the Book of Kells, one of the most famous illuminated manuscripts in Western European Medieval History, created sometime in the ninth century.[2] The original work is famed for its intensely detailed illustrations, featuring teeming organic forms which bring its religious text to life. These illustrations were incredibly labor intensive and show an undeniable level of devotion, labor, and skill. A millennia later, Harrison's renderings demonstrate an equal level of devotion and exertion, though for a different cause. Her vibrant pigments sharply contrast with the blank white background, forcing the viewer to focus on minuscule details and dizzying intertwined forms, which she recreates deftly.
Her fantastic illustration, along with numerous other reproductions of medieval manuscripts, was sponsored as part of the Public Works of Art Project (PWAP) in an effort to instill public confidence in government-subsidized projects following the Great Depression. Along with changing public perception, this federally funded project also aimed to catalog and elevate the work of artists in the United States, showing a commitment to the social and economic value of artistic labor. Along with works of so-called fine art, this project also elevated other types of art production in the United States, including illustration and arts and crafts, which featured far more works by women.
Harrison's valued contributions to the PWAP show an estimation of her time, effort, and skill as a female working artist. Her work in the Seattle Art Museum's permanent collection help continues to celebrate her contributions to the artistic community in Seattle, and participate in the long legacy of hard work and dedication of women artists.
Siri Benn, Curatorial Intern
Image: Illumination from the Book of Kells, from the Series, Examples of Illumination and Heraldry, Federal Public works of Art Project, Region #16, Washington State, 1934 or 1935, Theodora Harrison, ink and watercolor on simulated vellum, sheet size: 7 3/4 x 10 3/4 in., Federal Public Works of Art Project, Region #16, Washington State, 2013.6.8 © Artist or Artist's Estate
[1] "International Women's Day History | International Women's Day | The University of Chicago,"  https://iwd.uchicago.edu/page/international-womens-day-history#1909TheFirstNationalWoman'sDayintheUS