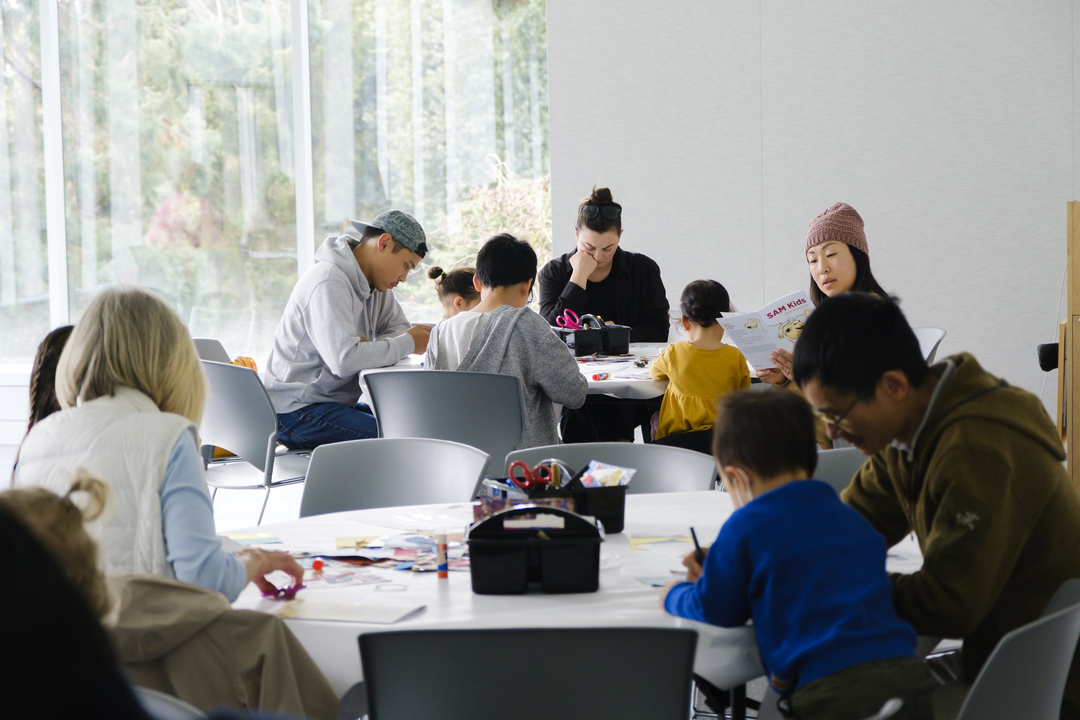 Family Saturdays at the Seattle Asian Art Museum connect families with artists, authors, and performers, through art-making and other programming that celebrates Asian art and culture. As we celebrate Asian American Pacific Islander and Native Hawaiian Heritage Month in May, SAM would like to thank all of the families and community members who amplified the BEAUTY OF US visual campaign and contributed to the three collaborative murals displayed in the museum's Community Gallery.
In 2021, anti-Asian hate crimes across 16 major US cities spiked by 342%. This alarming statistic, coupled with the waning media coverage of hate crimes against Asian Americans, inspired artists Erin Shigaki, Juliana Kang Robinson, and Saya Moriyasu to come together to create BEAUTY OF US, a visual campaign aimed at boosting awareness of anti-Asian violence in Seattle and beyond.
The three artists collaborated with four additional Asian American, Native Hawaiian, and Pacific Islander women artists in Seattle—Diem Chau, Julie Kim, Raychelle Duazo, and Saiyare Refaei—to create original artworks that were printed on posters and distributed throughout the city. With their bright colors and positive messaging, the artworks raise awareness, beautify streetscapes, and uplift Seattle's AA+NHPI community.
Browse and download all seven BEAUTY OF US campaign posters for free by clicking on the artists' name below.
Inspired by the BEAUTY OF US, SAM Educators partnered with featured artists Juliana Kang Robinson, Julie Kim, and Raychelle Duazo to design three unique murals in the Seattle Asian Art Museum's Community Gallery that invited community collaboration. Over the course of three Family Saturdays at the museum, families learned about and celebrated their cultural heritage by contributing to the murals. Now completed, these murals represent a proud statement of community and healing where children, families, and friends connected and collaborated over collective art-making experiences.
Following their display in the Community Gallery through Sunday, May 21, the murals will be moved and displayed indefinitely in SAM's Education Studio.
Read on to learn more about each of the three community murals, then participate in an art project with family and friends by clicking on the resources linked below.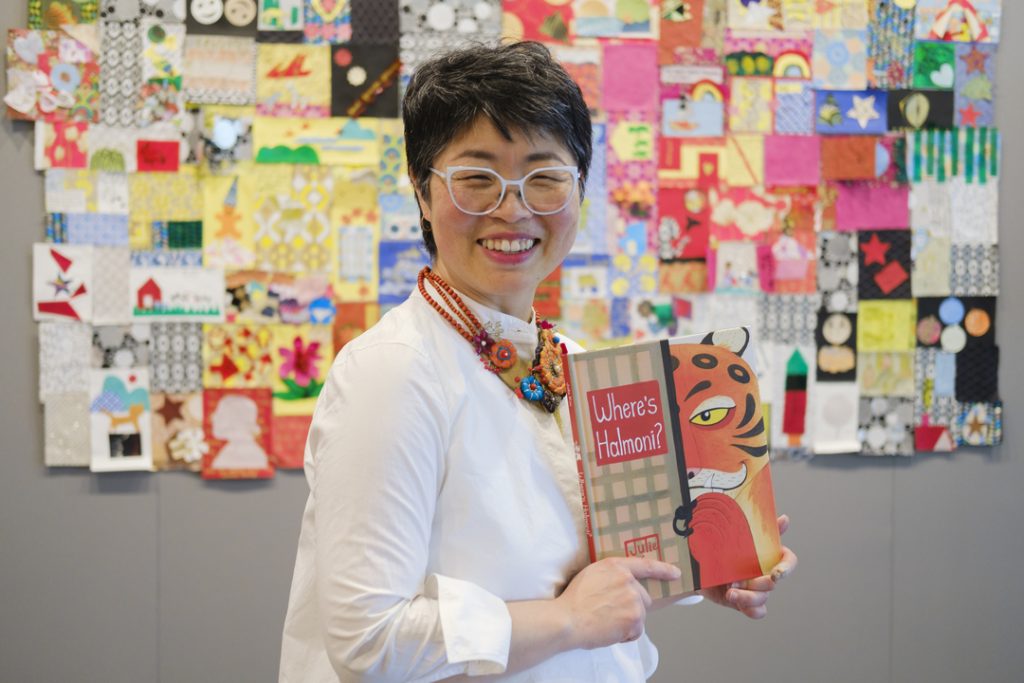 Kaleidoscope Stories Community Mural
Julie Kim and Families
Mixed media on illustration board
Julie Kim is a children's storybook artist and author who is deeply interested in stories that arise from our personal lived experiences, and in myths and folktales that arise from our collective human experience. This mural is a snapshot of those stories, big and small, as told by our community members in patches of obangsaek tiles—the five directional colors in Korean—that describe wholeness and balance through inherent and necessary diversity. Create your own story tile here with guidance from Julie's illustrated instructions.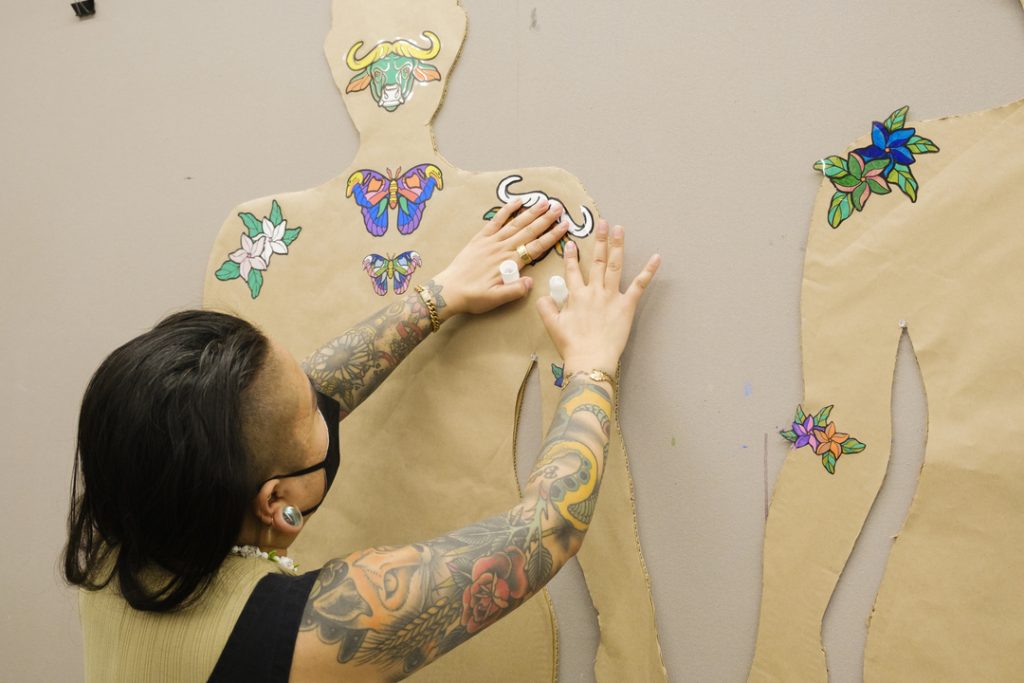 No One Like You Community Mural
Raychelle Duazo and Families
Mixed media acrylics on paper
Raychelle Duazo is a queer femme Filipina-American illustrator and tattoo artist based in Seattle. She aims to combine dreamy aesthetics, vibrant colors, and cultural significance to her work through themes of identity, queerness, language, symbolism, love, transformative grief, and Filipino culture. This mural of two figures captures the importance of identity and individuality in body art. Contributing families added pops of color while learning the Tagalog words for jasmine, the Philippine national flower (sampaguita), carabao (kalabaw), butterfly (paruparo), shell (kabibi), and crocodile (buwaya). Click the links above to access a coloring sheet of each of the tattoo designs featured on the mural.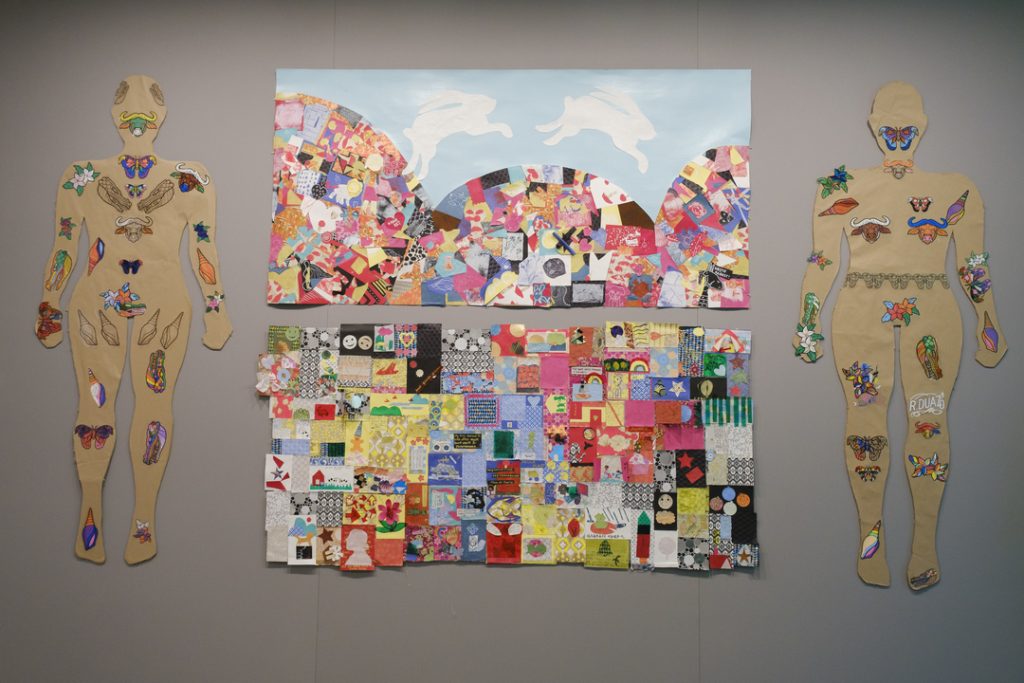 Year of the Rabbit Community Mural
Juliana Kang Robinson and Families
Mixed media on illustration board
Juliana Kang Robinson is an interdisciplinary artist creating work that draws from Korean art traditions and culture. Participating families created pojagi (the Korean word for patchwork) with mixed media prints and drawings that were collaged on mounds in celebration of Lunar New Year. Click here to create your own origami bunny pocket designed by Julie Kim and inspired by the stories that celebrate the year of the rabbit.
– Nani Trias, SAM Educator for Family Programs
Photos: Alborz Kamalizad.