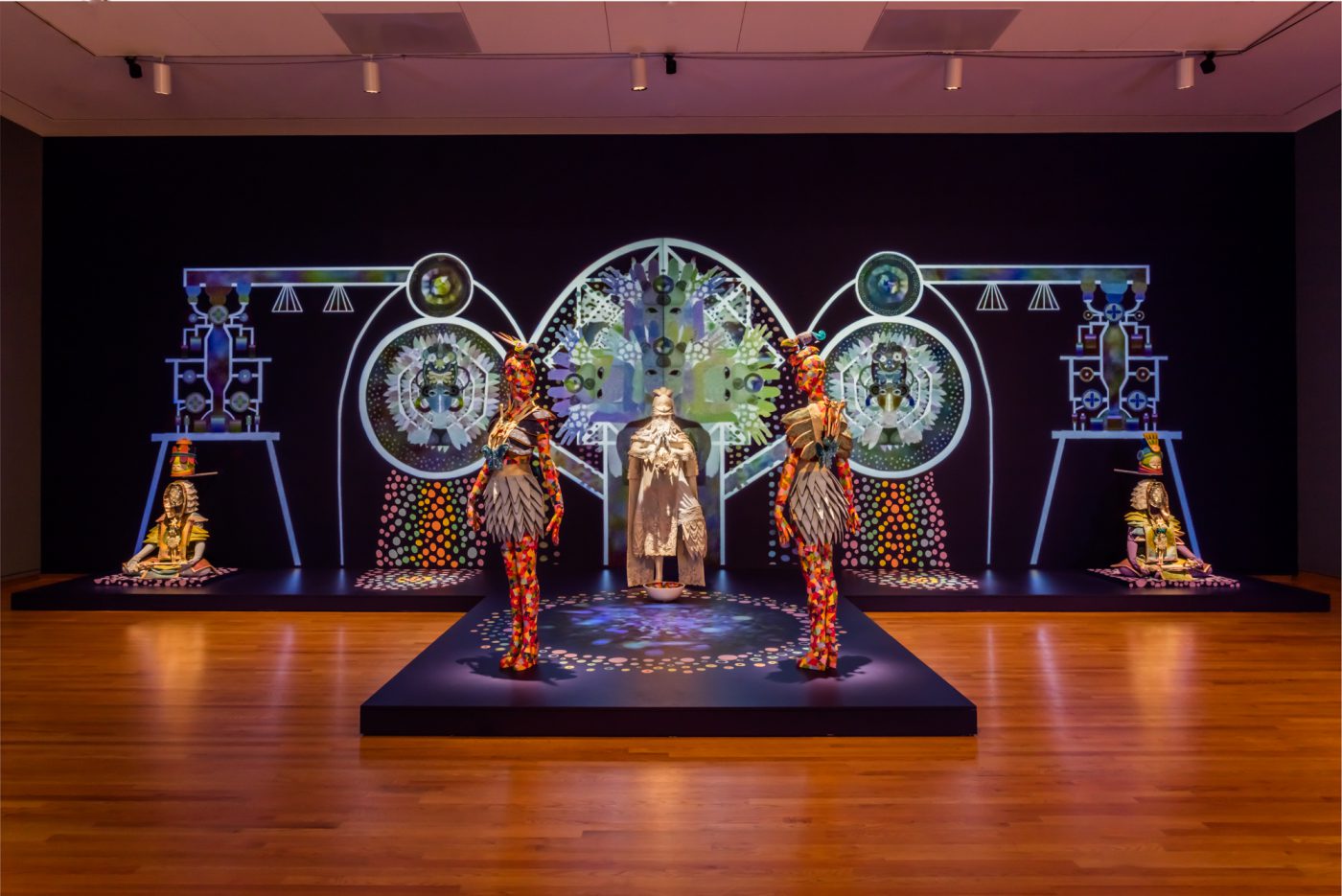 Look & Make Activities are designed as grade-specific lesson plans for remote learning. Find more information and artworks to inspire creative learning through these activities available for download on our website in English, Spanish, and Chinese.
This artwork is an installation created by the contemporary artist Saya Woolfalk. If you were to visit this work at the Seattle Art Museum, you could walk into this space and move, meditate, or just observe. Rhythmic music plays and a video of rotating leaves, eyes, hands, and patterns projects onto the wall and floor. The colors are mostly blues, greens, and purples. This  artwork is surrounded by a blend of cultures, symbols, ideas, experiences, and life forms and shows us what a better future for all living creatures might look and feel like. Hear from the artist in the video below as she discusses this installation when it was first exhibited as part of Disguise: Masks & Global African Art.
Woolfalk created this work to help fix a real world-wide issue: lack of empathy. Empathy is understanding how someone else is feeling because you have been in a similar situation or felt that way before. If you have ever felt sad because your friend was sad or excited because your friend was excited about something, you have felt empathy! You can show empathy for someone by thinking about their perspective. In this space, the three figures are called Empathics. The Empathics are imaginary alien beings that were transformed by fusing their cells with cells of animals and plants. The Empathics believe that the world would be a better place if more people were able to develop empathy for each other. It is their job to help guide this process.
LOOKING QUESTIONS
What's going on in this artwork? What do you see that makes you say that? What more can you find?
If you were to put yourself in this work of art, where would you go? How would you want to move around? 
What do you think it would feel like to be there? What do you see that makes you feel that way?
ART ACTIVITY
Design and create a prototype for an invention that will help the Empathics spread empathy in the world. A prototype is a simple model that helps you test out your idea.
What You'll Need
Paper
Pencil
Eraser
Cardboard
Scissors
Tape
Optional: markers, aluminum foil, wire, string, other available materials
If you prefer to draw in a computer program, you can design your invention on the PBS Kids Design Squad website.
Check out this video for tips on different ways to use cardboard.
You have been chosen by the Empathics to create an invention that will help people have more empathy for others. They want this invention to be something that people can carry with them—either in their hand or on their body. Write down your task on a piece of paper!
Imagine: Write about and/or draw at least 3 possible inventions. Circle your favorite one.
Plan: Create a detailed drawing of your favorite invention. Give it a title, label each part of your invention, and write notes about how it will help spread empathy.
Create: Use cardboard, scissors, and tape to create a prototype of your invention. Create this prototype to-scale, or the same size that you want your invention to be.
(Optional) Add decorations or designs to your prototype. You can even add sound if you want! Think about all of the visual and sound elements that Saya Woolfak uses in her artwork to spread the message of empathy.
When you're done, share your prototype with a friend, family member, or teacher. Describe your task and tell them how your invention works. What do they particularly like about your invention? Do they have any ideas on how to make it even better?
You can refine your idea and create new versions of your invention to share with people you know. What do they think about when they use your invention? Does it change how they think about other people?
KEEP LEARNING WITH A STORY
Read a classic book about empathy in a new form by borrowing the e-book graphic novel adaptation of A Wrinkle in Time, by Madeleine L'Engle (original story) and Hope Larson (graphic novel adaptation) from King County or Seattle Public Library. Or listen to the audio book version of Shuri: A Black Panther Novel #1, by Nic Stone and be inspired by Shuro as she uses her science and technology skills to create a better future for her homeland of Wakanda.
CHIMATEK: VIRTUAL CHIMERIC SPACE (Installation View), 2015–16, Saya Woolfalk, American, born 1979. Multi-media installation, 15 x 25 x 5 ft. Projection: 3:59 minutes, Purchased with funds from Josef Vascovitz and Lisa Goodman, Alida and Christopher Latham, and the Bill and Melinda Gates Foundation Art Acquisition Fund, 2017.16 Provenance: The artist; [Leslie Tonkonow Artworks + Projects]; acquired March 15, 2017. Photo: Nathaniel Willson.