Object of the Week: Country Ball 1989–2012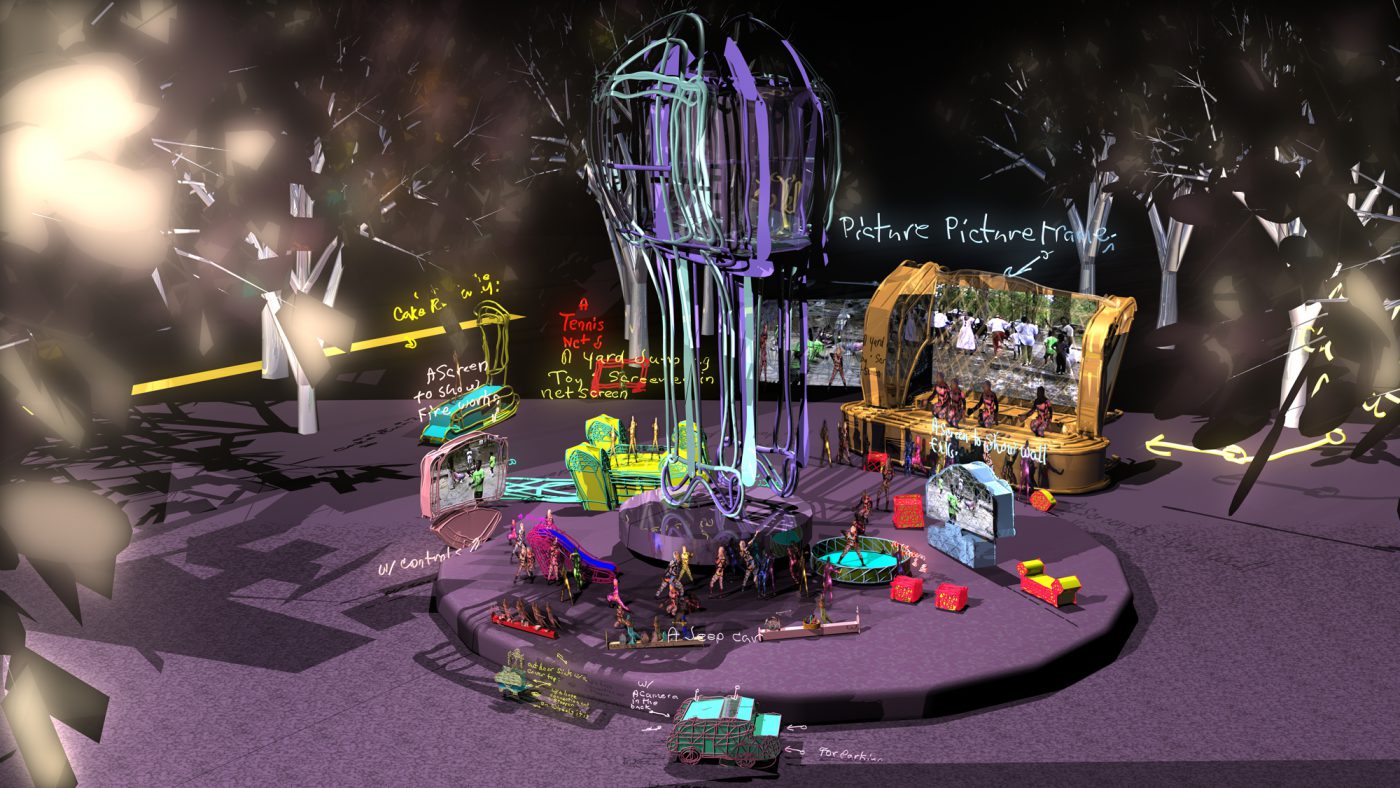 Summer 2020 is here. The list of what hasn't, can't, or won't, happen is long. No solstice gatherings, no gay pride parades, no powwows, or large family reunions. Instead, we are a stay-at-home culture with hypochondriac tendencies, trying to make it through a pandemic that demands change and suffering, and thrives on confusion. We watch the world largely through our screens, shaking our heads at the horrifying news of an escalating death count due to the virus and to brutality. We fill up on visions of those who are losing loved ones, or Zoom together to process the despair of losing our own. In the face of such turmoil, what art makes sense? I'd like to offer my vote for an artist who offers constant revelations.
Jacolby Satterwhite was introduced to me by Erika Dalya Massaquoi when we teamed up in a search for artists to feature in an exhibition called Disguise: Masks and Global African Art. I was hooked the instant I saw his video work, which relies on an aesthetic of immersion in a multimedia cavalcade of images that take hold of your imagination in a very different way than a canvas on the wall or a sculpture on a pedestal. His screens swallow you up and turn you upside down in a chaos of people dancing and transforming while strange structures jiggle and shapeshift. This was an immediate trigger, reminding me of being in the middle of a masquerade or a carnival procession, where all your navigational skills are put to the test and you get to share moments of complete disorientation with others. I've always been convinced that such art is woefully underrepresented in museums, as paintings and sculptures prevail. Mr. Satterwhite is a champion of screens that challenge your mind to suspend belief in what is real, and encourage you to reconsider what about life is important to understand.
So an expedition to get to know what he is doing began. You can do it too. Thankfully, I'm not alone in my fascination with his talent and intellect. He's got more online interviews than many artists several times his age. Partly, this is because there isn't a dull minute when he's on camera. A list of a few interviews to watch follows, and if you want to start with art first, there's Country Ball––a 12 minute tour of a family gathering in North Carolina that becomes completely reinvented for reasons that the artist can best explain. In this summer of 2020, when we're recalibrating what matters, Jacolby Satterwhite is a visionary for our time.    
ART21 Videos
March 16, 2012, Jacolby Satterwhite interviewed by Charlie Rose, 4:33.
November 7, 2017, Jacolby Satterwhite excerpt reel, 19:55.
November 6, 2019, Visions of Utopia: Performance in Progress 2017, 6:22.
And most recently:
– Pam McClusky, Curator of African and Oceanic Art
Image: Country Ball 1989–2012, 2012, Jacolby Satterwhite, HD digital video with color 3D animation, sound, 12 min., 39 sec., Modern Art Acquisition Fund, 2013.2