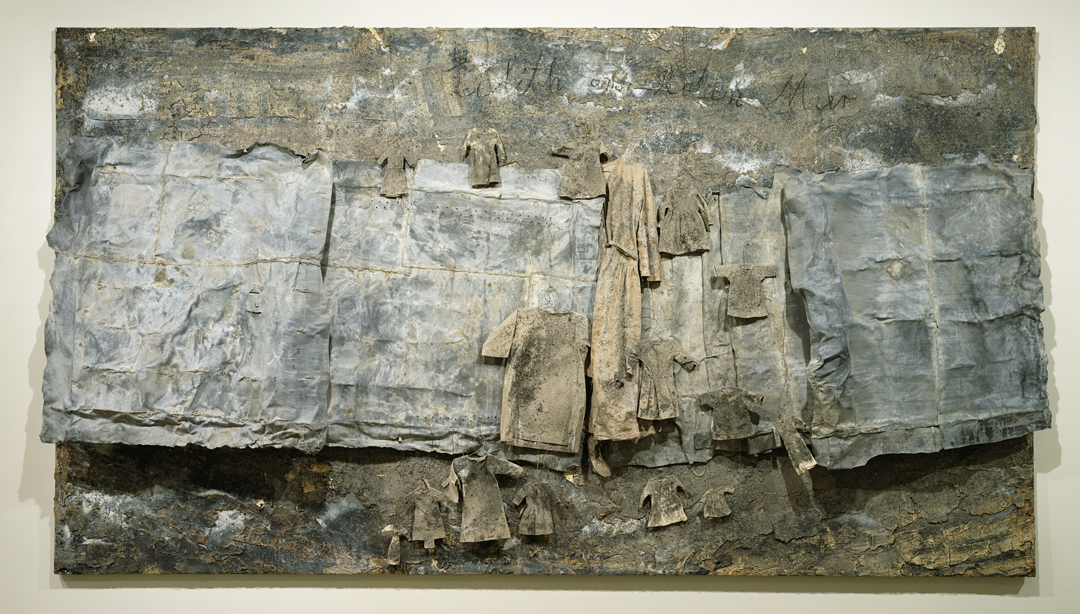 For regular readers of our Object of the Week series, the name Anselm Kiefer should ring a bell. It wasn't so long ago that Jeffrey Carlson, SAM Collections Coordinator and this series' regular contributor, wrote about Kiefer's monumental and haunting painting Die Orden der Nacht, currently on view in the installation Big Picture: Art after 1945. But today I'm here to talk about Kiefer again, and his work which currently hangs right next to Die Orden der Nacht: the 1990 painting Die Welle (The Wave), or Lilit am Roten Meer (Lilith at the Red Sea).
In many ways Jeff's earlier discussion of Die Orden der Nacht rings true for Die Welle as well. It is similarly monumental in scale, similarly ambitious in its scope and symbolism. It is similarly laden with its own materiality, its thickly layered surface reaching out from the wall and defying its classification as painting. And, like Die Orden der Nacht, Die Welle is staggeringly heavy—literally (how often do you see lead listed as a medium, and hanging defiantly on a wall?), but even more so metaphorically. Its materials also include wire, ash, and children's clothes—haunting, aching in their empty presence, a visceral gut-punch aura of destruction and death.
Aside from these obvious material and compositional differences, what distinguishes Die Welle from its neighbor is the mythology suggested in its alternate title: Lilit am Roten Meer, which translates to Lilith at the Red Sea. Lilith is a figure from Hebrew folklore who features in many of Kiefer's works from the 1980s and '90s. According to the mythology, Lilith was meant to be Adam's first wife, made by God at the same time and from the same earth as the first man. But she refused to be subservient to Adam, and fled the Garden of Eden to live on the edge of the Red Sea. So God made Adam a new wife (grown from Adam's rib this time—a woman made of man, instead of with him), and Adam and Eve started the work of begetting the human race. Meanwhile, Lilith in her exile became the matriarch of a different kind of progeny: a massive host of demons, and a legacy of destruction and death. If Adam and Eve represent the birth of humankind, so some readings go, then evil is descended from Lilith.
This is a heavy subject (with heavily debated interpretations and readings) to go along with an already somber artwork—but, again like Die Orden der Nacht, Die Welle (or Lilit am Roten Meer) resists easy interpretation. Where is Lilith in this work? Is she one of the hollow figures, or is she lurking in the background, the unseen progenitor of this scene of devestation? More complicated still is the evocation of the Red Sea, which represents the home of Lilith and her demon-children—but also the site of the liberation of the Israelites from Egypt, and the drowning of the Egyptians who pursued them. Is the titular welle (wave) cresting towards us with a promise of deliverance, or destruction?
—Carrie Dedon, Curatorial Assistant, Modern & Contemporary Art
Image: Die Welle (The Wave), 1990, Anselm Kiefer, lead, clothes, steel wire, and ash on canvas, Gift of the Virginia and Bagley Wright Collection, in honor of the 75th Anniversary of the Seattle Art Museum, 2007.120, © Anselm Kiefer.