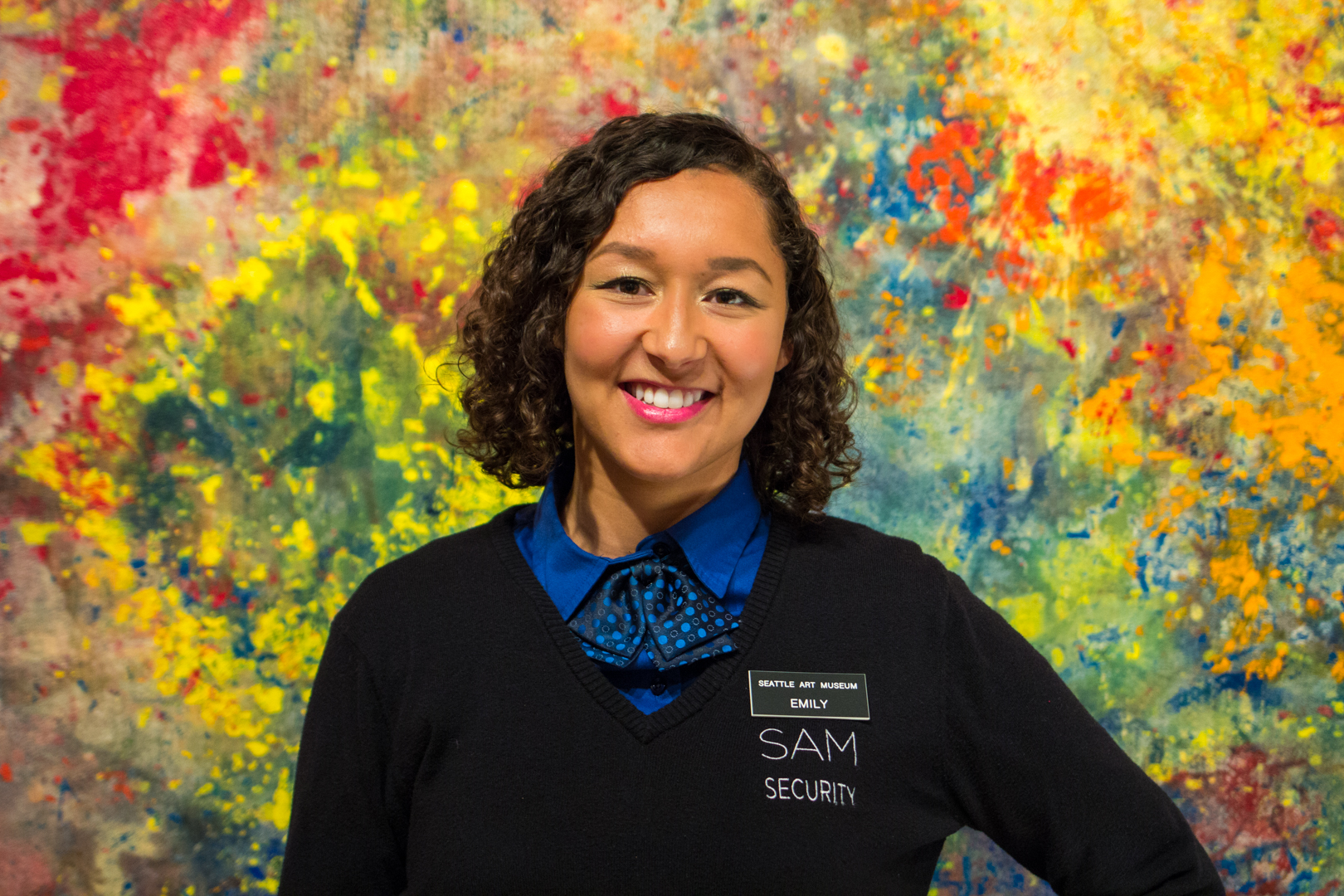 The middle daughter of three girls, Emily Jones grew up in the northwest suburbs of Chicago, IL. She soon longed for adventure and moved to the city to attend Columbia College in 2008. She graduated in 2012 with a major in Creative Writing and minor in Black World Studies. Her coursework in bookbinding, cartooning, and metalsmithing affirmed her passion for working with her hands. Her love for the arts led her to seek employment in the museum shop at the Art Institute of Chicago, where she daily visited two of her favorite paintings: George Seurat's A Sunday on La Grande Jatte and Gustave Caillebotte's Paris Street; Rainy Day. After two long years at an office job in the promotional products industry, Emily decided to shake things up. In 2016, she made the cross-country journey from Chicago's Logan Square area to West Seattle (in the dead of winter) with her aquatic turtle, Flapjack, and handsome tuxedo cat, Duke Ellington. It is there that she can be found toiling in her greenhouse or frolicking on the beach with Duke.
SAM was naturally calling her name.
SAM: What do you think of the Sam Gilliam installation (May 6–November 26)? 
Emily: Holy Color! I love this gallery. I am particularly drawn to Union. I can't imagine having to handle and care for that painting with all the textured pieces and chunks of paint. Another VSO showed me a few pictures of his draped work and it is spectacular. My mind just keeps trying to imagine a garment made out of his colorful polypropylene fabric. It has a beautiful sheen to it.
What is your favorite piece of art currently on display at SAM?
I have such a hard time picking favorites! I am pretty in love with Der Orden der Nacht by Anselm Kiefer lately. It wasn't my favorite at first but the more I stared, the more enamored I became. A lot of people see it and remark about how the man looks dead, but to me he looks completely at peace. Although the scenery is completely haunting (a sunlit haze over a field of looming dead sunflowers) and a little creepy, I can't help but imagine what it must've looked like ablaze with yellow, alive and lush. That man lying beneath those flowers knows what I'm talking about.
I also really enjoy dissecting the craftsmanship in the Men's tunic from Cameroon in  . There is so much appliqué and embroidery. I'm also obsessed with all of the jewelry pieces we have—especially the gold serpent bracelet in the Ancient Art gallery and all of the Maassai beadwork and Fulani earrings.
Who is your favorite artist? 
Again too many favorites! I love the impressionists and art nouveau. I'm a sucker for the female form and flowers. That being said Alphonse Mucha comes to mind. The way he adorns women (swoon). Beautiful!
What advice can you offer to guests visiting SAM? 
See it all! You never know what you are going to glean inspiration from and appreciate. It's not aways the things you expect to like that you fall in love with. You might be surprised.
And put down your phones! I know I am guilty of this too sometimes but there is nothing worse than when I see people texting, not even looking at the art, or just snapping quick, blurry pictures that they will probably never look at again, and moving on. You really can't get scale or the impact of an artwork from a picture. If you really love it, take the time to stop and stare for a few moments—maybe even minutes—and really connect with the piece first. Being at a museum is an experience. Savor it.
Tell us more about you! When you're not at SAM, what do you spend your time doing?
My favorite things to do are travel and visit other museums. I love to be outside, so hiking, running, and kayaking are a regular occurrence. I also enjoy seeing live music and am an avid reader who loves comics and graphic novels. I am always trying to make more time to create art and explore new mediums. I just started volunteering at the Northwest African American Museum and am interested in volunteering with the Frye Art Museum as well. I can't imagine life without art, so I intend to drown in it.
–Katherine Humphreys, SAM Visitor Services Officer
Photo: Natali Wiseman.