Migration Stories: Chiyo Ishikawa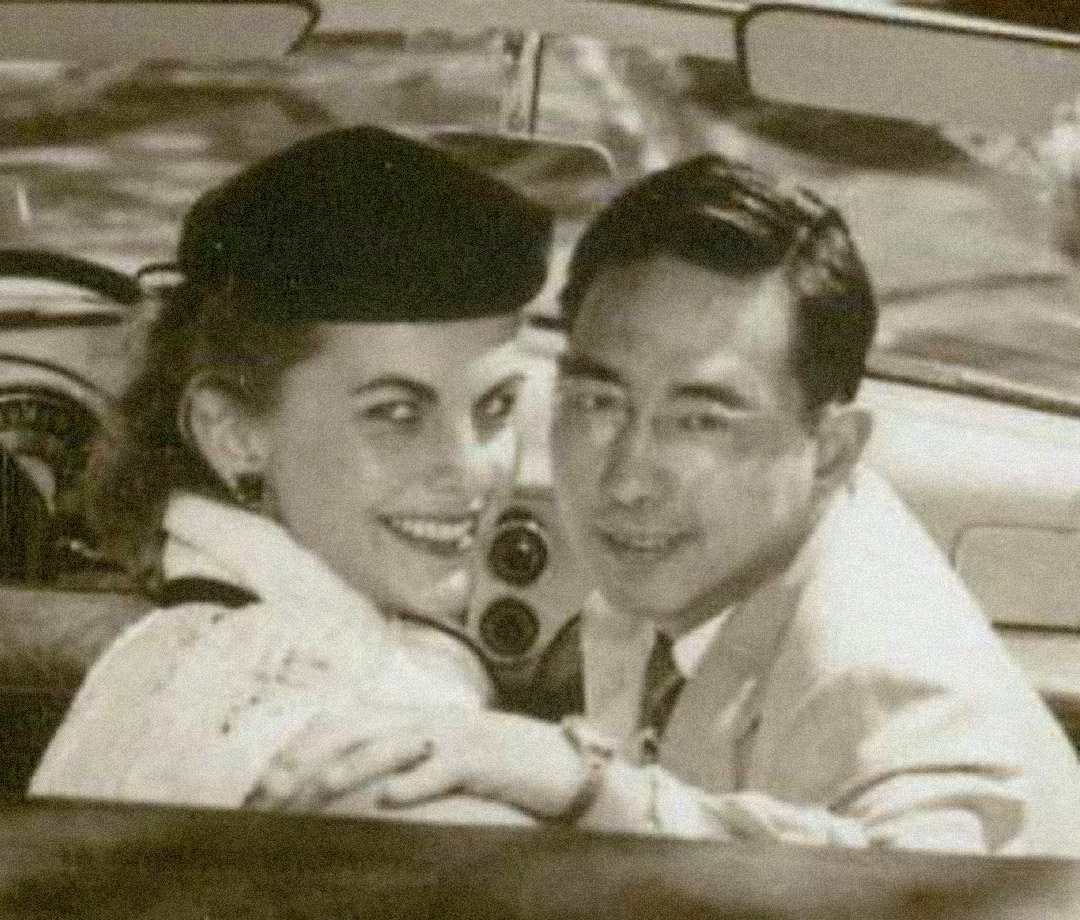 World War II is the reason my parents met. They were both American citizens but wartime fear forced an unwanted migration on my father's family and thousands of other west coast Japanese and Japanese-Americans. As soon as Executive Order 9066 was issued in February 1942, my dad began efforts to get out of internment camp. This second migration is how he came to meet my German-American mother in Nebraska that same year.
My father's father, Rintaro Ishikawa, was born in Hiroshima in 1865. In the early 20th century he emigrated to the United States with his wife Mura and their young daughter Fusae. We don't know why the family chose to emigrate but it may be because they had converted to Christianity and perhaps also so that Fusae could receive a college education, which was unavailable to girls in Japan at that time. Rintaro first worked as a janitor and then for Hyland's, a homeopathic pharmacy which still exists today. He never learned much English, and he and his wife spoke Japanese at home. The family settled in East Hollywood in a neighborhood of Japanese immigrants and African-Americans. There they had four more children, including my father, Joseph, who was born in 1919.
After his sophomore year at UCLA in 1938, Joe followed his father's wishes and sailed to Japan to learn Japanese. Rintaro was concerned that his children could not read and write the language and had no communication with family members in Hiroshima. Joe was admitted to Keio University but after two semesters relations had grown so strained between Japan and the United States that the American consulate warned American citizens to leave. He returned to the US in January 1941 on the penultimate ship that sailed before the Japanese bombing of Pearl Harbor in December that year.
In February 1942 Executive Order 9066 was issued; it called for the incarceration of Japanese and Japanese-Americans on the west coast. The family first reported to the Santa Anita Racetrack before being transferred by train to the Granada War Relocation Center (Amache) in southeast Colorado about six months later. While at Santa Anita, Joe applied to inland universities which welcomed Nisei students and was accepted at the University of Nebraska.
Joe went to the University of Nebraska in fall 1942 to study English literature, but he began working at the University Art Galleries and eventually became a curator there. Through a friend he met my mother, Olivia Brandhorst, the daughter of two German-American parents whose families had emigrated from Germany in the 19th century.
Olivia's paternal grandfather, Karl Wilhelm Brandhorst, was born in 1869 in a small town near Hamburg in northern Germany. He came to the United States to work as a coal miner in Mt. Olive, Illinois but tried several other jobs before settling in Lahoma, Oklahoma in 1902 with his wife Alvina Backhaus and their children. Olivia's maternal grandparents, Ernst and Augusta Koeneke, were prosperous farmers in Kansas who had come to the United States from Schleswig-Hollstein, Germany in the mid-19th century.
Carl Theodore Brandhorst (b. 1898) married the youngest Koeneke daughter, Louise, and began a career as a Lutheran school teacher in small Kansas towns. My mother, born in 1927, was the third of their eight children. German was spoken at home when she was small. When Olivia was a teenager the family moved to Seward, Nebraska. She had led a sheltered, conservative life and my father must have seemed exotic to her—nine years older than her, from the west coast, a Japanese-American with experience living abroad.
My parents met in 1944 and married in 1951 after a long and tumultuous courtship. The Brandhorst parents liked my dad but did not approve of the marriage, and no family members from either side were present at the wedding. Going against her parents' wishes was hard for my mother, who had been raised to "honor thy father and thy mother." But in the following years they made sure that their five children had relationships with their families and learned the best of the values that had shaped them.
My parents came from two tradition-bound cultures that were known for proud homogeneity. Their own lives provided a counter-narrative to those norms, which had proved so devastatingly destructive during the years of World War II. Part of it was that their generation thought of themselves more as Americans than belonging to their culture of origin, and like many of their peers Olivia and Joe moved away from their hometowns to forge a new identity that they could shape independently.
– Chiyo Ishikawa, Susan Brotman Deputy Director for Art and Curator of European Painting and Sculpture
Inspired by Jacob Lawrence: The Migration Series, Seattle Art Museum's Equity Team and staff is sharing personal stories of immigration, migration, displacement, and community. Hear more stories, in person, at the last installment of our Migration Stories events, this Thursday, April 13, with speakers presented in partnership with Tasveer in The Migration Series gallery. We hope this blog series and the upcoming event inspires you to consider how your own perspective and history relates to the works on view in Jacob Lawrence's artwork.
Photo: Olivia and Joseph Ishikawa wedding photo , June 11, 1951, Courtesy of Chiyo Ishikawa.