#SAMPhotoClub Self-Portrait Spotlight: SAM Photographer Chloe Collyer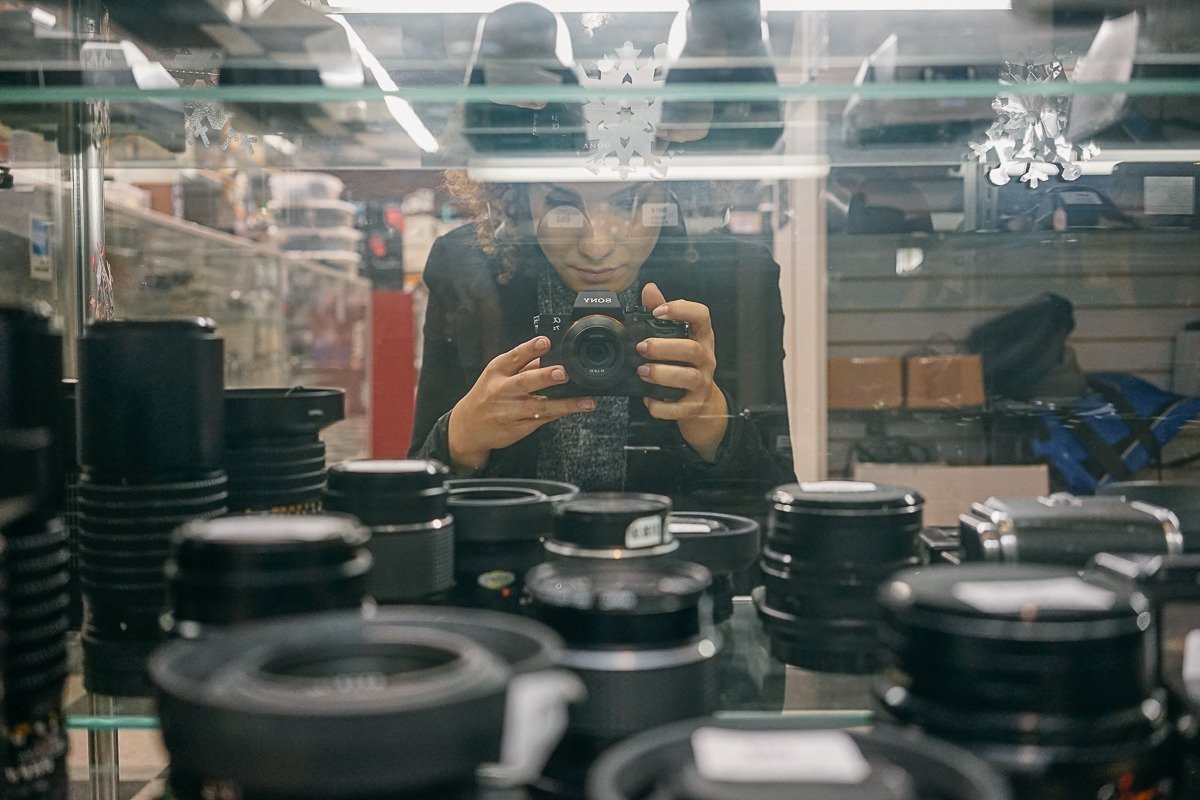 Amateur photographers, professional photographers, with a camera, or with an iPhone—#SAMPhotoClub is for everyone! While Dawoud Bey & Carrie Mae Weems: In Dialogue (November 17, 2022–January 20, 2023) is on view at SAM, we're announcing photography submissions to three of the defining motifs of both of these legendary photographers' careers: self-portraits, street photography, and family & community.
Submissions to our first theme, self-portraits, are now open, and we're taking the opportunity to highlight a few self-portraits by SAM's staff photographers and also asking them to offer some insight into their favorite portraits by Dawoud Bey or Carrie Mae Weems. First up: Chloe Collyer!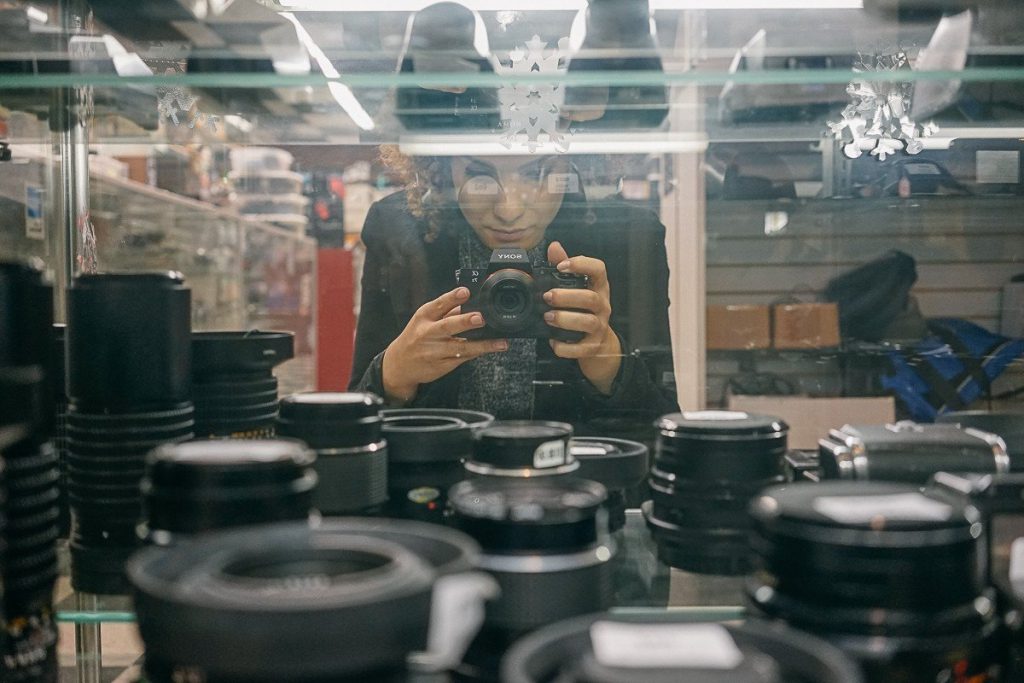 Camera Techs, 2015
This is a moment of reflection at my old workplace called CameraTechs. Shortly after graduating from photo school I was working at the camera repair shop and had bought a new Sony mirrorless camera. Both my career and my camera were brand new.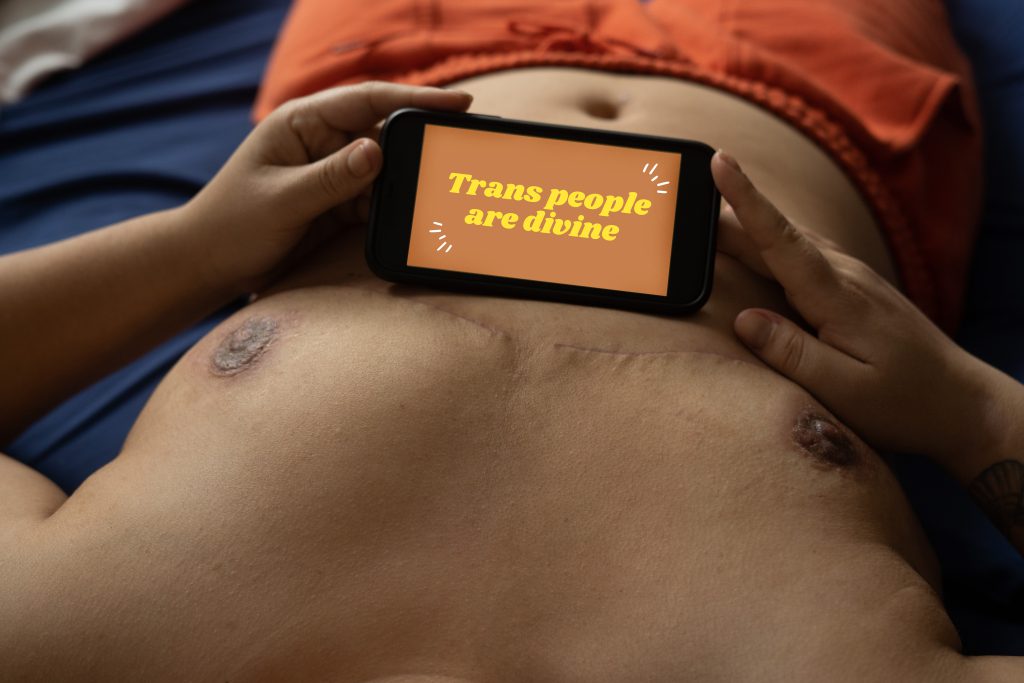 Trans People are Divine, 2022
A self-portrait one month after receiving gender-affirming top surgery. I hold the words "Trans people are divine" to honor the 'Black Trans Prayer Book,' a publication of stories, poems, prayers, meditation, spells, and incantations used by Black trans and non-binary people.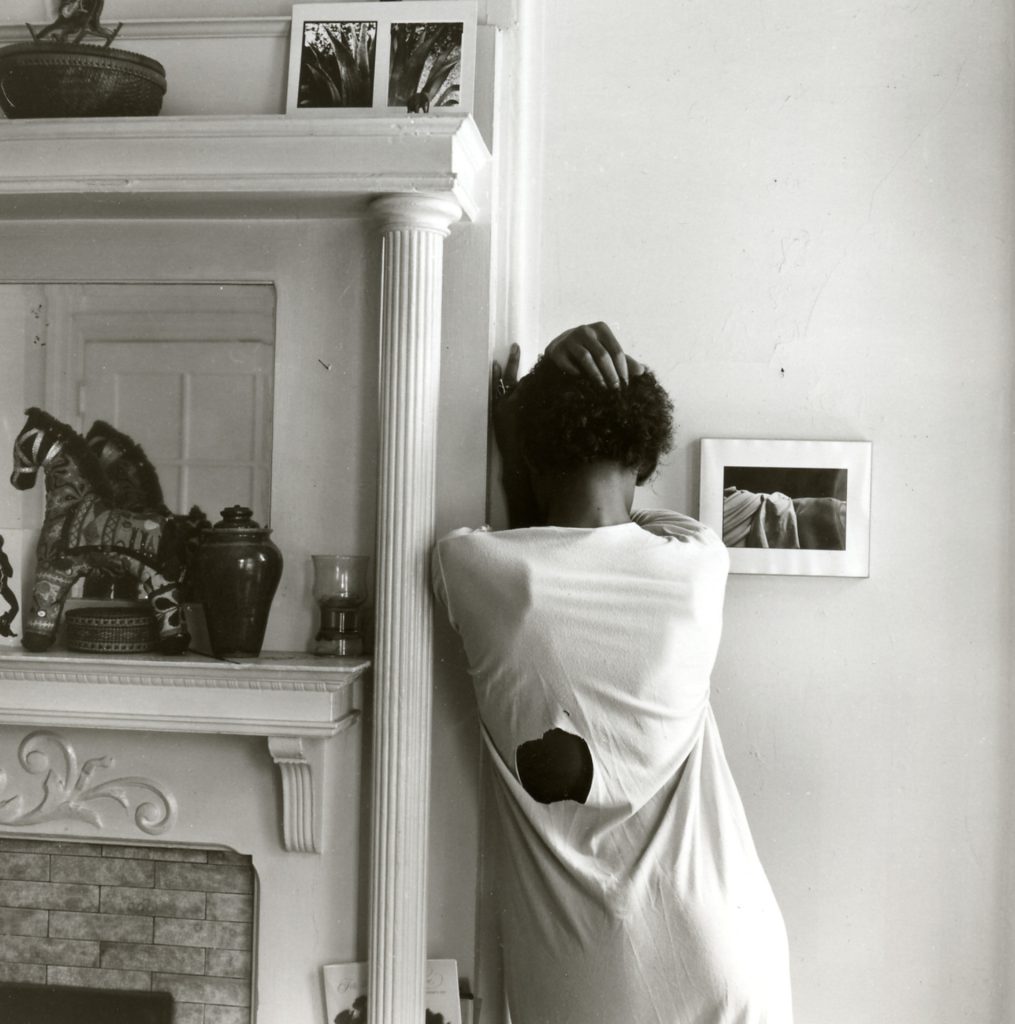 First Self-Portrait, Carrie Mae Weems, 1975
In this photograph, Weems leans against a white pillar—the symbol of strength, a spinal cord, and long-lasting Greek architecture—but her pose is gentle and protective. This photograph has such strong tonal blacks and whites that, when I unfocus my eyes, I see a white square with a small black hole in the middle. Holes can mean something is missing; they can be windows to look through. In this case I see both, I see every woman here.
Chloe Collyer (they/them) is a photographer, journalist, and fifth-generation Seattle resident whose work is deeply connected to the history and communities of the Pacific Northwest. A natural born documentarian, their toolkit includes 15+ years behind the camera, an associate's degree in commercial photography, and seven years of experience working as a photojournalist and photo editor. In addition to working as a staff photographer at the Seattle Art Museum, Chloe also teaches photography at Youth in Focus and Photo Center Northwest, and has had their work featured in The New York Times, Bloomberg Business, NPR, Buzzfeed, Real Change, Crosscut, and more.
Join #SAMPhotoClub by sharing your own self-portrait on Instagram and tagging us before December 9. Every week, we'll share a few of the photographs we've been tagged in on our Instagram Stories. Stay tuned as we announce submissions for our next two themes—street photography and family & community photography—in the coming weeks.
– Lily Hansen, SAM Marketing Content Creator
Photo Credit: First Self Portrait, 1975, Carrie Mae Weems, American, born 1953, gelatin silver print, 8 5/8 x 8 5/8 inches, © Carrie Mae Weems, courtesy of the artist and Jack Shainman Gallery, New York.