Alberto Giacometti: The Mountain Road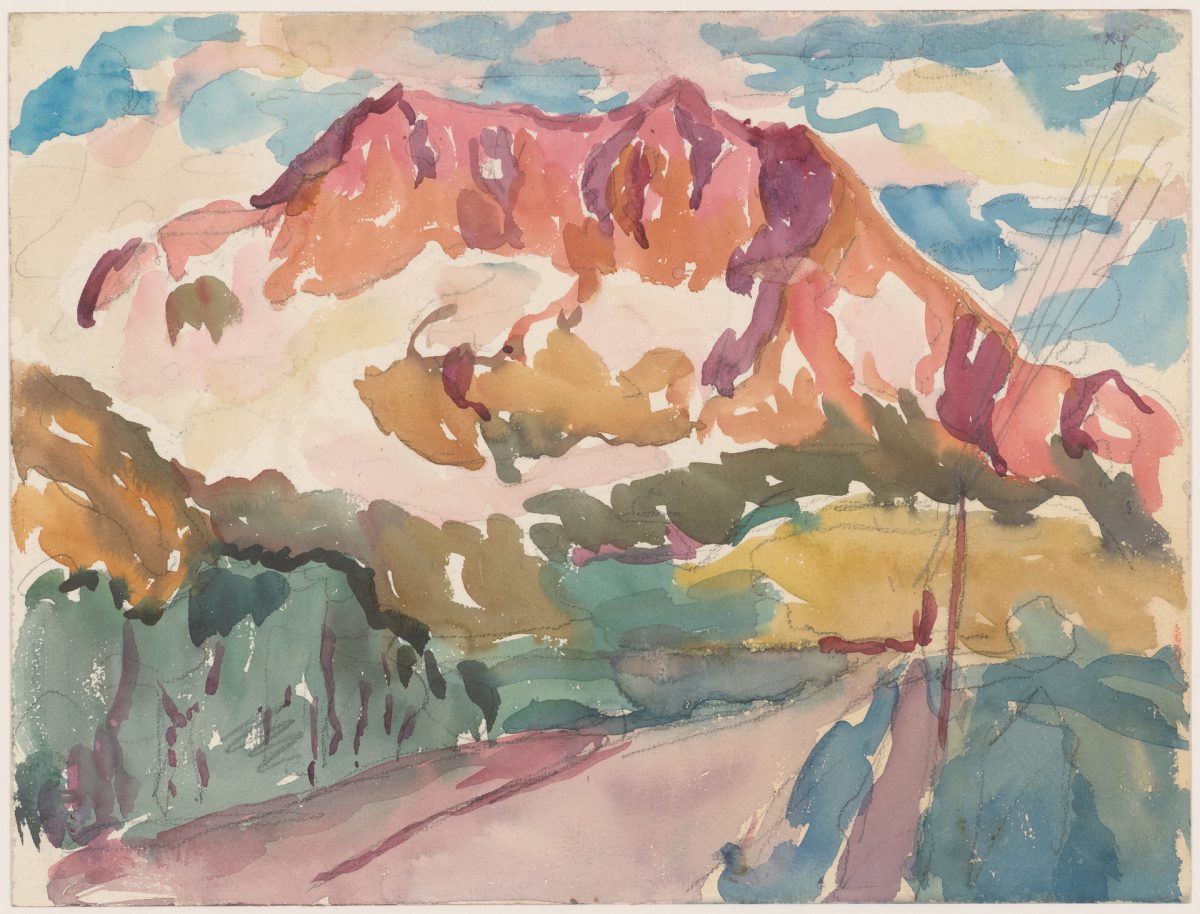 Although Alberto Giacometti may be most remembered for his delicate yet commanding bronze sculptures and busts, his artistic career began with vibrant watercolor paintings and drawings that capture the mountainous landscape of Giacometti's home in Stampa, Switzerland. Scenes from the village and dramatic views of the surrounding mountains are depicted in his early paintings which draw inspiration from his father, Giovanni Giacometti, a celebrated post-impressionist painter.
In The Mountain Road (ca. 1919), a thin, lavender road marks the entry point to a large, mountainous landscape. On the left, dark green trees line the road, while on the right, a telephone lines follow the road. Colors of blue, pink, red, and yellow complete the painting, depicting a segment of the Swiss Alps on a summer day. Placed beside one another, watercolor paintings such as The Mountain Road offer a striking departure from the gothic sculptures which defined his later career and illustrate Giacometti's development as a postwar era artist.
In this audio recording, Erika Katayama, SAM Associate Director of Interpretation, discusses Giacometti's early artistic inspirations in Switzerland and the influence of his famous father in his artistic development. Tune in to all eight recordings as part of the free smartphone tour of Alberto Giacometti: Toward the Ultimate Figure when you visit the exhibition at our downtown location through October 9.
The Mountain Road, ca 1919
ALBERTO GIACOMETTI: "I could spend every day looking at the same garden, the same trees, and the same backdrop."

NARRATOR: Alberto Giacometti was talking about the views of his small town of Stampa, Switzerland, where he grew up surrounded by towering mountains and trees. It was there that he began his journey as an artist. Associate Director of Interpretation Erika Katayama:

ERIKA KATAYAMA: So Giacometti came from a family of artists, and his early works like this watercolor landscape, are reminiscent of the style of his father Giovanni, who was a post-impressionist painter. Alberto loved his hometown of Stampa Switzerland, and although he moved to Paris in the 1920s, he came back to visit throughout his life, drawing inspiration from the alpine landscape and channeling it into the shapes and textures of his sculptures.
– Lily Hansen, SAM Marketing Content Creator
Image: The Mountain Road, ca. 1919, Alberto Giacometti, Swiss, 1901–1966, watercolor and pencil on paper, 22 × 29 cm, Fondation Giacometti, © Succession Alberto Giacometti / ADAGP, Paris, 2022.