Object of the Week: Monday, March 16, 2020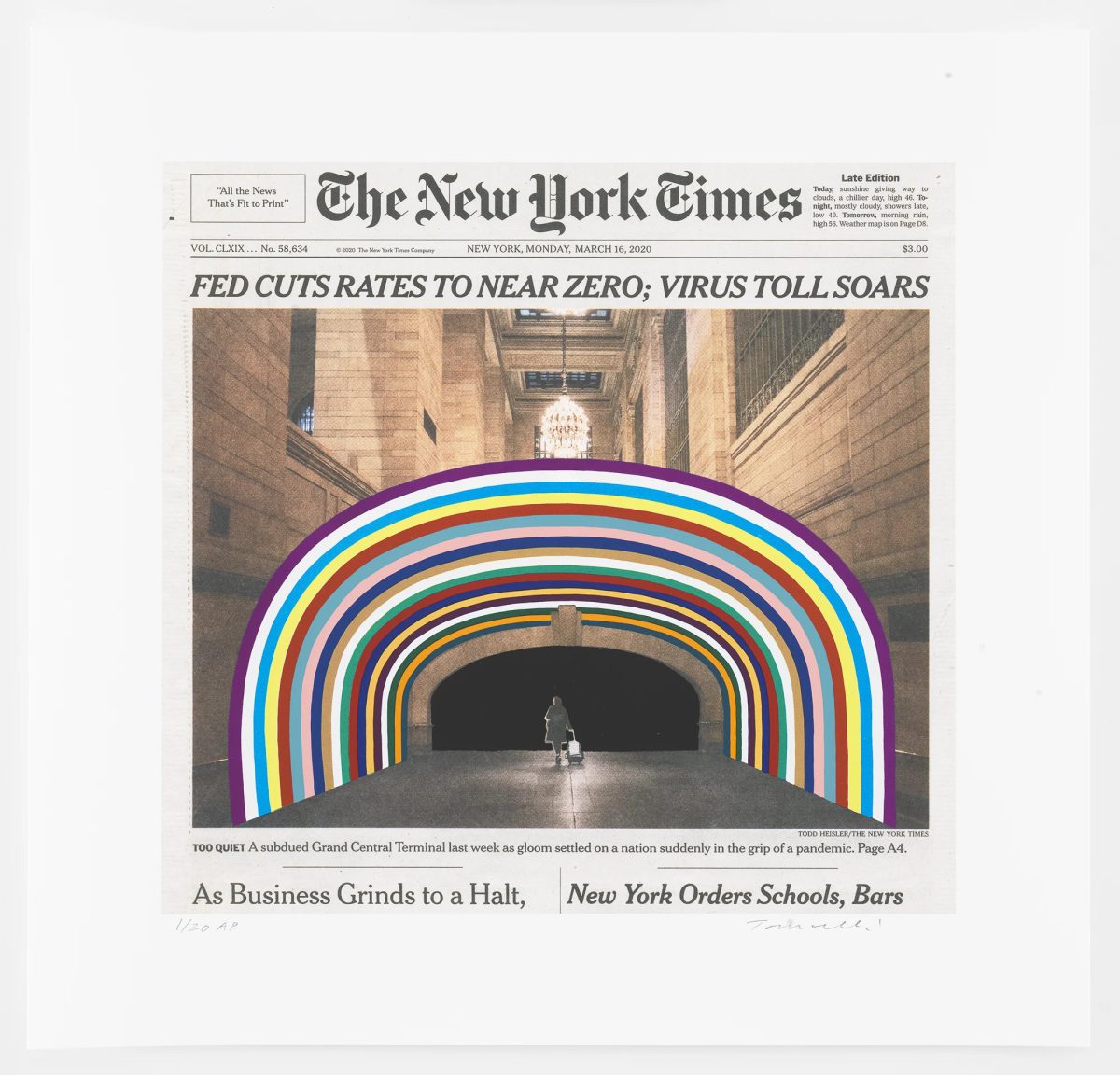 Since 2005, Fred Tomaselli has developed a body of work in which he uses the front page of The New York Times as the starting point for fantastic and at times surreal or psychedelic collages. Transforming newsprint into complex abstractions, the artist simultaneously responds to and divorces his imagery from current events, addressing the absurdity of our ever-spiraling news cycles.
Monday, March 16, 2020 is an exemplar piece in this regard. Made in the early days of the COVID-19 pandemic, Tomaselli looked to the front page of the March 16 edition of The New York Times, turning a still-haunting headline and image into an altered and abstracted space. "FED CUTS RATES TO NEAR ZERO; VIRUS TOLL SOARS" hovers above a lone traveler in an eerily empty Grand Central Station, the void through which they pass transformed with a multi-colored rainbow arch. In describing the ambiguous tone of the image, the artist has said, "This woman is walking into the unknown. I wanted to make her really stark and make her really isolated, but I also wanted to talk about hope."1
This print, made almost two years ago now, is a harrowing reminder of all that we have endured in the days and months since March 16, 2020. Still mired in a pandemic with COVID-19 rates soaring, it can be challenging to imagine a future beyond this. And yet, perhaps as Tomaselli suggests, this print—like all great art—can inspire and offer some hope that we will soon be on the other side.
– Elisabeth Smith, SAM Collections and Provenance Associate
---
1 James Cohan Gallery, "New Print by Fred Tomaselli," October 24, 2020, https://www.jamescohan.com/news/new-print-by-fred-tomaselli.
Image: Monday, March 16, 2020, 2020, Fred Tomaselli, Archival inkjet print and silkscreen on paper, 15 1/2 x 16 in., Framed: 18 1/4 x 18 1/2 x 1 1/4 in., Gift of Jane and James Cohan in honor of Virginia Wright, 2021.5 © Artist or Artist's Estate.