Object of the Week: Untitled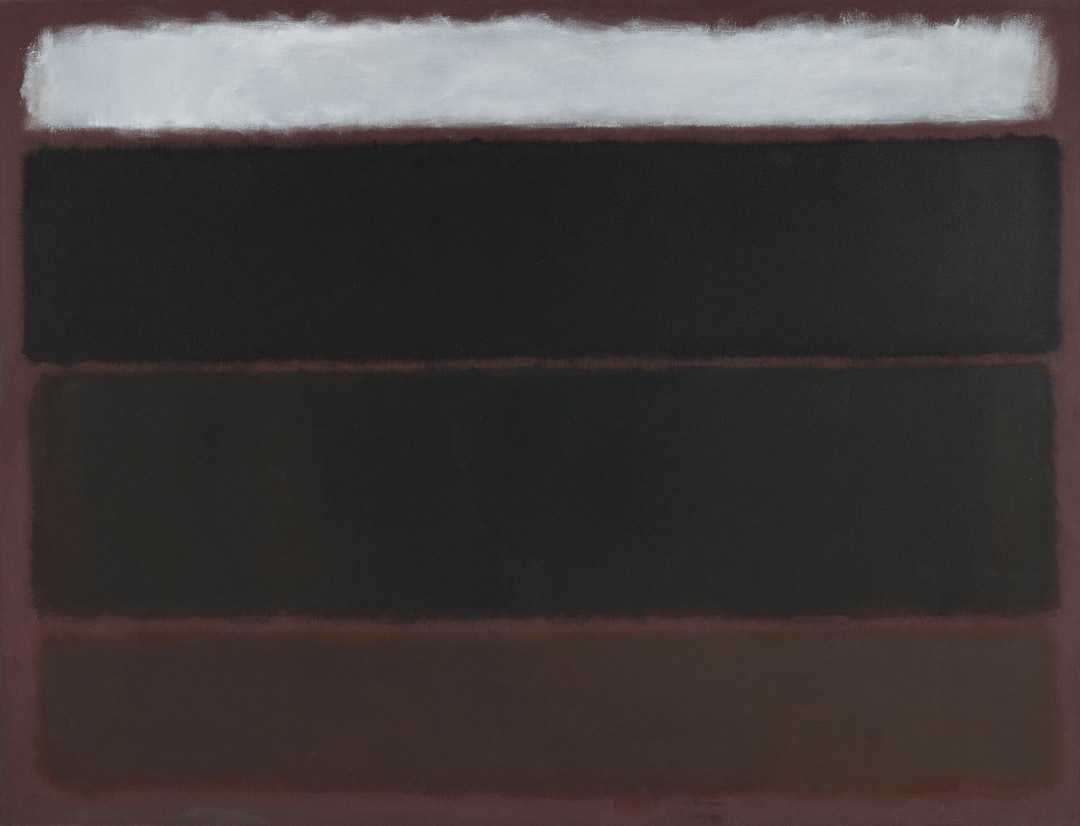 Mark Rothko is one of the preeminent American artists of the 20th century and a central figure of the New York School. This later painting, completed in 1963, is a wonderful example of his signature style—a large-scale canvas comprised of bands of color that vibrate with quiet depth and intensity.
As described by one art historian, Stephen Polcari, "Rothko's mature paintings consist of parallel rectangles, often similar in value but different in hue and width, extended to the edges of the canvas. The shapes lack distinctive textural effect, seeming to be veils of thin color applied with sponges, rags, and cloths, as well as brushes. Line has been eliminated altogether."1 In Untitled, a muted palette of dark, purplish browns—verging on black—are characteristic of his later work, while his earlier color field abstractions are defined by their bright and exuberant surfaces of glowing red, yellows, and oranges. (#10, also in SAM's collection, is a strong example.)
While Polcari's formal assessment is accurate, what cannot be captured is, importantly, the feeling of a Rothko painting. In a 1958 lecture given by the artist at the Pratt Institute in Brooklyn, he addressed the size of his work and the importance of scale: "large pictures are like dramas in which one participates in a direct way."2 Rather than depict the human form, which had previously preoccupied many artists of his generation, Rothko opted instead to pursue something much larger—more ineffable and metaphysical: "the scale of human feelings, the human drama, as much of it as I can express."3 Scale, coupled with the structure of the paintings, anchored by his signature layering of saturated colors, work to directly and immediately envelop the viewer, expressing "basic human emotions—tragedy, ecstasy, doom, and so on."4 Rothko desired intimacy between his canvases and viewers, and attempted to connect his viewers with feelings of the sublime: "people who weep before my pictures are having the same religious experience I had when I painted them."5
A recent gift to the Seattle Art Museum from the Friday Foundation in honor of Richard E. Lang and Jane Lang Davis, Rothko's Untitled will be on view next month as part of Frisson: The Richard E. Lang and Jane Lang Davis Collection.
– Elisabeth Smith, SAM Collections and Provenance Associate
1 Conway Hall, "Rothko and Sensitive Observers," Medium, May 22, 2016, https://medium.com/@ConwayHall/rothko-and-sensitive-observers-bc931faea110.
2 "Mark Rothko: Classic Paintings (1949-1970)," National Gallery of Art, https://www.nga.gov/features/mark-rothko/mark-rothko-classic-paintings.html.
3 Hall, Medium.
4 Selden Rodman, Conversations with Artists (New York: Devin-Adair Company, 1957), 93.
5 Ibid.
Image: Untitled, 1963, Mark Rothko, oil on canvas, 69 × 90 1/4 in., Gift of the Friday Foundation in honor of Richard E. Lang and Jane Lang Davis, 2020.14.16. © 1998 Kate Rothko Prizel & Christopher Rothko / Artists Rights Society.