Muse/News: Art of Asia, Rock 'N' Roll, and a Woman Leads the Louvre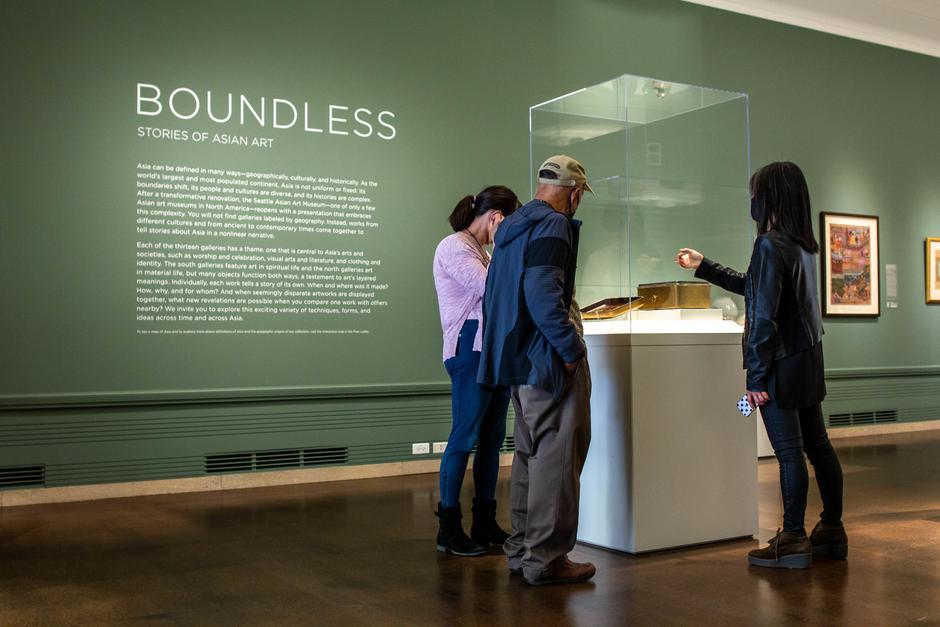 SAM News
The Seattle Asian Art Museum is back! After a grand reopening in February 2020, the building was shuttered a month later by the pandemic. Excellent news, doors opened again to the public last Friday.
SAM curators FOONG Ping and Xiaojin Wu shared their excitement about the re-reopening with KOMO News, KING News, and KING's Evening Magazine. They were joined by new SAM curator Natalia Di Pietrantonio to chat about three objects (out of the almost 400 on view!) with the Stranger's Jasmyne Keimig. Seattle Met highlighted the reopening, and SAM director Amada Cruz spoke with KIRO's Dave Ross about this "21st-century museum hidden behind a 1933 Art Deco gem." Get your tickets for June now!
Local News
Jasmyne Keimig of the Stranger reviews Gary Simmons's show The Engine Room, now on view at the Henry Art Gallery. It includes a full-size "garage" for musicians to play in.
"A Surreal Night at Seattle's First Music Venue to Reopen": Seattle Met's Stefan Milne gets back out there.
Seattle Times music writer Michael Rietmulder speaks with the local rock scene's many leaders who are Black, people of color, and/or LGBTQ+ about the past & present of rock 'n' roll & race.
"Here's the best part, my guy," [Cameron] Lavi-Jones says. "It means we're going to get a lot better [expletive] rock music. It means we'll get way more powerful music, way more intentional music — music with stronger messages — because when Black and brown people are making things, this is second nature to us."
Inter/National News
"The Iconography of the Paris Commune, 150 Years Later": Billy Anaia for Hyperallergic returns to the barricades for the sesquicentennial.
Artnet's Sarah Cascone with "17 marvelous highlights from the 2021 Venice Architecture Biennale," in case you're tired of looking at the same four walls.
Via the New York Times: The Louvre has appointed Laurence des Cars as its new president; she is the storied institution's first female leader in all of its 228 years.
"She hopes to expand cultural collaborations with contemporary artists, and organize more exchanges with writers, musicians, dancers, filmmakers and designers. 'Let's not be afraid,' she said."
And Finally
Samaria Rice is the mother of Tamir.
– Rachel Eggers, SAM Associate Director of Public Relations
Photo: Natali Wiseman