Object of the Week: Mercedes Benz Coffin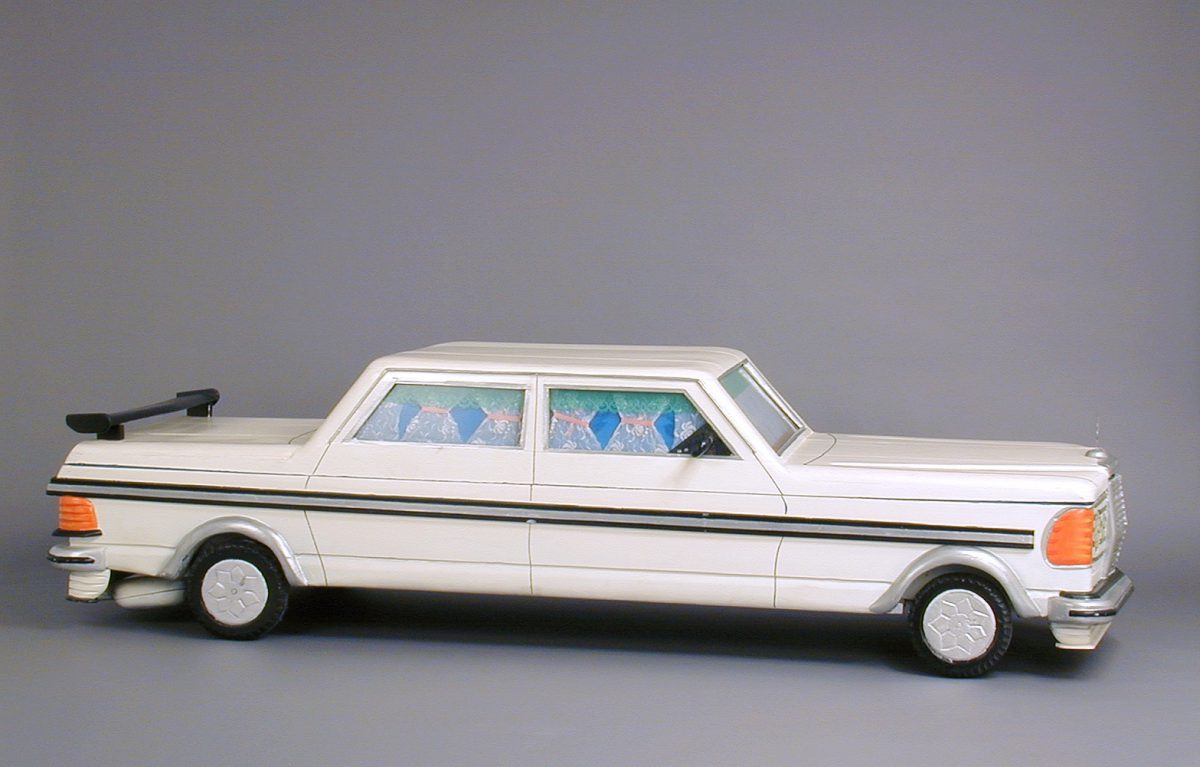 In the 1970s, carpenter and carver Kane Quaye's grandmother passed away. It was her lifelong, unfulfilled dream to travel on an airplane. In tribute, Quaye built her a coffin shaped as plane. She was laid to rest inside its upholstered interior, paraded to her grave and buried in her homeland. Quaye has since gained international acclaim for his coffins which are also popularly known as abebuu adekai or "proverb boxes". The coffins celebrate the achievements, status and identity of the deceased. His legacy continues today at his workshop in Ghana, currently run by Quaye's grandson, Eric Adjetey Anang.
As Quaye's work gained renown throughout the art world, his creations were built for two very different purposes: as coffins for burial or as art objects for display. Gallerist Bill Wright commissioned the Mercedes Benz Coffin in 1991.[1] It is a nine-foot wooden sculpture carved to resemble a white luxury car now displayed under a Plexiglas box in SAM's galleries. Placing this coffin in a museum raises questions about how art can help people process loss.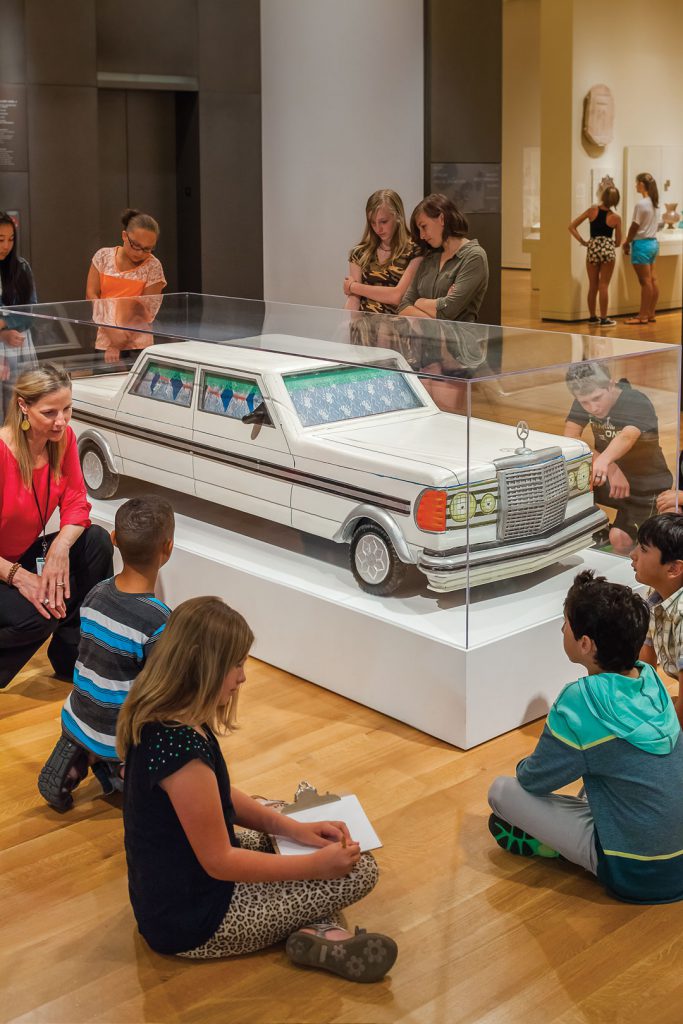 When in the galleries, I ask students to look closely as they walk around this intriguing sculpture. What are we looking at? What is happening in this object? Students comment on the scale of the car, the non-functioning wooden wheels, the curtains covering the windows, and the crack in the surface where the lid separates from the base. Eventually someone reads the license plate and realizes this object is a coffin (and eventually one wide-eyed student asks if there is anything inside it). We share the story of the artist's process and ask students what object they would select to symbolize their own lives. Teaching from Mercedes Benz Coffin, I often find myself talking about concepts that are difficult to navigate, just as the last several months have made many hard truths newly visible.
In my research to write this post, I found a list of custom coffins that were created in Quaye's workshop. It reads like a poem:
Sardine for a fisherman
Lion for a hunter
Parrot for a university lecturer
Chicken with chicks nestled beneath wings for a business woman, mother and grandmother

In this workshop list, I see an echo to the names the New York Times published to memorialize 100,000 lives lost in the United States to COVID-19:
Liked his bacon and hash browns crispy. Fred Walter Gray, 75, Bentonville AK
Immigrated to the United States three years ago. Jessica Beatriz Cortez, 32, Los Angeles
Could make anything grow. George Freeman Winfield, 72, Shelburne. VT
I am also reminded of the signs seen at protests across the United States calling out the names of the many recent victims of police violence against Black people.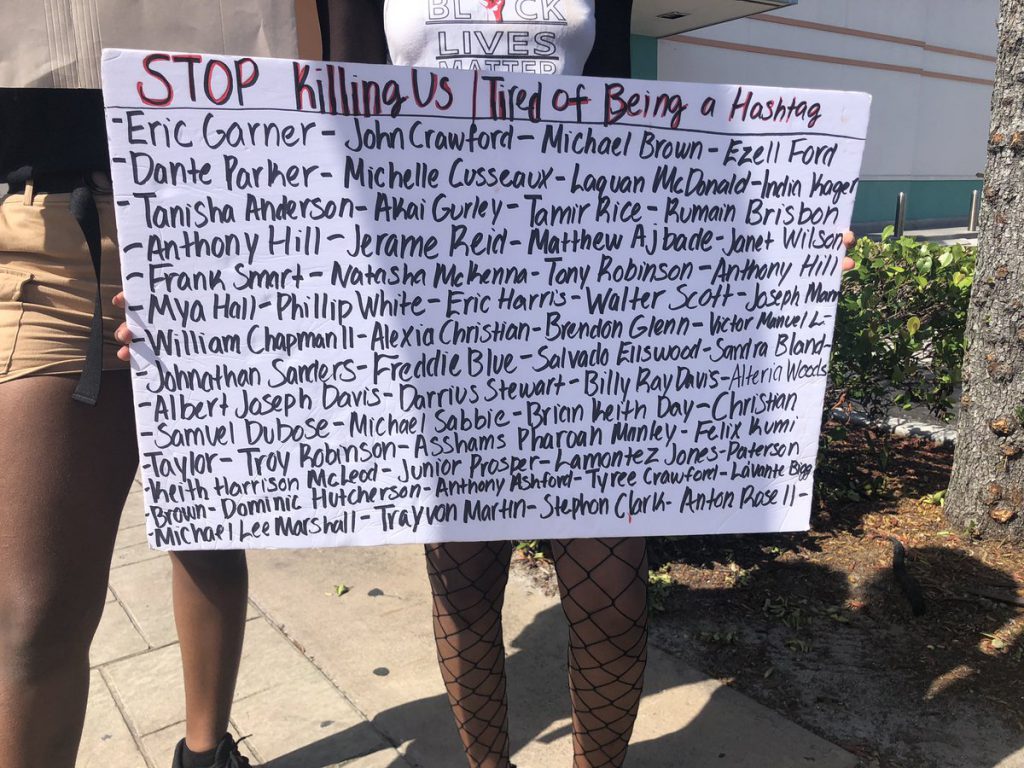 We are living in a season of immense loss. When we look back, what symbols will be selected to memorialize this time and the lives within it? An N-95 mask, a Black Lives Matter protest sign, a desk used for remote learning, a loaf of homemade bread? Museums and community collectives have already begun to gather and archive such objects. It's curious to think how this current reality will appear mirrored back to us on display behind glass. How much of this time and ourselves will we see reflected? How can we symbolize the lives lost and the spirit that continues?
– Regan Pro, SAM Kayla Skinner Deputy Director for Education and Public Engagement
Images: Mercedes Benz coffin, 1991, Kane Quaye, wood, paint, 25 x 35 x 101 in., Gift of Dr. Oliver E. and Pamela F. Cobb and Mark Groudine and Cynthia Putnam in honor of Pam McClusky, 93.163 © Kane Quaye. Photo: Nathaniel Wilson. Paa Joe's Coffin Workshop, Ghana, 2005. Photo: Alida Latham. A sign at a Black Lives Matter protest, Lake Worth, Florida, 2020.