SAM Creates: Powerful Portraits the Wiley Way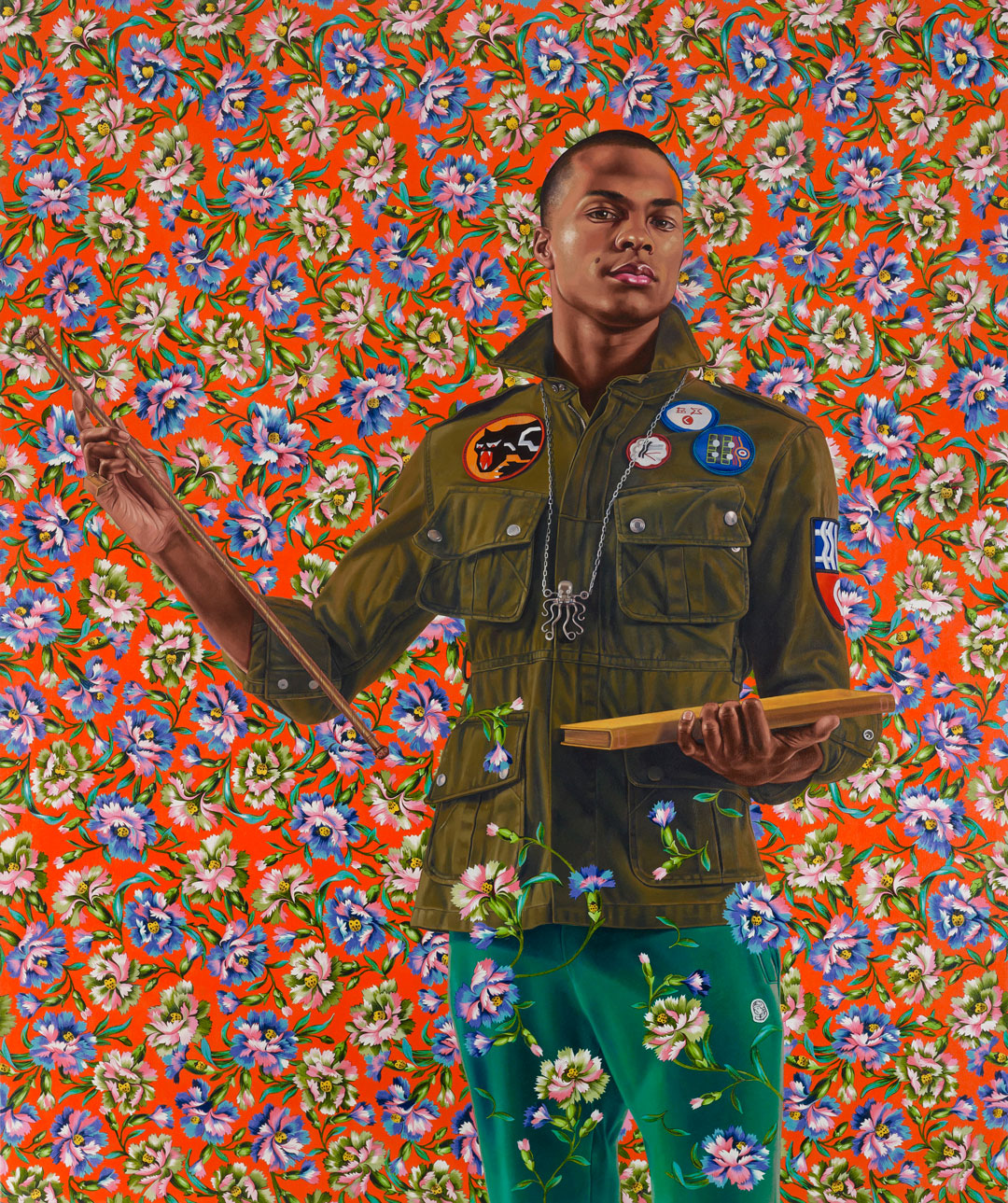 Kehinde Wiley is known for shifting the grand tradition of western portraiture. His work combines contemporary sitters painted in the style of famous 18th-century portraits. Through his paintings and sculpture, he is weaving together ideas of identity, power and beauty. In Anthony of Padua, painted in 2013, his sitter is dressed in contemporary dress, but the title and pose are borrowed from Jean-Auguste-Dominique Ingres' late-19th-century stained glass window depicting Saint Anthony of Padua at the Chapelle St. Ferdinand, Porte des Ternes, Paris. Wiley's Anthony is wearing an olive green army style jacket with patches and what look like green sweat pants. Wiley did that, he says, to reveal a place in time. He wanted the viewer to see what it looks like and feels like to be in America in this time period.
Wiley also says that seeing is a way of receiving culture. During this unprecedented stay at home order the Zoom lens is shifting our idea of portraiture for our current time. To capture this moment in time let's do Zoom portraits!
What you'll need
Paper
Pen and/or pencil
Zoom meeting or other digital gathering allowing you to be face to face with at least one person
Warm up: Do a one minute blind contour drawing. A blind contour drawing is a continuous line drawing done without lifting the pen off the paper and not looking at your paper at all. Keep your eyes on your subject, don't worry about the outcome. Set a timer, go slowly, its okay to move back over your line. If you want, you can start by tracing what you see with your opposite finger (on your other hand). This process will help train your brain to see simple shapes and improve observational skills. The imperfections will be interesting.
Next, move on to the portraits: Set a timer for 15 minutes. Leave your microphone on so that you can chat without having to break your focus by fiddling with your computer. Start by drawing the grid of boxes. Then use each box to capture your different subjects with just a few lines. This exercise is part gestural and part contour drawing. You can look at your paper, but focus on your subject and try to reveal them in few well-chosen lines.
Once the timer rings share your work with each other and be gracious, this is less about product and all about process.
Share your artwork with us using #StayHomeWithSAM! And if you want to keep creating, check out this digital art interactive where you can create Wiley-inspired patterns .
– Lynda Harwood-Swenson, SAM Assistant Manager for Studio Programs  
We are humbled by the generosity of our donors during this unique time. Your financial support powers SAM Blog and also sustains us until we can come together as a community and enjoy art in the galleries again. Thanks to a generous group of SAM trustees, all membership and gifts to SAM Fund will be matched up to $500,000 through June 30!
Image: Anthony of Padua, 2013, Kehinde Wiley, oil on canvas, 72 × 60 in., Gift of the Contemporary Collectors Forum, 2013.8 © Kehinde Wiley