SAM Book Club: Octavia Butler's Brand of Sci-Fi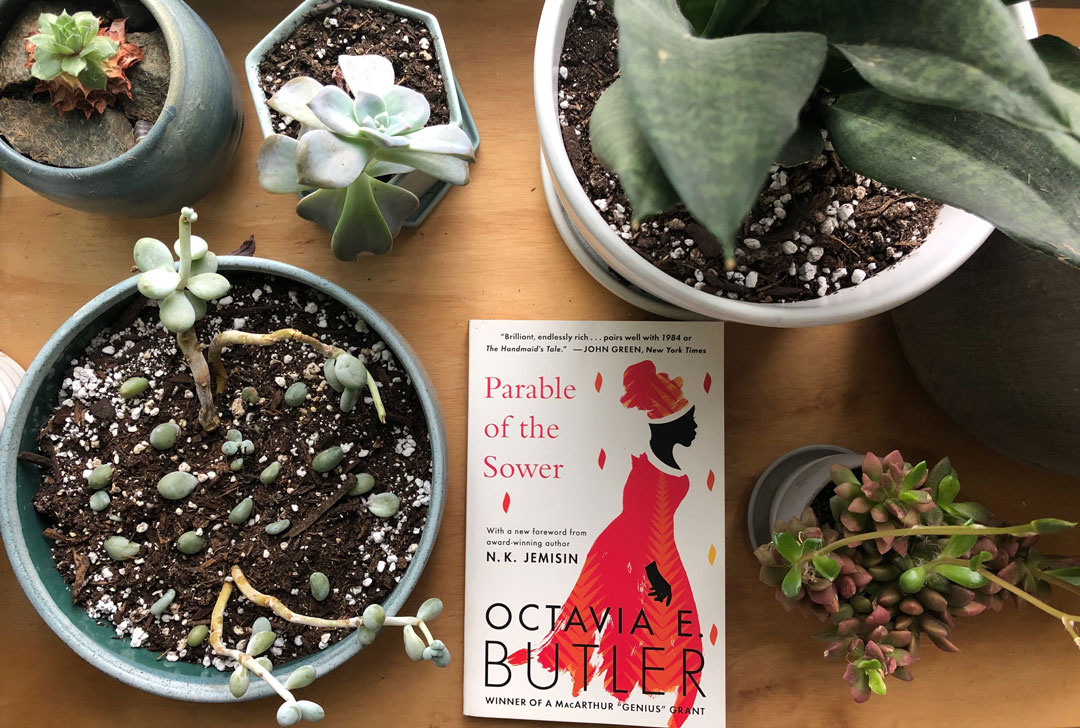 SAM's staff is reading and responding to Parable of the Sower by Octavia Butler as a way to continue considering some of the themes in our currently closed exhibition, John Akomfrah: Future History, on view through September 7. Upcoming book club reflections will be shared here on the blog June 3 and June 16. Our colleagues at the Northwest African American Museum are reading Parable of the Sower for their June Book Club and SAM has decided to cancel our Zoom Book Club discussion, previously taking place June 16, to join NAAM's live discussion on June 26. Register here and join us! Please read along and share your thoughts with us while you stay home with SAM!
SAM Book Club is now halfway through reading Parable of the Sower by Octavia Butler. As a first time reader of Butler and as a writer, I am in awe of her elegant craft with narrative structure. About three years have gone by since the beginning of the novel and protagonist Lauren Olmina has left the false security of her walled-in neighborhood to journey north.
Lauren has grown up over the chapters and decided she must leave her neighborhood in order to help Earthseed flourish. However, the circumstances that lead to her departure are brutal rather than voluntary. In fact, much of the novel is brutal, though never gratuitous. I would describe Butler's approach to a violent reality as unflinching. This is because the narrator of Parable of the Sower, Lauren Olamina, is herself unflinching.
What I find so skillful in Butler's writing is how this book is at once a novel and a holy text. Right around the middle of the book we begin to see how Lauren's writing, the book we are reading becomes the word of Earthseed. Consider how many religious texts are the parables of that religion's prophet—how the prophet's life contains the revelations and tenants of the religion. As we read, we begin to realize that Butler did not write a novel, she wrote Earthseed. And as I read, I find myself being converted.
I recently stumbled upon this video from our neighbors at Museum of Pop Culture where Butler discusses her approach to science fiction narrative. Hear from the author herself!
So what is Earthseed? Earthseed is a belief in change as god, or the most powerful constant in the universe. Now that we have reached the middle of the book, Lauren Olamina has just shared the first page of the first book of Earthseed: The Books of the Living with another person for the first time:
All that you touch
You Change.
All that you Change
Changes you.
The only lasting truth
Is Change.
God
Is Change.
Parable of the Sower touches on so many issues—climate change, corrupt politicians, corporate greed, class warfare, sexism, economic collapse, and racism are just a few. In the second quarter of the novel a slavery narrative is introduced in the form of an international company that takes over a coastal city promising jobs to families who relocate only to have those families forever in debt. Lauren's closest friend moves there and this begins a thread within the book that seems to be one of the driving themes: freedom. Almost all of the issues listed above are forms of oppression or they can be leveraged to oppress people. A professor friend of mine pointed me towards a current webinar series that unpacks this, and many other topics in the book, by two female scholars who can speak more eloquently about Butler's work than I ever could. Watch the first discussion in the series with Afrofuturist writer Tananarive Due and womanist process theologian Monica A. Coleman.
I suspect that Earthseed will take on new complexity now that Lauren has begun to share what she believes in with others. Perhaps this will lead to interpretations by others as the book continues. Tell us what you think about Earthseed, Butler's unique brand of sci-fi, and what sticks out to you about Parable of the Sower as you read along—comment below!
– Chelsea Werner-Jatzke, SAM Content Strategist & Social Media Manager