Object of the Week: Landscape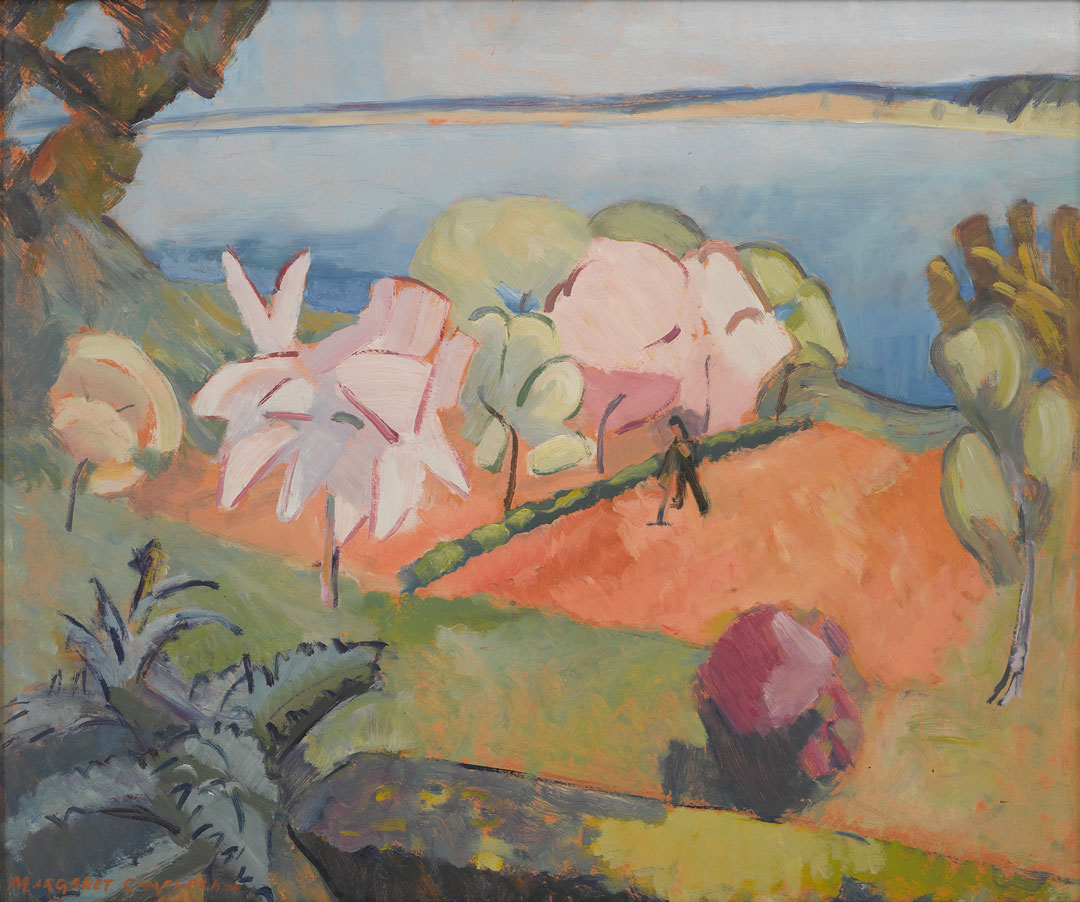 On Earth Day, we tend to take stock of the impact humans have had on our planet: how our polluting, mining, deforestation, and other acts have affected this round wonder that we call home. Amidst the COVID-19 crisis, however, the Earth is seeing a brief respite from this negative human activity—we've all seen the reports of air pollution temporarily plummeting. As many of us are limiting our contact with others, staying at home, or even sheltering in place, the Earth's beauty—blooming flowers, the sounds of animals, lapping waves, or the sound of wind through the trees—has become a source of comfort. I'd like to focus on those gifts the Earth provides for this Earth Day post.
For my family, this time of human isolation has brought an enhanced appreciation of nature and all of the beauty that can be found right in our own yard and neighborhood. We've been taking two walks a day (practicing social distancing, of course) and spending whatever time we can in our backyard. We've noticed many more flowering trees and plants, and the new gardens that people are eagerly starting. Friends who live in apartments have mentioned pulling chairs up close to a window so that they can be closer to nature while they work from home—even if they lack a view, the sounds of birds help.
Margaret Gove Camfferman's Landscape elicits this sense of the appreciation of nature for me. This work, sometimes called Orchard on Sound, was painted for the Public Works Art Project of Washington in 1933.[1] The view is from Camfferman's property on Whidbey Island looking across to Camano Island. It demonstrates a deep awareness of her surroundings. How much I appreciate these flowering fruit trees, the shrubs and other trees, the view of the Sound and the cliffs across the water. Camfferman moved to Langley in 1915, soon after she married the Dutch painter Peter Camfferman, whom she had met in New York. They built their home, called Brachenwood, there and established the Camfferman Art Colony on the property, which included cabins for visiting artists and instructors.[2]
Camfferman, who often painted flowers and landscapes, studied with artist Robert Henri in New York (we even have a painting of her by him in SAM's collection) and André L'Hôte in Paris. Landscape, which was painted shortly after returning from France, illustrates her development toward modernism. One scholar notes that her work "relied on the theme of nature for her point of departure and attempted to create an analogy between music and painting."[3] (We recently shared an art activity inspired by Georgia O'Keefe's work, Music, Pink and Blue, No. 1 which helps us better understand that connection between music and art. Check it out!)
Obviously, nature was important to Camfferman, and, perhaps, it's more important now to many of us—especially during the current COVID-19 crisis. Has your perception and appreciation of nature changed during this time?
– Traci Timmons, SAM Senior Librarian
[1] Rebecca Bruckner and Cindy Beagle, Pioneering Women Artists: Seattle, 1880s to 1940s (Seattle: Kinsey Gallery, Seattle University, 1993), p. [9].
[2] David Martin, An Enduring Legacy: Women Painters of Washington, 1930-2005 (Bellingham, WA: Whatcom Museum of History & Art, 2005), p. 57.
[3] Bruckner and Beagle, Ibid.
Image: Landscape, ca. 1933, Margaret Gove Camfferman, oil on board, 25 x 29 3/8 in., Public Works of Art Project, Washington State, 33.213 © Margaret Gove Camfferman