Object of the Week: Artist with African Inspiration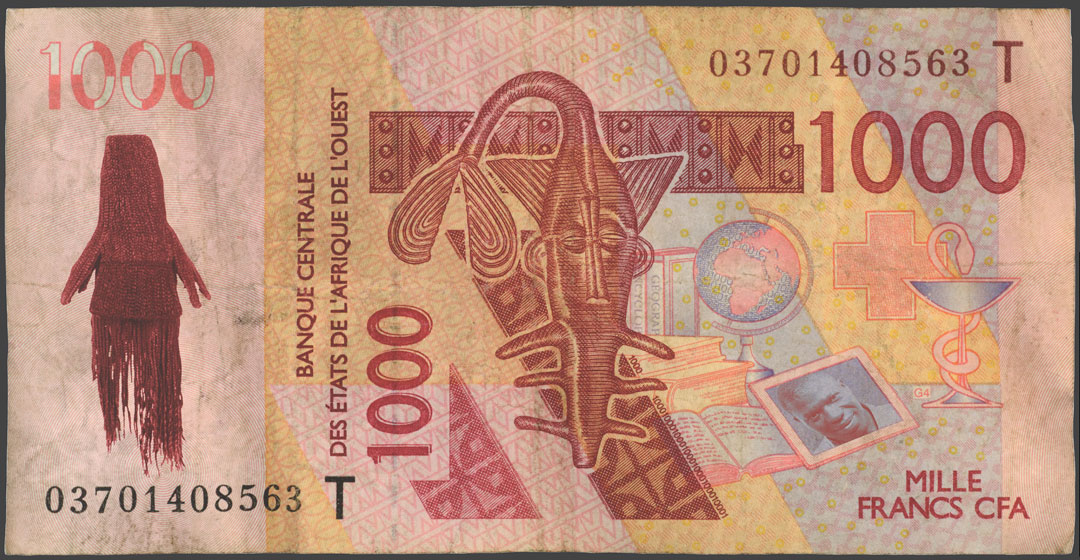 Meschac Gaba takes much inspiration from the streets of Cotonou, Benin, the city where he was born. The artist, full of clarity and humor about the nature of his work, understands the power of art in social environments.
After finding millions (Gaba's estimate) of cut banknotes on the street, the artist started incorporating money into his work. This was the early 1990s, when Benin first devalued currency, and Gaba was fascinated.
In Artist with African Inspiration: Salle de Francophonie (2004), Gaba prints new images on a West African 1000 CFA franc. On the back of the original bill, a chalkboard appears on the lower right side with the letters "abc" in cursive. However, Gaba replaces the letters and uses the chalkboard to frame his own face—smiling. On the left side of the bill appears an image of one of the artist's braided hair sculptures as well. It's a small revision, and it's cheeky.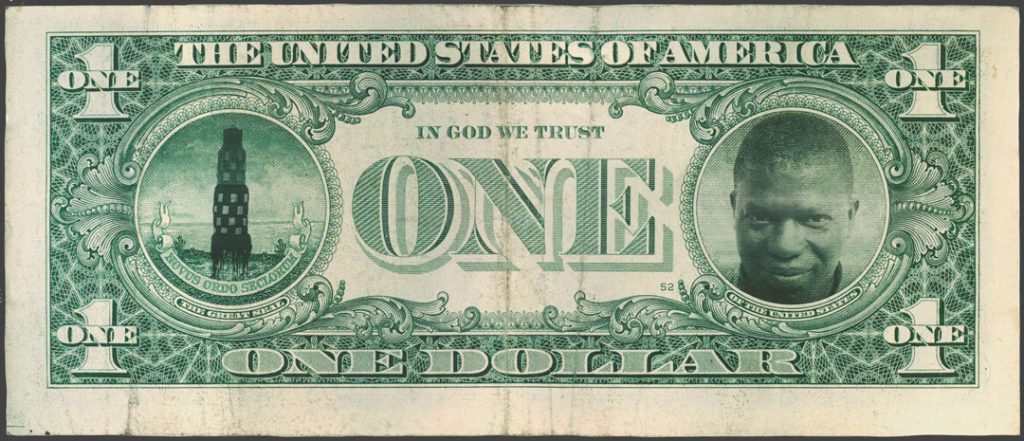 Gaba employs the same intervention with an American dollar bill in Artist with American Inspiration: 4 World Financial Center, swapping out our stately eagle for his face (again, smiling). One of Gaba's sculptures appears on the left as well. These could be read as ironic: an act of empowerment or a moment of tongue-in-cheek capitalist self-promotion.
However you might interpret his actions, Gaba uses everyday objects to continually play with questions of global trade and economy, and call attention to the modern conditions that drive us to constantly earn, measure, and compete against one another. Through his artistic practice, he questions who can be an artist, and how artists can create space.
– Jenae Williams, Exhibitions and Publications Associate
Artist with African Inspiration: Salle de Francophonie, 2004, Meschac Gaba, pigmented inkjet print, 17 15/16 x 35 1/16in., Gift of Vascovitz Family, 2012.22.2 © Artist or Artist's Estate. Artist with American Inspiration: 4 World Financial Center, 2004, Meschac Gaba, pigmented inkjet print, 18 1/8 x 42 15/16 in., Gift of Vascovitz Family, 2012.22.1 © Artist or Artist's Estate