Twice as Nice: SAM Staff Artists Tie FTW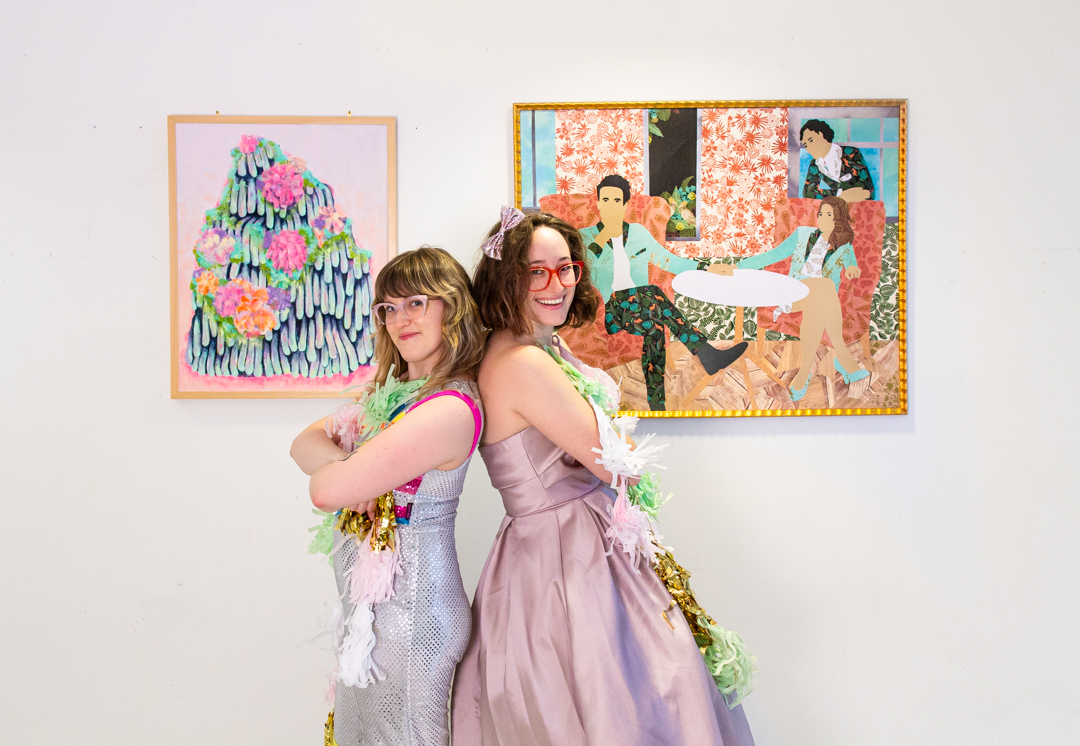 Every year Seattle Art Museum's Community Gallery is dedicated to artwork by its staff and the eclectic outcome is a thing of true beauty—as colorful and strange as all the art lovers and artists that work here. This year, in a true testament to the volume of excellent work that was on view July 31 to September 1, not one but two talented SAM staff members were voted as faves by their peers. Ashley Mead, Assistant Registrar-Rights and Reproductions, and Natali Wiseman, Design Studio Manager, tied for our hearts this time around. Learn more about these two artists their obsessions with color, and their love for SAM's Australian Aboriginal collection in this interview!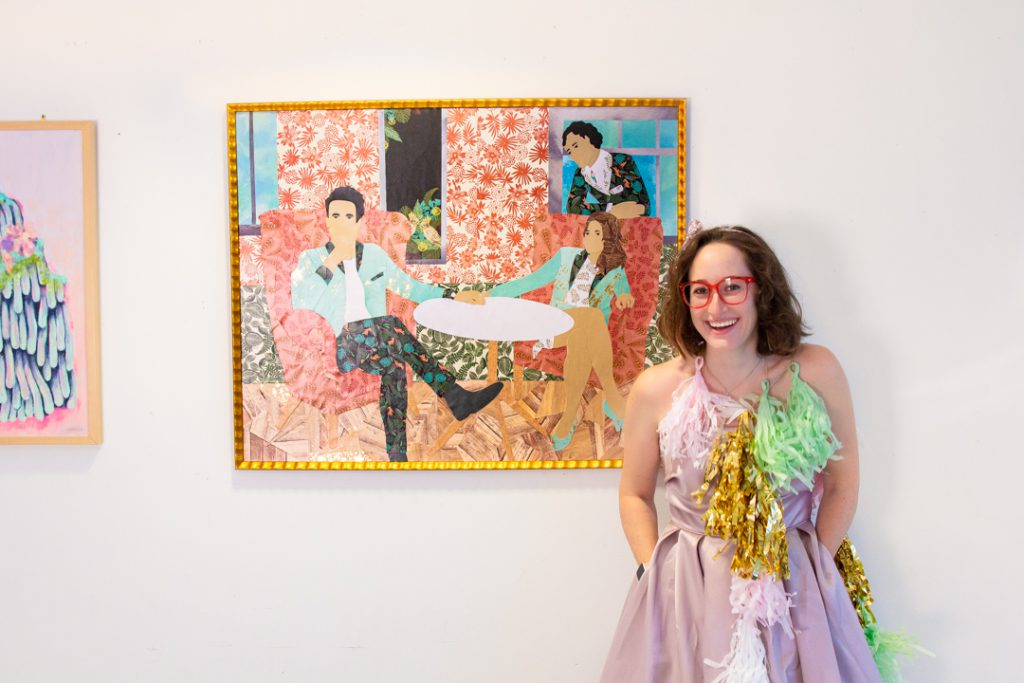 SAM: How does this work fit into your larger artmaking practice? Have you always worked in this medium?
Ashley Mead: It doesn't? Or rather, because I'm inconsistent in my practice it totally fits with my larger artmaking practice. I just couldn't tell you how. I've worked with paper for a few years and in collage for one year, and only because I agreed to do a portrait before I remembered that I can't draw. Other than that, I dabble in just about every medium I can get my hands on—hence the inconsistency.
Natali Wiseman: I have always painted, but this is the first painting I've made in a few years. Previously I did a lot of really detailed illustrative painting, which completely broke me, so I took a long break. I wanted to try something a lot looser with less clean edges. Playing with dimensional paint was fun and new. For the last several years I have mostly been doing screen printing and collage, so it was nice to get back into painting.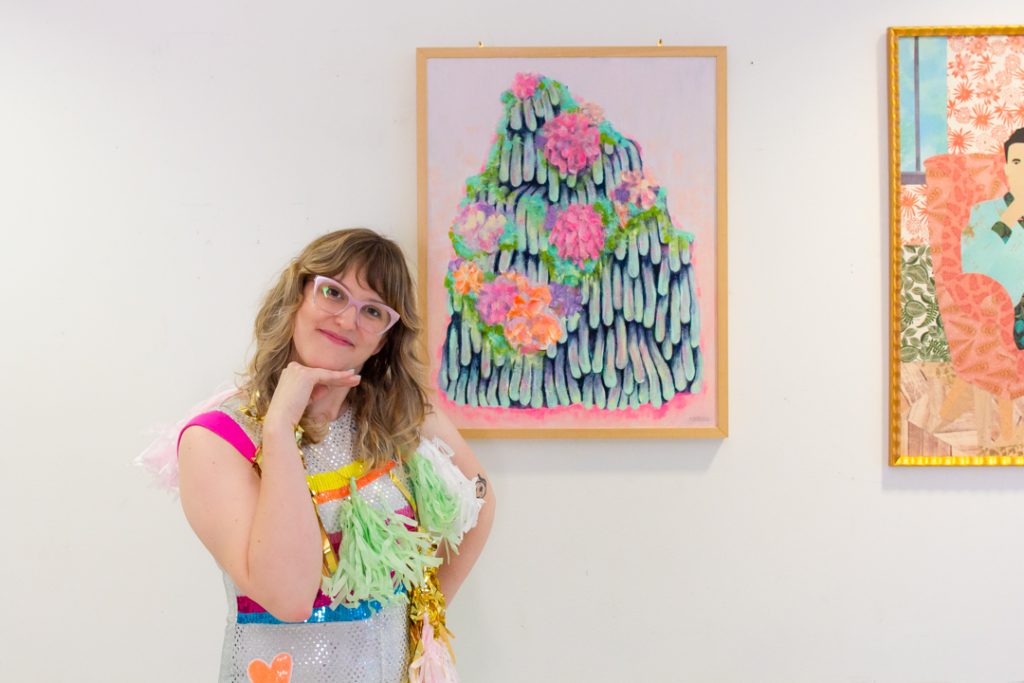 What inspired the piece in the art show? Is there a story behind the work or is it part of a series?
Mead: It's based on a photo of me, Ted, and Michael Besozzi taken at the Smith Tower on my birthday two years ago. We looked so good I wanted to know what we'd look like in paper—we're definitely more colorful and less serious in this work than in the photo.
Wiseman: I have a 1960s craft book from my mom that has detailed instructions on making "chemical gardens", also known as ammonia gardens (or sometimes you can buy them in kits, called "magic gardens"). The gardens are these melty piles of color, which I felt compelled to paint with overgrown fungal-looking flowers. There is something interesting to me about creating synthetic gardens.
What artists or artworks are inspirations to you in general?
Mead: Oh goodness. I'm a fan of color, that's probably the biggest thing that draws me to a piece or artist. Specifics though, Van Gogh has always been a favorite. Mickalene Thomas is a more recent love. Oh, and I love our Australian Aboriginal collection. That's just a short hodgepodge list.
Wiseman: This is hard! Color is a big deal for me. I love Sister Corita Kent's work. I really like the Light and Space movement and color field painting. I also love Judy Chicago, Lynda Benglis, Richard Tuttle, Kenneth Noland, Jack Whitten, Gehard Richter, Wayne Thiebaud, Helen Frankenthaler, David Hockney . . . I suppose there could be a theme there. I love surrealism, particularly Rene Magritte, Man Ray, and Leonora Carrington. At SAM, I find the work in the Aboriginal Australian gallery to be very inspiring and meditative.
What other art projects are you working on right now or looking forward to?
Mead: All of them! I have about a half dozen commissions and half-million ideas, so good luck to me on figuring out what to focus on next.
Wiseman: More gardens, and I have some collages in the works. Hoping to do more large-scale screen printing, too. And I really want to get into ceramics!
– Chelsea Werner-Jatzke, SAM Content Strategist & Social Media Manager
Photos: Lawrence Cenotto