Object of the Week: Tangerine (Mandarine)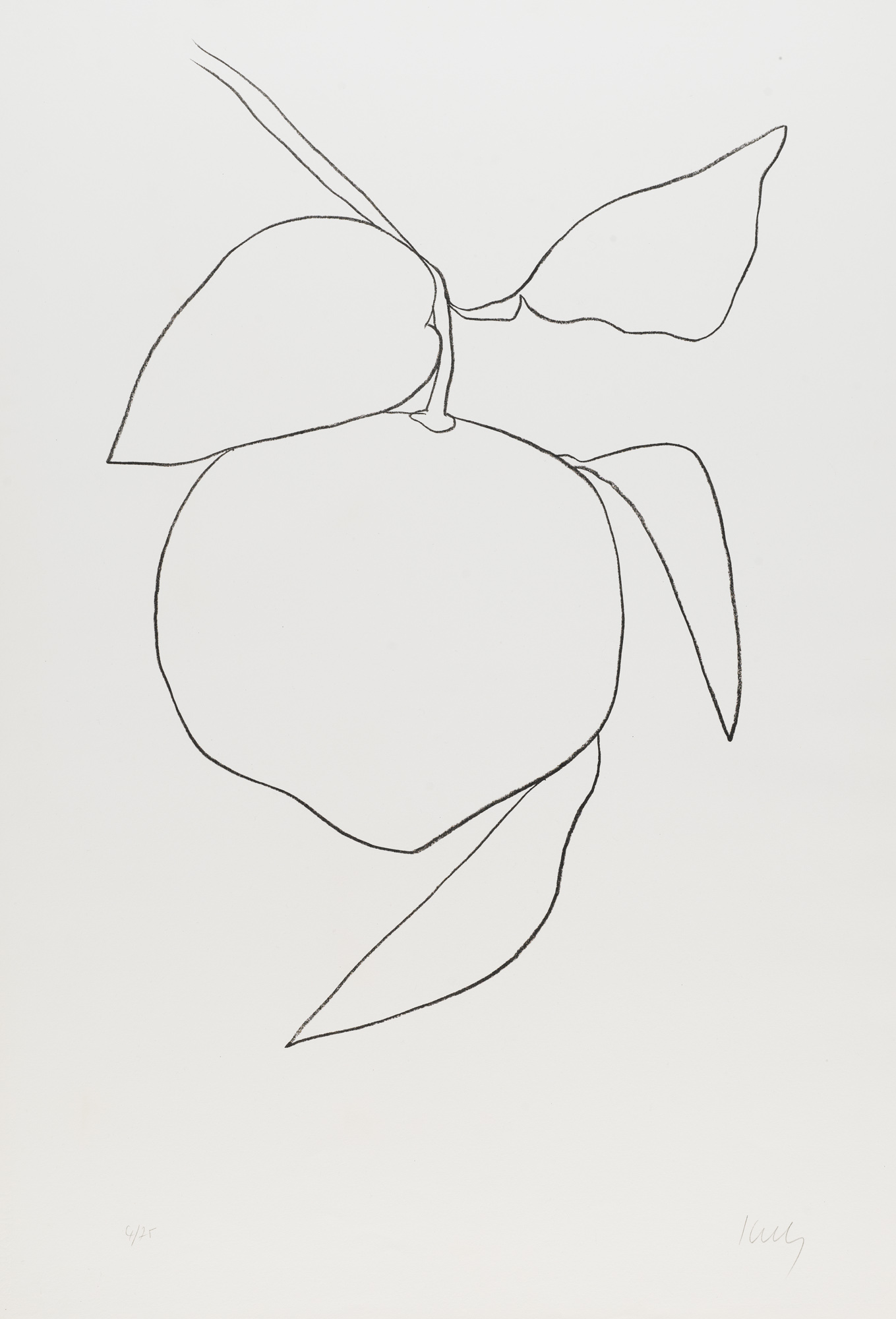 Crisp contours and soft, natural lines form a focus: a fruit—a tangerine—hanging on its stem, framed by four leaves and suspended against a backdrop of white. There are no colors, fine details, or surrounding imagery that confirm it is specifically a tangerine. Yet there is an impulse to see from minimal curves a familiar shape, the ubiquitous form of tree-bearing fruit. From this abstract presentation, the tangerine exudes simple elegance and playful whimsy.
This piece by Ellsworth Kelly is one of 28 lithographs from Suite of Plant Lithographs, published in 1966. As a medium, lithography involves etching a smooth stone and using the repelling properties of oil and water to transcribe images onto paper. In addition to tangerines, the series includes lithographs of various flowers, branches, seaweed, leaves, and other fruits.
Since his passing in 2015, Ellsworth Kelly remains an influential force in Minimalism, Hard-Edge painting, Color Field painting, and Postwar European abstraction. From an early age, Kelly was drawn to the bright watercolor studies of birds by James Audubon. During World War II, Kelly was enlisted into the Ghost Army, a regiment of artists tasked with developing camouflage strategies and inflatable tanks to confound enemy troops. From this wartime experience, Kelly deepened his understanding of abstract colors, forms, and shadows. 1
On his artistic process, Kelly reflected, "I'm constantly investigating nature – nature, meaning everything," and noted, "I think that if you can turn off the mind and look only with the eyes, ultimately everything becomes abstract." 2
Tangerine (Mandarine) is visibly different from Kelly's more recognizable pieces, including this painting from SAM's collection, White Curve V (1973). Kelly's work is often recognized by its geometric patterns and shapes punctuated by bold colors and hard lines.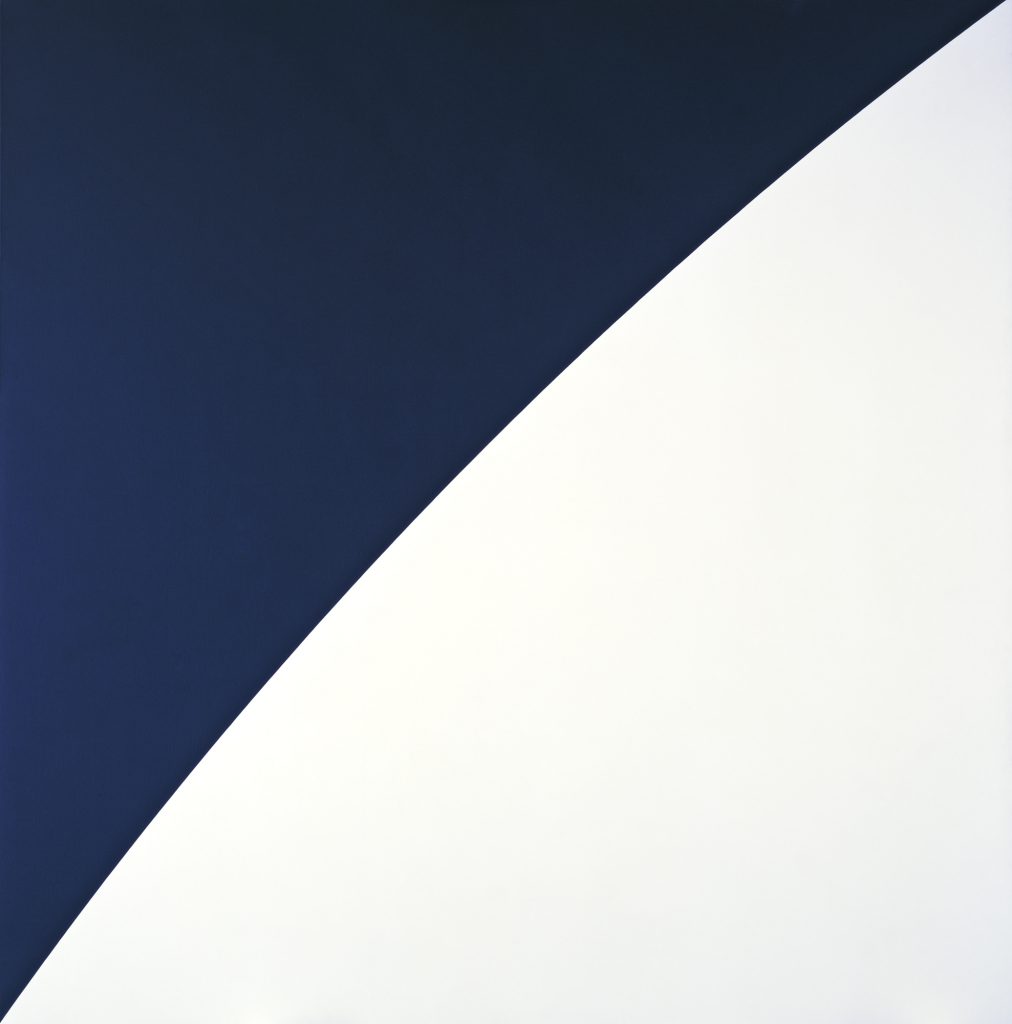 Despite these labels, Kelly transcends them. In White Curve V, the composition initially appears to be flat, simple, and non-representational. Another reading reveals a striking similarity to a close-up of the moon and sky. The color block curves appear to be moving, as they follow natural processions of receding or expanding horizons and seas.
Kelly once said, "I think what we all want from art is a sense of fixity, a sense of opposing the chaos of daily living, What I've tried to capture is the reality of flux, to keep art an open, incomplete situation, to get at the rapture of seeing." 3 From Kelly's admiration and curiosity for the natural world, it is through his art we are encouraged to see our realities with eyes of wonder and reverence.
– Rachel Kim, SAM Curatorial Intern
1 Rachel Gershman, "Ellsworth Kelly: American Painter and Sculptor." ©2019 The Art Story Foundation, https://www.theartstory.org/artist-kelly-ellsworth.htm
2 Rachel Gershman, "Ellsworth Kelly: American Painter and Sculptor." ©2019 The Art Story Foundation.
3 Holland Cotter, "Ellsworth Kelly, Who Shaped Geometries on a Bold Scale, Dies at 92." New York Times, Dec. 27, 2015.
Images: Tangerine (Mandarine), 1964-65, Ellsworth Kelly, lithograph on Rives BFK paper, 35 1/4 in. x 24 in., Eugene Fuller Memorial Collection, 67.46, © Ellsworth Kelly. White Curve V, 1973, Ellsworth Kelly, oil on canvas
93 1/4 × 91 1/8 in., Gift of Virginia and Bagley Wright (by exchange) with funds from the Margaret E. Fuller Purchase Fund and with funds from the National Endowment for the Arts, 76.10, © Ellsworth Kelly.