Instagram-Famous Baker Lauren Ko Creates a Pie Inspired by Jeffrey Gibson's Art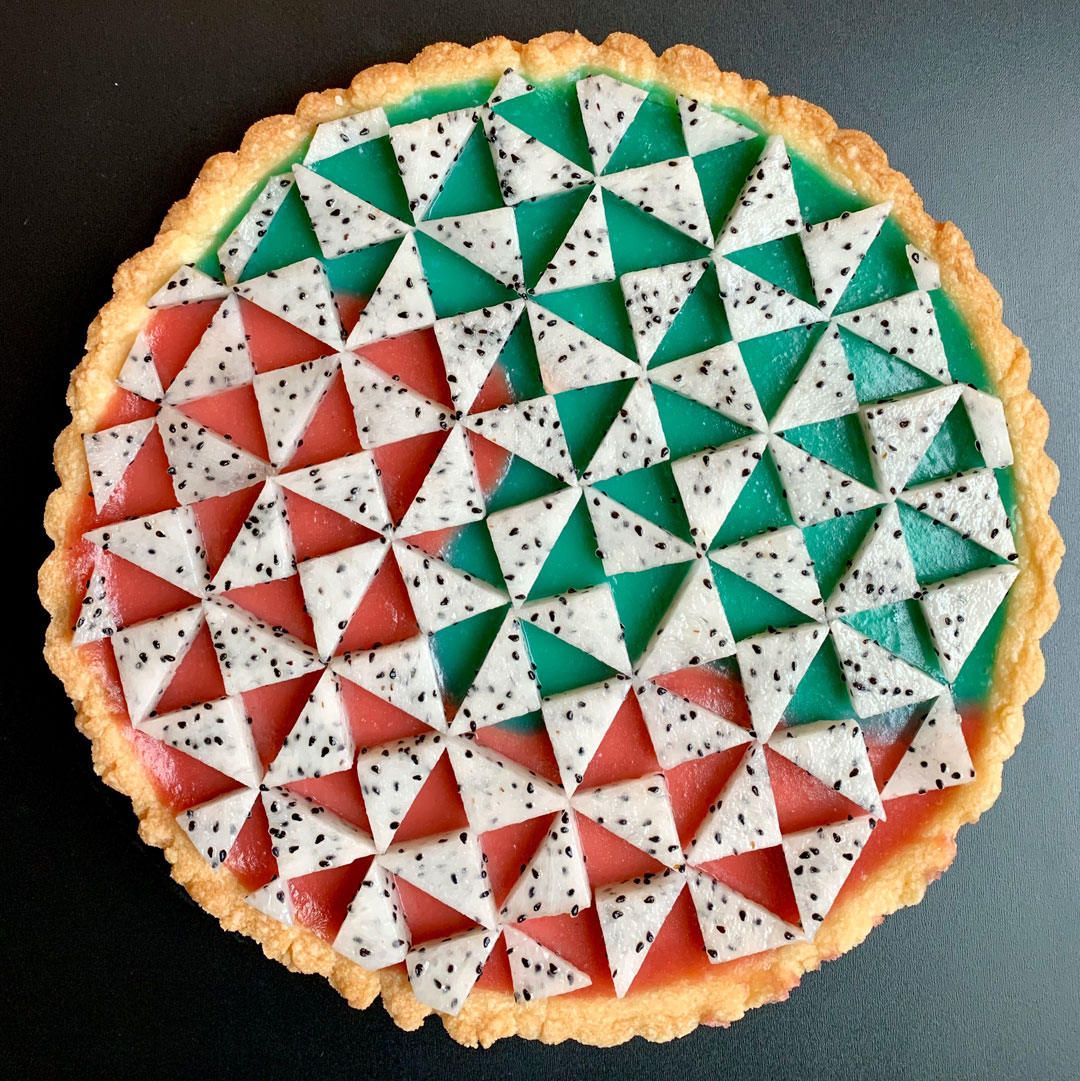 Writer and artist Lauren Ko went from pie-making hobbyist to bonafide (bona-pied?) Instagram phenomenon nearly overnight with her @Lokokitchen page, which shares elaborate, how'd-you-make-that pie designs to her now over-250,000 followers. She visited the Seattle Art Museum to see Jeffrey Gibson: Like a Hammer and made a pie inspired by the artist's work—which like hers, embraces the complex, the blended, and the colorful.
SAM: Lokokitchen just took off—or should we say rose quickly?—since launching in August 2017. What's that been like for you?
Lauren Ko: It has been completely mind-blowing. As someone who started her career in social work and then transitioned to nonprofit administration, and who has no professional culinary, pastry, or design training, going viral changed my life! I am now a full-time pie designer sharing my work on social media (wild!). I never imagined that this casual hobby—I made my first pie two years ago—could become a career of sorts, and I am grateful every day for the opportunities that have come along with it. I've met and baked with Martha Stewart. I have a YouTube video with over 5 million views. My pies have been featured on the cover of a magazine. I teach workshops that draw participants from all over the world. People recognize me on the street! It's baffling and thrilling and totally overwhelming.
What was your experience visiting Jeffrey Gibson: Like a Hammer? What most resonated with you?
Texture, pattern, and color are flames to my moth eyes, so Like a Hammer was a sensory dream. I was riveted. What a feast! Of course, we share some common aesthetic elements, like colorful geometry and patterning, so paintings like All Things Big and Small and Shield No. 15 caught my eye right away. But truly, it's the way Gibson combines captivating visuals with powerful messaging that spoke to me. He discusses the exhibition's title in this manner: "To me, a person who is 'like a hammer' is capable of building up and tearing down–envisioning something different and making it happen. […] Sometimes there are no words, and an expression has to be a movement or another form. There can be a message within the medium, whether it is painted, beaded, woven, or hammered." He does an incredible job of speaking clearly through his art, and that continues to stick with me.
Was this your first time creating a pie specifically inspired by art, or a specific artist's work? What was your process for creating this pie?
I made a "Starry, Starry Nut (I know…)" mosaic atop a bourbon pecan pie inspired by van Gogh's ubiquitous Starry, Starry Night painting once. Generally, I'm influenced more by my environment and surroundings—things like architecture, textiles, furniture—than specific artists. I have pies and tarts in my feed that are inspired by bathroom tile, bamboo purses, patio chairs, and storm drains.
I was actually compelled to make my first pie after seeing some beautiful creations on Pinterest. But those pies were ornately floral and covered with foliage dough cutouts. They were beautiful. But the rustic, feminine aesthetic wasn't quite my style, and I instinctively shy away from "things that have been done." I hadn't seen any modern, geometric takes on pie, and thought to give it a go. Now it's officially a food trend!
My process is largely informed by basic factors like, what do I have in my pantry? What produce is in season and on sale? Often, my creations are a result of simply needing to use fruit on the verge of decay. After that, I consider flavor pairings, color contrasts, and ease of design. Some fruits lends themselves to being manipulated a certain way better than others, so I also take those factors into account as well.
For this particular tart, I knew I wanted to incorporate multiple colors in the filling, inspired by the vibrancy of Gibson's work. I also knew that a geometric element would be especially appropriate for the design. I had a lingering dragon fruit on hand; it's a fruit that slices cleanly and lends an additional textural component. Dragon fruit has a pretty neutral flavor, so I paired it with two bold, punchy curds and a crisp buttery shortbread base.
Tell us about more the PIE!
Normally, my tarts feature one filling. To maximize the use of color and to mirror the intertwined manner in which Gibson melds visuals with messaging, I experimented with creating a swirl of two flavors—raspberry lemon and spirulina lime—two colors within the one tart. It's clear they are connected and cannot exist separately. I then covered the surface with a full slate of dragon fruit tiles, which provide one final layer of texture and color contrast.
Please tell us you ate it.
Ironically, I don't have much of a sweet tooth, and at this point, I've definitely reached pie over-saturation. I share everything I make with friends, family, and neighbors though, and this tart was handed off to a lovely home and received happy reviews (always a relief)!
What's next for Lokokitchen?
I plan to continue creating and sharing original works on my Instagram account @Lokokitchen, and hope to resume my pie workshops in 2020. I'm drawn to this wild life of pie-making primarily for the art and design aspects, so I'm constantly exploring opportunities both within as well as beyond the food space. I'm excited to see where the journey continues to lead!
– Rachel Eggers, SAM Manager of Public Relations
Photo: Lauren Ko