Object of the Week: A Woman with Red Hair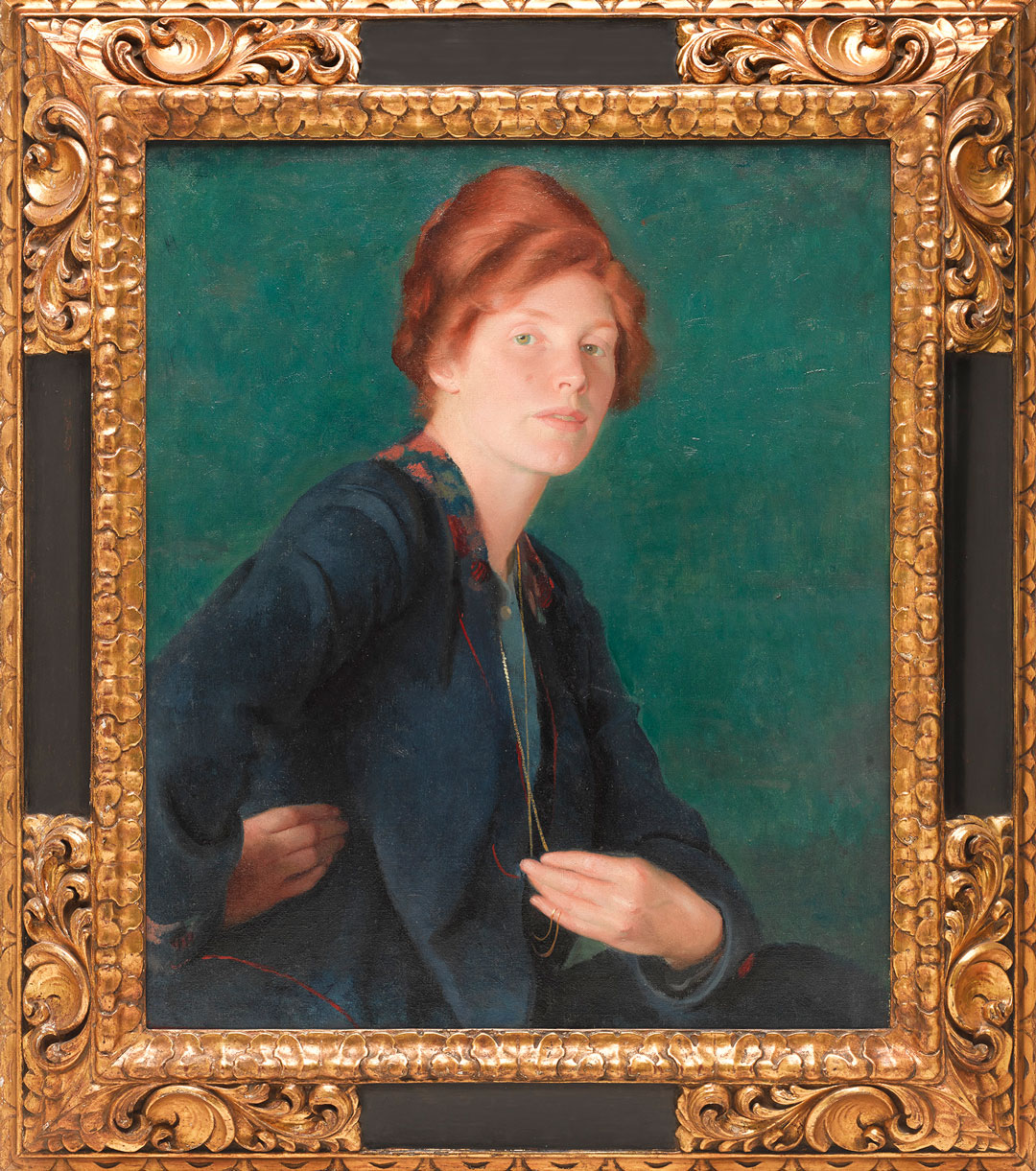 A picture frame is, or should be, more than an adjunct to a work of art. If properly made, it is itself a work of art.

– Bill Barol, "The Carrig-Rohane Frame," 1989
William McGregor Paxton's Woman with Red Hair is an exemplar late work by the Boston School artist. Well-known for his attention to detail—especially capturing the effects of light—Paxton's portraits often depict elegant women in minimally decorated rooms. However, unlike his earlier and larger body of work, the sitter here is removed from an interior setting and set against a rich, nearly impasto teal background. Our focus as viewers is placed solely on the woman, her features, and Paxton's mastery of light and color.
Yet, there is one more element of the work that is impossible to ignore: its frame. Meticulously carved and gilded, it is a piece of art in its own right. All too often frames are overlooked for what they surround, but this Carrig-Rohane frame, designed and fabricated by Herman Dudley Murphy in 1911, holds its own and complements the Paxton painting.
Prior to his career as a framemaker, Murphy studied at the Boston Museum School and worked as an illustrator. Like many young artists he moved to Paris, and for five years (1891–1896) studied with artist James Abbott McNeill Whistler. Whistler believed, quite radically for the time, that a frame and a painting should be in harmony, and as a result manufactured his own frames. Murphy's relationship with Whistler proved formative and, upon his return to the United States in 1897, Murphy taught himself how to carve and gild. Discouraged by the poor quality of American frames, he eventually opened his own business in 1903—Carrig-Rohane—in the basement of his Winchester, Massachusetts home.[1]
As evidenced by Whistler, a new appreciation and consideration of the frame as integral to the display of painting emerged in the late-19th and early-20th centuries, part of a larger artistic and aesthetic shift toward the handmade that defined the Arts and Crafts movement. The importance of the frame during this period is encapsulated in the writing of art critic Percy Fitzgerald, who in 1886 described the gold frame as that which "seems to enrich everything it touches." He also penned that the frame "suggests the notion of an abstract boundary or zone between the vulgar surrounding world and the sort of spiritual life of Art."[2] Both the Carrig-Rohane frame and Paxton painting are currently on view in the American Galleries, so I encourage you to see—and judge—for yourself.
– Elisabeth Smith, Collections Coordinator
[1] "Continuing the Tradition: Grundmann Studios," in The Boston School Tradition: Truth, Beauty and Timeless Craft (Boston: Vose Galleries, 2015), 53.
[2] Percy Fitzgerald, The Art Journal (London: J.S. Virtue & Co., 1886), 40.
Image: A Woman with Red Hair, 1922, William McGregor Paxton, oil on canvas, 30 x 25 in., Gift of the Estate of Bruce Leven, 2018.5.1.