Muse/News: Storme's cover, Mickalene's inspirations, and Artemisia's revenge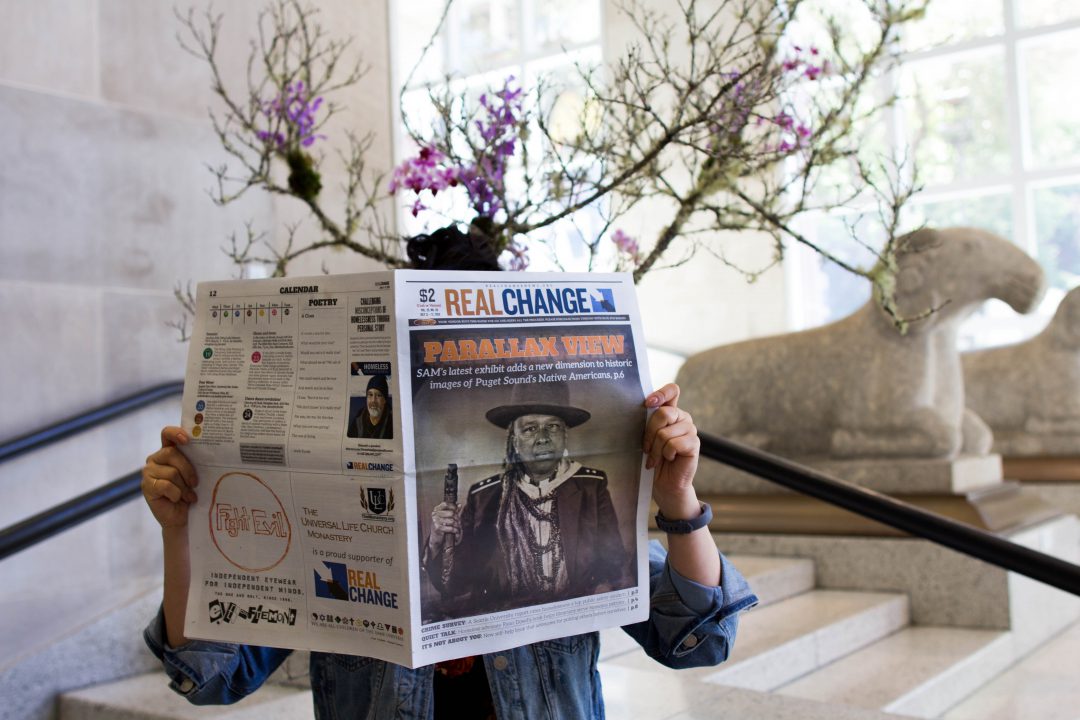 SAM News
Hot off the press! On the cover of the current edition of Real Change: Will Wilson's tintype portrait of artist Storme Webber. Don't miss Lisa Edge's review of Double Exposure inside the paper.
"Displaying Curtis' work alongside contemporary Native artists is part of a growing shift among art institutions, which are becoming more critical of themselves and inviting visitors to do the same. They are becoming more conscious of who is telling the narrative."
And the exhibition and SAM are both referenced in this New York Times story by Ted Loos on changes at the Art Gallery of Ontario spearheaded by their curator of Indigenous art—and how they reflect changes happening at museums across the U.S. and Canada.
Also: Seattle Business Magazine interviewed SAM director and CEO Kim Rorschach for this feature story on how to collect art; SAM Gallery is also included as a resource for art buyers.
"Most galleries are happy to let you pay over time. And you may need to try out something at home before committing. Says Rorschach: 'It's just about having an honest and forthright conversation.'"
Local News
Brendan Kiley of the Seattle Times reports on the future of Pivot Art + Culture, which once presented works from Paul Allen's private art collection; it will soon house a "putt-putt pub."
City Arts has a great round-up of visual arts picks, including quilts of Gee's Bend at the San Juan Islands Museum of Art and photography by and inspiring to Mickalene Thomas at the Henry Art Gallery.
John Stang of The Globalist on The Sea Mar Museum of Chicano/a Latino/a Culture, set to open early 2019 in south Seattle. It will be the "first major museum devoted to Latino history in Washington State."
"'Latinos have made incredible contributions, not only to the economy, but to the citizens of Washington state,' said Erasmo Gamboa, a professor emeritus of history at the University of Washington and one of the leaders of the museum project."
Inter/National News
Those production values tho! Watch this "My Favorite Artwork" video by the New York Times Magazine in which artist Glenn Ligon discusses a self-portrait by Adrian Piper.
Artnet's Sarah Cascone reports that the Association of Art Museum Directors has launched a paid internship program at museums across the U.S. in an effort to diversify museum staffs.
The Telegraph announces that the National Gallery has acquired a self-portrait by Renaissance artist Artemisia Gentileschi; it is only the 21st painting by a female artist in the gallery's permanent collection of 2,300 works.
"One of a handful of women who was able to shatter the confines of her time, she overcame extreme personal difficulties to succeed in the art of painting. This picture will help us transform how we collect, exhibit and tell the story of women artists throughout history."
And Finally
Seattle Met on the local champions of French fry artistry. (Ed. note: The ones at Presse are best.)
– Rachel Eggers, SAM Manager of Public Relations
Photo: Nina Dubinsky.