Get Worldly with The Seattle Women's Steel Pan Project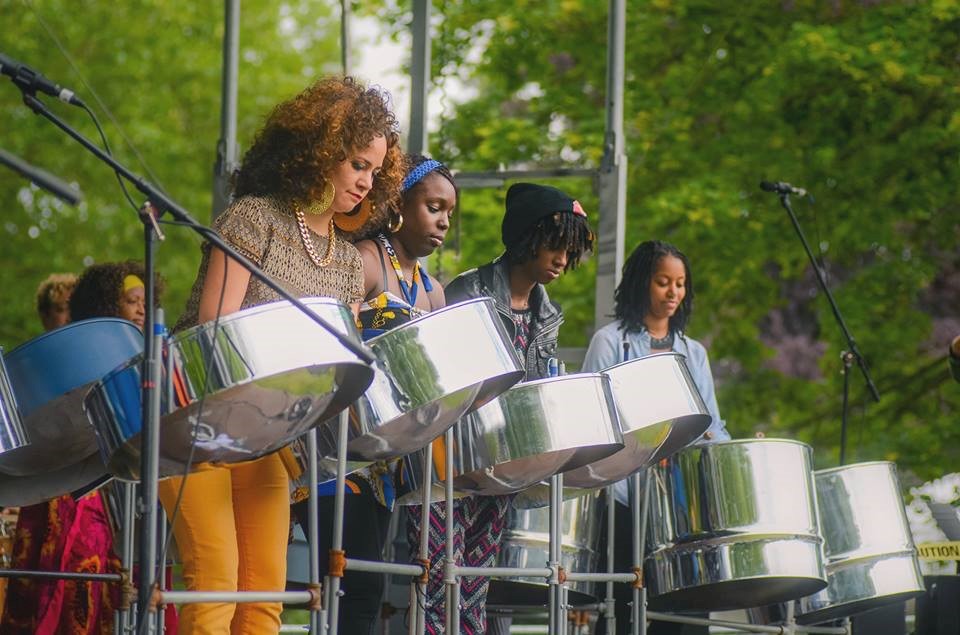 Catch The Seattle Women's Steel Pan Project playing a free concert outdoors as the first musical act in our World Music Series. Throughout the summer months SAM's Gardner Center for Asian Art and Ideas presents four free concerts in the Volunteer Park Amphitheater that bring music from all over the world to Seattle. Find out more about the female-focused music group and mark your calendars for their performance, July 13!
The sounds of steel pan music enliven a summer evening outdoors! Originally from Trinidad, the steel pan is a testament to the resilience and ingenuity of the descendants of slaves brought to the Caribbean from Africa who created this instrument from oil drums and other discarded metal containers. Steel pan can now be found all over the world and captivates the hearts of all those lucky enough to get a chance to play it.
Michael Shantz and I formed The Seattle Women's Steel Pan Project (SWSPP) in 2013 as a collaboration. The project started as a weekly beginner steel pan class and within the first year students performed at the Women Who Rock UnConference in Seattle's Washington Hall. Since then, over 100 women have taken classes and, of that, at least 20 have played in the performance group.
The performance group consists of women with an array of musical backgrounds. Some pan players such as Ceda Clemmons and Miho Takekawa have been playing steel pan for over 20 years, while many others had never played with a musical ensemble before joining SWSPP. The beauty of steel pan is that it's a highly accessible instrument, you can come into class having had no prior experience playing an instrument and leave being able to play a song as an ensemble 4-6 weeks later, which is the typical duration of the beginner class series. The mission of SWSPP is to give women and girls the opportunity to experience the energy and joy that playing music gives us. The music scene tends to be heavily dominated by male musicians—a boys club of sorts. This project gives women an opportunity to enter the arena of musical performance in a fun and accessible way.
Tashie LeMaitre says of her experience as a group member, "Being a part of this project has been like joining another family. I've learned so much since I started playing with The Seattle Women's Steel Pan Project and have seen so many new places that I might never have gotten the chance to see. I've always loved pan, but have since fallen in love with it even more. I look forward to what the future holds for us."
SWSPP frequently collaborates with other seasoned musicians in Seattle, both female and male, for larger shows and productions. Ann Reynolds, Marina Albero, Obe Quarless, Makala Romero, Otieno Terry, Adriana Giordano, Teo Shantz  and Kate Olson are just a few of the local musicians with whom the group has partnered. You can catch the group performing on stages all throughout King County!
– Oriana Estrada, Administrative Director, Seattle Women's Steel Pan Project
Photo: Courtesy of The Women's steel Pan Project.