Muse/News: Arts News from SAM, Seattle, and Beyond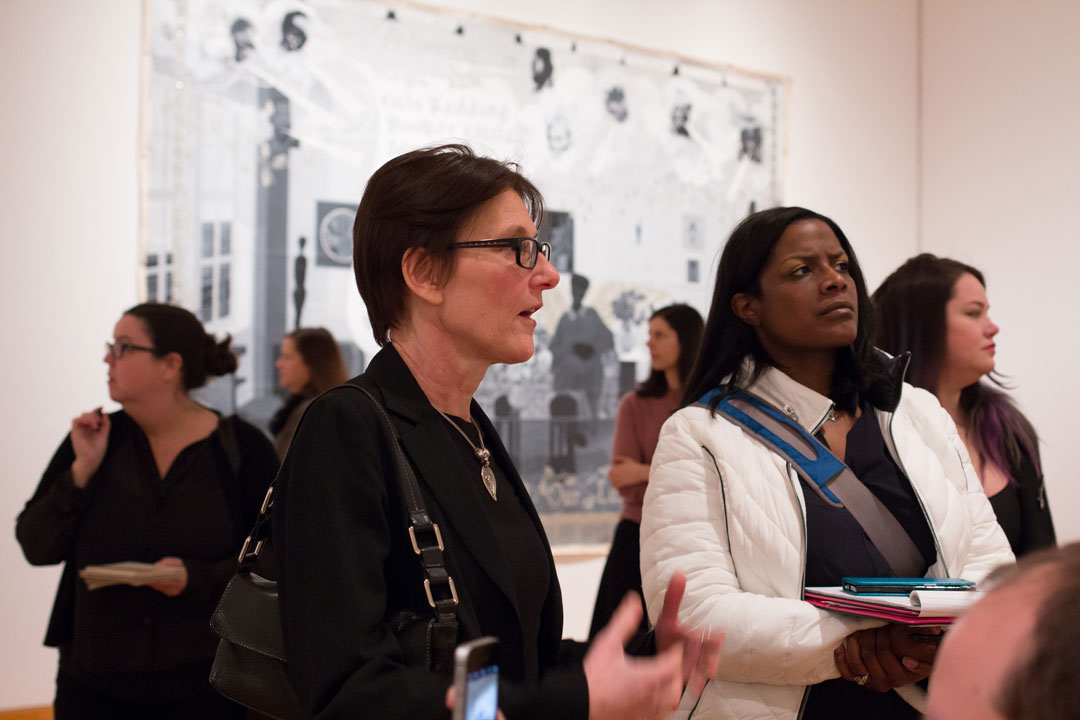 SAM News
Artnet interviewed Catharina Manchanda, SAM's Jon & Mary Shirley Curator of Modern & Contemporary Art, for this piece on the different paths to success as a curator of contemporary art.
KOMO's Seattle Refined also interviewed Catharina for this story about the Jean-Michel Basquiat painting now on view at SAM.
AFAR Magazine highlighted Figuring History: Robert Colescott, Kerry James Marshall, Mickalene Thomas on their list of "10 Art Exhibitions in the U.S. Worth Traveling for This Spring."
Blaxploitation films, Carrie Mae Weems, and the female gaze: Dazed profiles Figuring History artist Mickalene Thomas.
Local News
"I've seen orcas. Twice!" City Arts' Margo Vansynghel reports that the next arts hub might be just across the water—in Bremerton.
Brangien Davis of Crosscut talks with Victoria Haven about Banner Year, an installation in the windows of her South Lake Union studio that beams out messages to passing motorists like "MONEY BALL" and "CULT CLASSIC."
Lisa Edge of Real Change on the Tacoma Art Museum's current exhibition, Native Portraiture: Power and Perception, which addresses issues of identity by juxtaposing older and contemporary works alongside each other.
"'We can say, let's look at this artwork and appreciate the work that the artist has done to create this, but let's use a contemporary lens to unpack where these artists were coming from and why they painted the work in this manner,' said curator Faith Brower. 'Thankfully our views have now changed over time so we can see this work and critique it in a way that they weren't capable of critiquing it in the time it was made.'"
Inter/National News
Still "seat of the Muses"? Mitchell Kuga of Hyperallergic explores the trend of adopting the name "museum" to describe commercial enterprises.
Sara Cascone of Artnet interviews author Joy McCullough about her novel on the incredible life of Baroque painter Artemisia Gentileschi; notably, McCullough used the 400-year-old court records of the trial of the artist's rapist.
Jason Farago of the New York Times on Beyond the Fall, the current show at New York's Neue Galerie that explores connections between art and German political history.
"Such was the reality of German and Austrian art, and German and Austrian society, in the initial years of Nazi rule: the awkward coexistence of fascists, democrats and Communists, who heard the rhetoric, who witnessed the hatred, but who still could not see how much horror lay ahead."
And Finally
"How are we meant to feel about art that we both love and oppose?"
– Rachel Eggers, SAM Manager of Public Relations
Image: Installation view Figuring History: Robert Colescott, Kerry James Marshall, Mickalene Thomas at Seattle Art Museum, 2018, photo: Stephanie Fink.