Object of the Week: Choir of Pieterskerk, Leiden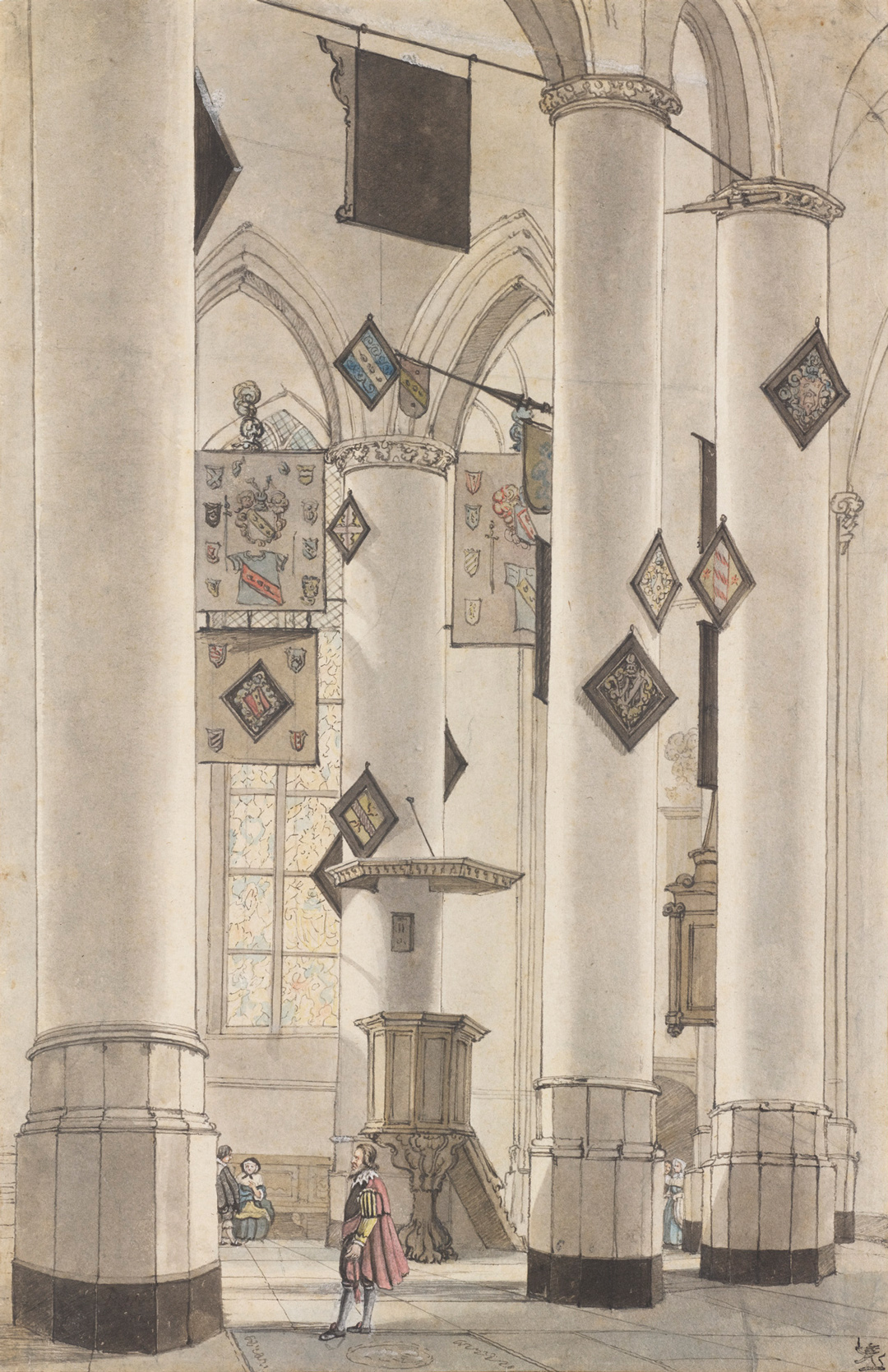 This week we're looking an important art historical genre: portraiture. Only, this "portrait," by Dutch artist Anthony van Borssum, features not the human figure, but a 17th-century church interior as its subject.
Choir of Pieterskerk, Leiden presents a detailed rendering of Leiden's late-Gothic Pieterskerk church. However, absent from the scene are the ornate religious sculptures and paintings that one would expect to find in a Catholic church. Stripped bare after the iconoclasm (or beeldenstorm) of the Protestant Reformation, this Dutch Reformed church's whitewashed walls and columns appear austere, decorated only by heraldic banners that obscure the stained glass windows behind them. The materials used to create this work—pen, bistre (a pigment made from soot), and watercolor—only add to the church's restrained and unadorned appearance.
As the Dutch empire grew during the 17th century, so did its art market, and church interiors like this one (as well as still lifes, landscapes, and portraits) were popular during the period. Characterized by soaring verticality, vaulted ceilings, and dramatic lighting—all of which diminish the presence of the human figure—the church interior, as a genre, conveys a sense of spirituality, despite the near total absence of religious iconography.
Dutch Reformed churches were non-secular spaces, but van Borssum and his contemporaries approached church interiors to explore light, color, spatial volume, and perspective. In this context, Pieterskerk becomes less a religious site than a patient sitter, a creative subject readily awaiting its likeness to be captured.
– Elisabeth Smith, Collections Coordinator
Image: Choir of Pieterskerk, Leiden, 17th century, Anthony van Borssum, pen, bistre, and watercolor on paper, 14 9/16 x 9 1/4 in., LeRoy M. Backus Collection, 52.34