Get to Know SAM's VSOs: Adera Gandy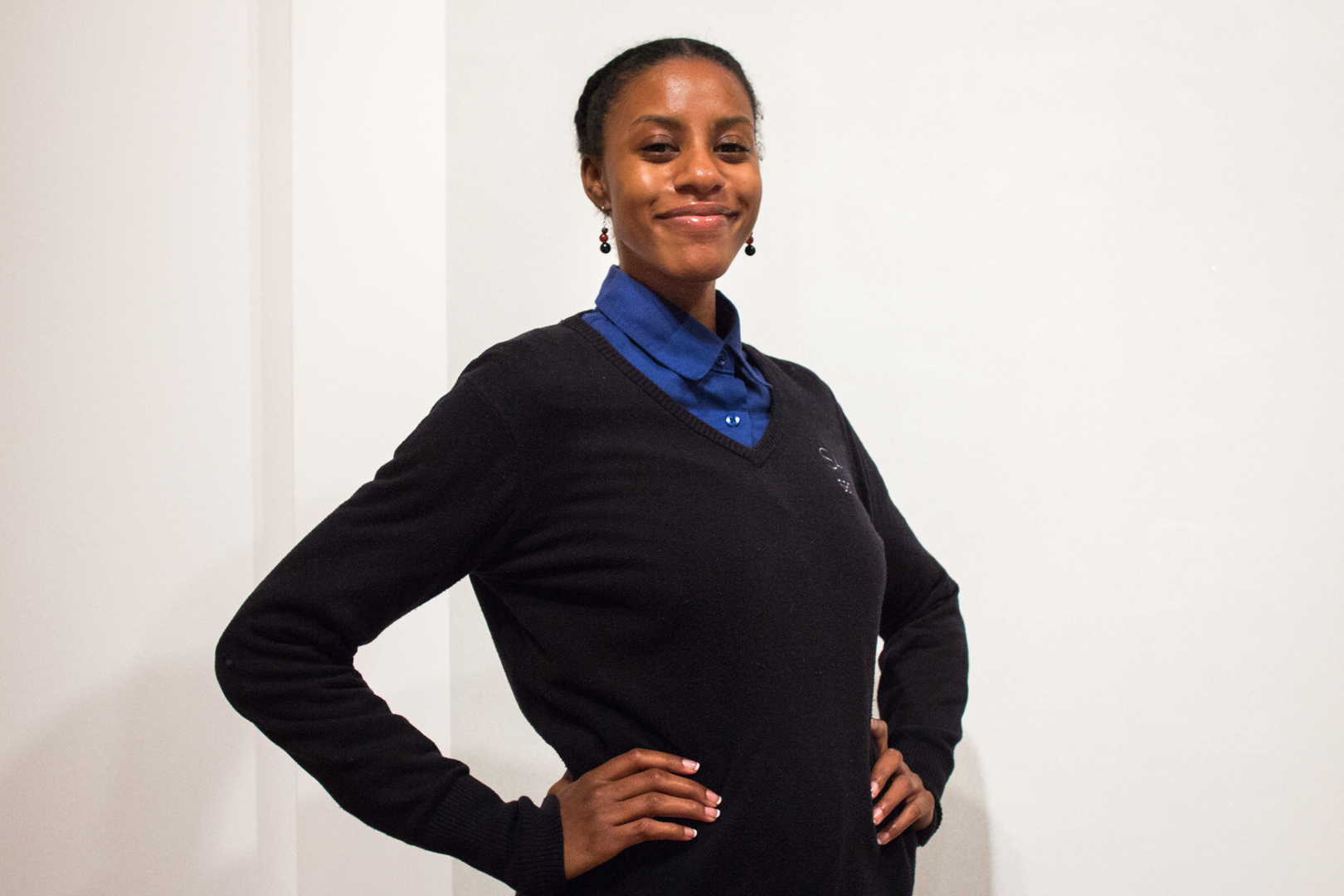 Meet this month's Visitor Services Officer (VSO), Adera (uh-dare-uh) Gandy, an actress, performance artist, and muse raised in the small waterfront suburb of Des Moines, Washington. After high school, Adera moved to Washington DC to study acting at Howard University. After two years of higher education, she chose to leave school to explore the city while working a receptionist job and paying for acting classes at The Studio Theatre Acting Conservatory. She moved back to Seattle in 2014 to be close to her family and the refreshing landscape of the Pacific Northwest. Prior to working as a VSO at SAM, Adera worked in admissions at the Museum of Pop Culture (MoPop), formerly known as the Experience Music Project (EMP).
SAM: What are your thoughts on Troy Gua on view at TASTE Café in SAM?
Adera Gandy: Troy Gua's work is stunning. At first glance I'm sure my pupils dilated. I love how rich the pigments are and the silky texture. The pieces on display are hard NOT to look at. I especially like Mana 2  for the shades of blue and the gradient effect. Every time I'm in TASTE Café, I walk up to that piece and get as close as I can respectfully. It's nice to have digital print work in the museum for a change and I hope visitors and staff take the time to check it out.
What is your favorite piece of art currently on display at SAM?
Currently, my favorite piece on display is Holy Family with St John the Baptist and Saint Catherine by Antonio Guardi. It's breathtaking. This painting glows and I love the jewel tones. The image is so soft and pillowy and gold and silver all at once. It seems to be shrouded in mystery, yet so inviting. I often wonder if a secret is being shared and what the figures sound like. It's just so beautiful.
Who is your favorite artist?
Beyoncé, definitely.
What advice can you offer to guests visiting SAM?
Lose the judgement and open your mind. It's so easy, as the viewer, to look at a piece of art as if it has to prove something to you. We actually do this with people too. This is something I try to practice while viewing myself: Let the piece be what it is. The artist behind whatever work you're looking at is human, just like you. Their own thoughts, feelings, memories, experiences, traumas, doubts, dreams, passions, prejudices, fantasies, fears, and wishes went into their creation. Relieve yourself of the burden of "understanding" artworks and simply allow them to live. Resist the temptation to judge what a complete stranger has made as "good" or "bad." And if you find yourself slipping, challenge your own thoughts and feelings; be honest with yourself about what part of your life's story has led to feeling angered, aroused, or at peace while viewing a particular painting or sculpture. You might discover something within yourself and develop a more meaningful relationship with the work and the artist behind it.
Tell us more about you! When you're not at SAM, what do you spend your time doing?
When I'm not working at SAM, I'm traveling, journaling, reading, auditioning, plotting my next Instagram performance art piece, and working on collaborations with other Seattle artists. I am looking to get into art modeling as well. Right now, I'm developing a website and blog with a friend of mine who lives in LA called Sacred Souls, which is intended to promote practices meant to spread love, cultivate compassion, and heal the collective mind and spirit. I'm really excited for it! I'm also nurturing honeydo, the theatre/movement performance duo I've formed with one of my best friends and collaborators, Lindsay Zae Summers. We are debuting at Kitchen Sessions at the Bellevue Art Museum the evening of Friday, November 10.
– Emily Jones, SAM Visitor Services Officer