Volunteer Spotlight: Lekha Bhargavi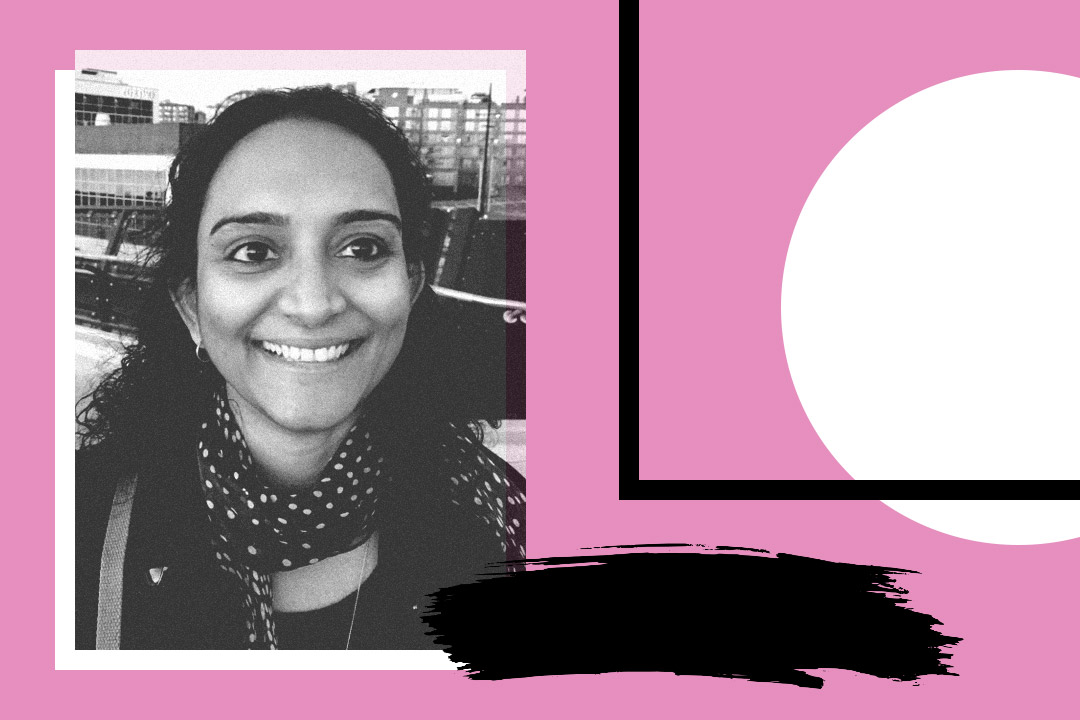 SAM's 469 volunteers bring the museum to life in many ways. In return, we want to share a little bit of the lives of our volunteers with you! Volunteers at SAM lead tours, check coats, staff the information desk, and more. Our monthly volunteer spotlight continues with Lekha Bhargavi, a SAM volunteer since 2015.
SAM: What is your current role?
Lekha Bhargavi: I volunteer as a  SAMbassador and currently I'm also the treasurer for SAM Volunteer Association .
How long have you been volunteering at SAM?
I have been volunteering with SAM since October 2015.
How did you become a SAMbassador?
I moved back to Seattle in early 2015 and found a place close to the Olympic Sculpture Park. During one of my first weeks discovering my neighborhood I happened to take a docent tour at the park that was fascinating. Unfortunately, the docent could not show us Neukom Vivarium, since it wasn't open on that day. Volunteers keep the vivarium open. I went home to look up volunteer openings at SAM and it has been one of the best impulsive thing I ever did. I have been back to the vivarium multiple times since then; we have some amazing volunteers there.
If you had to give only one reason, what do you most like about volunteering at SAM?
The countless opportunities to encounter beauty in people and pieces alike.
Why is volunteering at SAM important to you?  
My day job, while creative, is as far removed from the classical definition of art as one could possibly get. SAM allows me to explore an area of myself that I don't get a chance to do otherwise. The few hours I spend volunteering gives me a disproportionate amount of pleasure.
What is your favorite piece of art in SAM's collection, and why?
That's a really hard question. I have many many favorites, but one that comes to mind today is the "Smoky Sunrise, Astoria Harbor" by Cleveland Rockwell. I find myself going back there a lot to stare at the warm colors, the life on the sea; the quiet of the morning seems tangible when I look at that piece—a quiet gently broken by people on the boats and birds beginning their day.
When not at SAM, what do you do for fun?
I enjoy a lot of things—I love to read,  travel, go to Town Hall lectures, take long walks, and discover the history of places around me. I recently decided to get back to trivia nights (with Catherine, who shares my volunteer shift) and though I find myself woefully, painfully ignorant, I plan to do more of these. I think they are loads of fun! Oh! I also went to my first opera this year, thanks to Laurie, another SAMbassador. Discovering the opera has been a sheer delight.
What is a simple hack, trick, or advice that you've used over time to help you better fulfill your role?
I liked the piece of advice my mentor gave me when I first started volunteering; to pick a favorite area in the museum and learn everything about it over time. I chose the porcelain room—though I am a long ways away from knowing everything about the 1,000 pieces in there, I find that I can engage better when I am there. I like walking around the floors and knowing what changed, what was added so that I can help direct our patrons better. I love learning from my fellow volunteers—everyone's got such a unique perspective and method for their shifts. The great thing is, I'm still learning.
– Chris Karamatas, SAM Volunteer Association Vice Chair