Object of the Week: Martin Luther King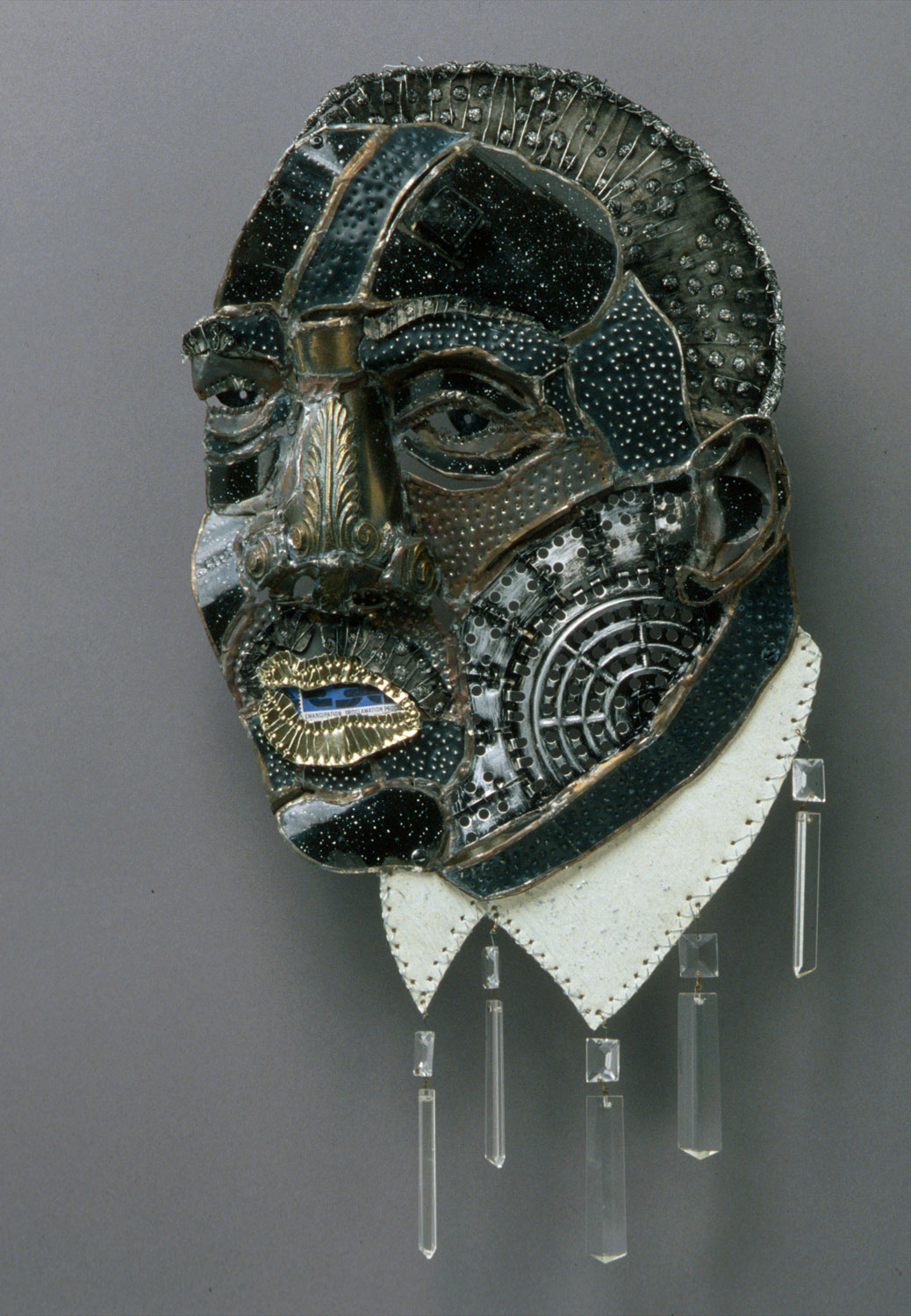 Inspired by American craft and folk art traditions, Ross Palmer Beecher honors her roots in Americana with her choices of materials and content. Throughout the oeuvre of this Seattle-based artist (who happens to be represented by the SAM Gallery), you'll find license plates, signage, costume jewelry, and all kinds of nondescript junk. She artfully arranges these materials into meaningful mixed media works that are labors of love, feats of craftsmanship, and political commentaries. Palmer Beecher's work remarks in interesting ways on whom and what is worth commemorating. In past works, she has memorialized historical figures such as John F. Kennedy, Harriet Tubman, Eleanor Roosevelt, and Abraham Lincoln.
But Martin Luther King, Jr. is the reason why many of us will be on holiday Monday, and the way he dedicated his life to advocating for people of color; his refusal to settle for anything less than people treating one another with dignity and fairness; his strength and resilience in the face of violent assaults, both state-sanctioned and illicit; his determined commitment to turn back hate with love in non-violent protests; and his message of hope are all reasons why he was worth Palmer Beecher's commemoration, and why we should remember him.
Palmer Beecher produced SAM's portrait, Martin Luther King, from wire-stitched and hammered metal, paint, wood, costume jewelry, chandelier remnants, and a commemorative postage stamp. The stamp, one that celebrates the Emancipation Proclamation, peeks out from in between the face's flashy gold lips.
The resulting image of Martin Luther King exists in a creative space that melds the decorative and the industrial. There is a roughness to the piece's manufacture that manifests the artist's handiwork in painting, pounding, arranging, soldering, and wiring the components together. At the same time, the piece reveals a delicate and sensitive vision. The artist has taken care to vary the colors and textures of her materials, and her power to see how these found objects might fit together to form something significant is remarkable.
Palmer Beecher is an artist who believes that art should say stuff. She's thoughtful, an activist, and that shows up in her work. Her visionary ability to use found objects in surprising ways—arranging rubbish to give form to something admirable—points to the idea of potential. Things, no matter what they are, might be arranged meaningfully, usefully, in a way that teaches or inspires. People, no matter what they look like, or where they come from, might be the forces to teach and inspire, and to help others find meaning.
—Jeffrey Carlson, SAM Collections Coordinator
Image: Martin Luther King, 2003, Ross Palmer Beecher (American, born 1957), mixed media, 21 1/2 x 10 1/2 x 3 1/2 in. Seattle Art Museum, Mark Tobey Estate Fund, 2003.62, © Ross Palmer Beecher.