Encounter the Experiential Art of Paige Barnes at Olympic Sculpture Park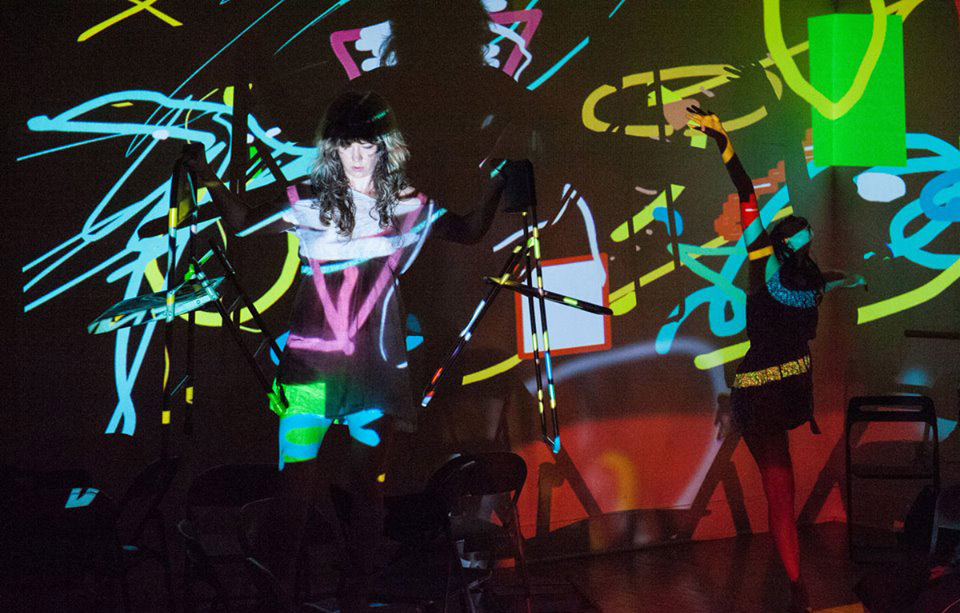 If you're visiting the Olympic Sculpture Park in the next three months you might encounter the new artist in resident of SAM's pilot residency program as part of Winter Weekends. Paige Barnes is a movement artist whose dancing is sinewy and soft. Even the angles she creates from ankle to elbow appear like feather tips, tilting and adjusting to the surrounding atmosphere. While at the Olympic Sculpture Park her movements are directed by visitors' pulses.
Having recently completed a degree at Bastyr University to become a licensed acupuncturist practitioner, Barnes uses a medical vocabulary to describe the quality of the pulses informing her movement, but is not approaching the pulse diagnostically. In fact, once she takes a pulse there is no exchange until after she takes the visitor's pulse again, after the multimedia performance, and notes any differences in heart rate and quality in reaction to the experience.
"fast flick & that knee flick It's not the birds but the burrows that wild flying beetle who is all marmalade." –Vanessa DeWolf, Video: Vida Rose
Far from medical in her vocabulary, is the text of Vanessa DeWolf, a writer working with Barnes who crafts a personalized poem for the visitor in response to Barnes' dance. Visitors are given this poem, as well as a walking score based on different parts of the body that offers a suggested guide through the park. As Barnes dances, animator Stefan Gruber begins drawing. His digital marks are highly repetitive, leaving ghostly traces behind on the projected image of his work in progress. During a break in Barnes' movement, bassist Evan Flory-Barnes begins a solo that continues once the dancing begins again. Making her way back across the room, Barnes comes to rest in front the visitor, whose pulse has beat all this creative energy into action. DeWolf reads aloud the piece she's been writing this entire time and Gruber plays the animated version of the drawing he's been making. Played linearly, the marks make a line drawing that moves and morphs, the previously disjointed marks now a visual echo of Barnes' movement.
"And with her long unbroken beach and owls softly cooing this might be the softest hunt ever" –Vanessa DeWolf, Video: Sage Mailman 
Hesitant and fluid, occasionally staccato, intermittently delicate, Barnes creates improvised repetitions that flow like the blood, sometimes thick and viscous, sometimes thin and light. This chain reaction of artistic media is using landscape is a metaphor for the body: the liver is a meridian, the kidneys are a water element controlling fear and willpower.
Glimpse the process of this residency taking place Saturdays–Mondays in the PACCAR Pavilion. Weekends, Barnes and DeWolf will take pulse readings from 2–3 people and Mondays, the entire artist crew will take 2 pulse readings. Attend the Winter Weekend Art Encounters to see the ongoing outcomes of these pulse readings. The Friday, January 27 Art Encounter, Bridging Pulse, will be informed by the prior public pulse readings and feature the core group of artists. February's Friday 24 Art Encounter will not include animation but will feature 10 dancers interacting with each other and responding to multiple pulse reading stations. For the third and final Art Encounter on March 31 will present Vanessa DeWolf's writing as a lead character in a more intimate and contained performance.
"I'm available as a marble ten the pages open to where I will find it again" –Vanessa DeWolf, Video: Bruce Clayton Tom
At each Art Encounter you'll notice a pulsing light directed outwards from the PACCAR Pavilion. This is the work of Amiya Brown, yet another collaborator in Page Barnes' menagerie. Let this light, programmed to pulse at the pace of various Northwest lighthouses guide you safely towards these subtle and beautiful encounters.
–Chelsea Werner-Jatzke, Copywriter & Content Strategist