Object of the Week: South Wind, Clear Dawn (Gaifu kaisei)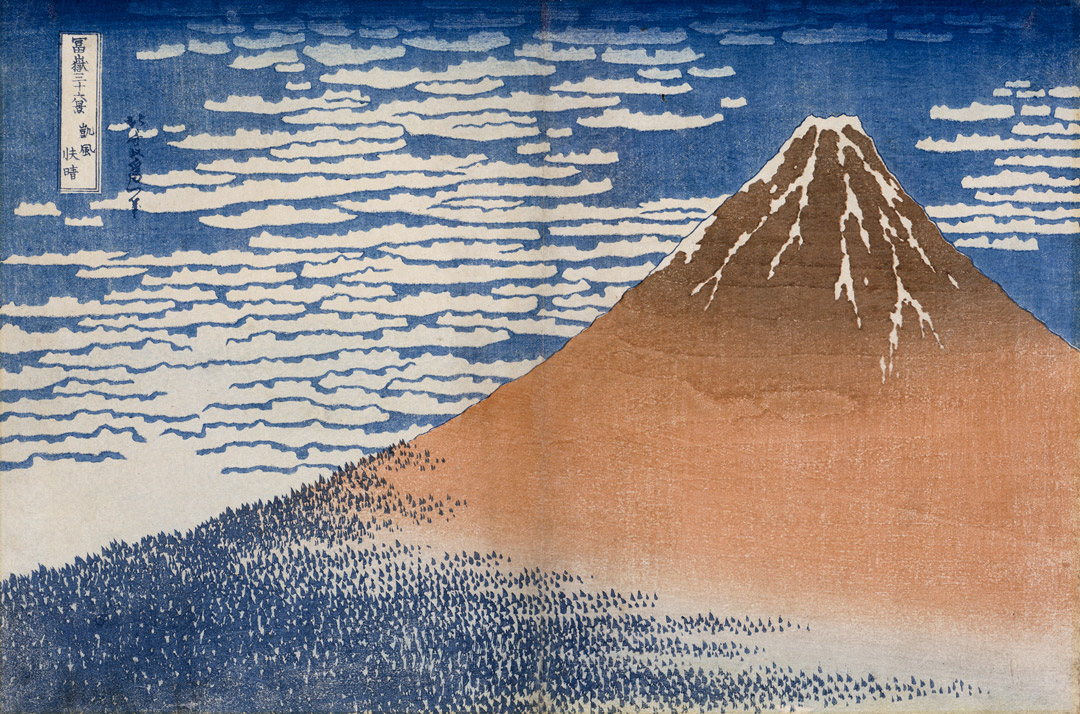 Refined compositions and striking color combinations characterize one of the most recognizable Japanese art forms: the ukiyo-e print. Ukiyo-e are woodblock prints produced during the late Edo period (1615-1868) in Japan. In Tabaimo: Utsutsushi Utsushi, Japanese artist Tabaimo (b. 1975) honors two acknowledged masters of ukiyo-e: Katsushika Hokusai (1760-1849) and Utagawa Hiroshige (1797-1858).
Speaking to their impact on her contemporary work in digital media, Tabaimo explains, "I often copy colors and designs from Japanese woodblock prints by Hokusai, Hiroshige, and others. By adding them to my line drawings, I incorporate 'distinctive Japanese colors' and 'distinctive Japanese designs' into my work. The strong impression and unique power of the prints becomes part of my work, and allows me to complete my original work. Many of my works use this method of art making."
Because Tabaimo is looking back to the artists of her culture's history, borrowing color patterns and design elements, her work feels like the continuation of a conversation. By including some of the same formal elements associated with a traditional Japanese art, Tabaimo picks up that thread of history, honoring it, but also carrying it forward. As her existing and new works are displayed in the Asian Art Museum, interspersed with some of the treasures of SAM's Asian art collection, we can appreciate even better how art history has informed Tabaimo's work, the work of contemporary Japanese artists, the work of contemporary digital media artists, et cetera.
Here, we are highlighting one memorable ukiyo-e from Katsushika Hokusai that you'll find in Tabaimo: Utsutsushi Utsushi. Titled South Wind, Clear Dawn (Gaifu kaisei), the print has been commonly referred to as Red Fuji—which, I have to say, turns my mind to produce, and not landscapes. Nonetheless, we can see why the color of the print has been singled out as the identifying characteristic. The mountain peak is a rich, chocolatey brown, and the snowcap leaks down the mountain into textured trails, like an icing stingily applied. Where the snow trails end, brown fades in a gentle gradient to the soft red for which the print is known. Lower down, an army of conical, gray-blue trees (faded from green) carpets the base of the mountain. With the trees' diminutive size against imposing Fuji, and the way different arms of the forest reach across the mountain's base and up its side, they are like an invading arboreal-ant army. The line of the mountain divides the print cleanly into foreground and background, where a deep blue sky fends off rolling clouds.
Part of the series Thirty-six Views of Mount Fuji (Fugaku sanjurokkei), the Red Fuji would stand out from the rest because it was so rare that the mountain would appear with this hue. It only occurred under special conditions, in late summer or early fall, and when the winds were blowing from the south. SAM's version is from the second printing, notable because the mountain reveals marbled woodgrain, a poetic remnant of the wooden block from which this scene was printed.
As they have for Tabaimo, may the distinctive colors and designs of your histories also lead you forward.
—Jeffrey Carlson, SAM Collections Coordinator
Image: South Wind, Clear Dawn (Gaifu kaisei), from the series Thirty-six Views of Mount Fuji (Fugaku sanjurokkei), ca. 1830-32, Katsushika Hokusai (Japanese, 1760-1849), woodblock print, sheet: 9 7/8 x 14 3/4 in. Seattle Art Museum, Gift of Mary and Allan Kollar, in honor of the 75th Anniversary of the Seattle Art Museum, 2010.15.