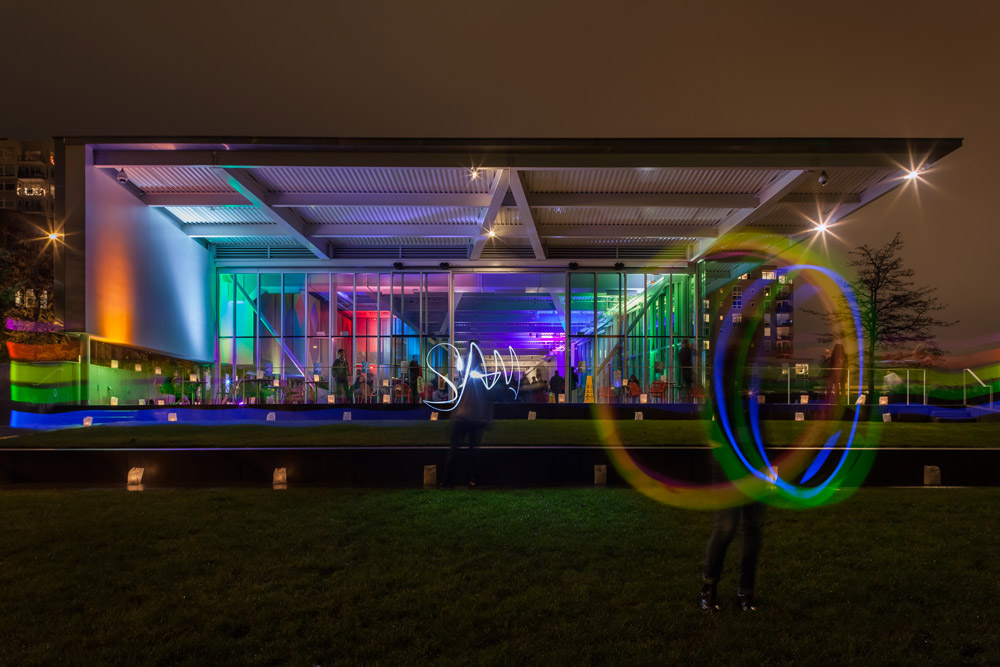 Our second annual SAM Lights event is happening this Thursday evening, December 17 from 6-9pm! To help you make the most of your experience at this popular event, we've come up with a list of pro tips from SAM staff members to ensure a fabulous time is had by your friends and loved ones.
Pro Tip #1: Arrive throughout the evening
The entire evening is filled with art, lights, music, and more. Feel free to arrive at the time that makes sense for you, your family, and your personal preferences!
Pro Tip #2: Get out and enjoy the park beyond the PACCAR Pavilion
Come bundled up and show everyone how Seattle does winter! Take part in the energetic procession of music and light down the Z Path led by the Chaotic Noise Marching Corps at 7:15 pm. Don't miss your only chance to see Andy Behrle's light installation, apparition.
Pro Tip #3: Take public transportation
Garage parking will not be available this evening, so be sure to bus to the sculpture park!
Pro Tip #4: Grab a hot drink
Keep toasty while you explore the park's lights. Buy a warm drink from Taste or Hot Revolution Donuts, or bring your own.
Pro Tip #5: Hang out in the Garage
The Garage will be decked out with lights, DJ Sharlese from KEXP will be spinning for you all night long, and food trucks will be serving up some sweet and savory treats. Check out 314 Pie and Hot Revolution Donuts and take a break from the rain and enjoy your eats in the City Arts Lounge.
Pro Tip #6: Become part of the show
Wear your best light-inspired ensemble and become a part of the art experience.
Pro Tip #7: Take the event program with you
Know before you go by accessing the SAM Lights program from your mobile device at visitsam.org/samlights.
See you there!
Photo: Nathaniel Willson