Get to know Regan Pro, SAM's new Deputy Director for Education and Public Programs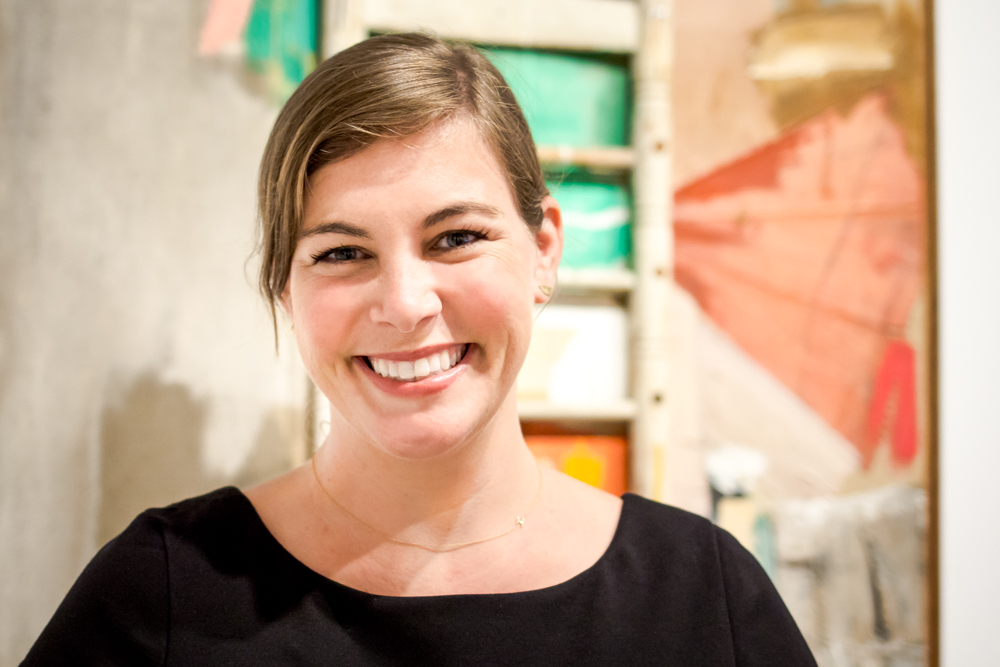 On August 28, 2015, SAM announced the appointment of Regan Pro as the museum's next Kayla Skinner Deputy Director for Education and Public Programs. We sat down with her to ask her some questions about her role, her vision for SAM, and to learn more about her life outside of the museum.
SAM: First off, congratulations on your new role as the new Kayla Skinner Deputy Director for Education and Public Programs!
Regan Pro: Thank you!

SAM: You held your last role for a little over a year, but you're not a new employee to SAM. What will change in your day-to-day as a result of your new role?
Pro: I've been at SAM for six years, and started out as the Museum Educator for School & Educator Programs, and then became the Manager of School & Educator Programs. After that, I became the Associate Director of Education and Public Programs then went on to become the Interim Director, which is the role I'd held since the departure of Sandra Jackson Dumont in June of 2014.
In terms of what will change, we've continued to evolve and grow our programming during the interim period but now I think we will be able to focus on more strategic thinking, and aligning our work to a new vision and mission. This is a chance to make some more long-term plans for the division, which is very exciting.
SAM: What are your goals for SAM in the coming year?
Pro: Some of my immediate goals are: growing the role of our reciprocal community partnerships, embedding a social practice more deeply in our programming, building out new content and programming focused on onsite experiences across the three locations, and to increase staff focus on equity and social justice. I'd like to take a reflective and critical look at how our programming is representing and responding to the communities we serve, particularly as Seattle is changing so rapidly. Additionally, I'd like to grow programming at the Olympic Sculpture Park, especially during the winter season. I'm also thinking more about the Asian Art Museum, and how we can embed it more in the Capitol Hill creative community.
SAM: As a Capitol Hill resident, I think that's very cool.
Pro: Definitely. Focusing on young people, SAM hopes to do some new programming this year that brings more light to creative career pathways. Through programs like Design Your Hood, Teen Arts Group and our school partnerships work, I'd like the museum to be a space to not only foster creativity and youth voice but also give young people new access to creative careers through internships, site visits and partnerships, ideally raising the visibility of the critical role creativity plays in all careers- from tech and beyond.
SAM: That sounds like a fantastic goal and resource for the community. It's also a great segway into my next question: what do you love most about your role, and about SAM?
Pro: I really love my job at SAM and feel grateful everyday that I get to engage in this work. The arts and artists transform people's understanding of what is possible. They are powerful tools for social equity and perspective sharing. There are so many complex, incredible narratives that you can learn from works of art in our museum and so many complex, incredible narratives you can learn from the people looking at these works. I think to advocate for art as a transformational tool from the platform of a museum is powerful. But what I love most about this job is the people, and the relationships that I've cultivated with staff, artists, and community members. I'm lucky to have a job where I share ideas with brilliant, curious and committed people all day long.
SAM: What are you most proud of accomplishing at SAM?
Pro: I'm proud of the work we've done with school partnerships, helping to fill in the gaps of arts education, and of the Creative Advantage program, (which offers free professional learning workshops focused on sharing best practice for K–12 arts learning).
Internally, we've built some great collaboration across museum divisions. Within the department we've helped cultivate a space where everyone can continue to grow in their roles, work on the projects that they feel strongly about, and to develop better best practices at work.
I'm also proud of the moments when we've leaned into our discomfort and asked difficult questions of ourselves as an institution. I hope this is an area where I can continue to push the work.
SAM: Last question: what do you like to do when you're not working?
Pro: I love to geek out on all of the opportunities to experience art and culture in the city. I go to a lot of exhibitions and performances. I'm excited for the upcoming On the Boards and Seattle Arts & Lectures seasons particularly, Alison Bechdel and Ta-Nehisi Coates, coming up soon.
My husband is a musician, and music is an important part of our lives. I also have an 18-month old son, so I have a newfound appreciation for our local parks and libraries. And the more time I spend floating in bodies of water, the better and happier I am.