Sun's Out, Fun's Out: Five Exciting Things to See & Do at the Olympic Sculpture Park This Summer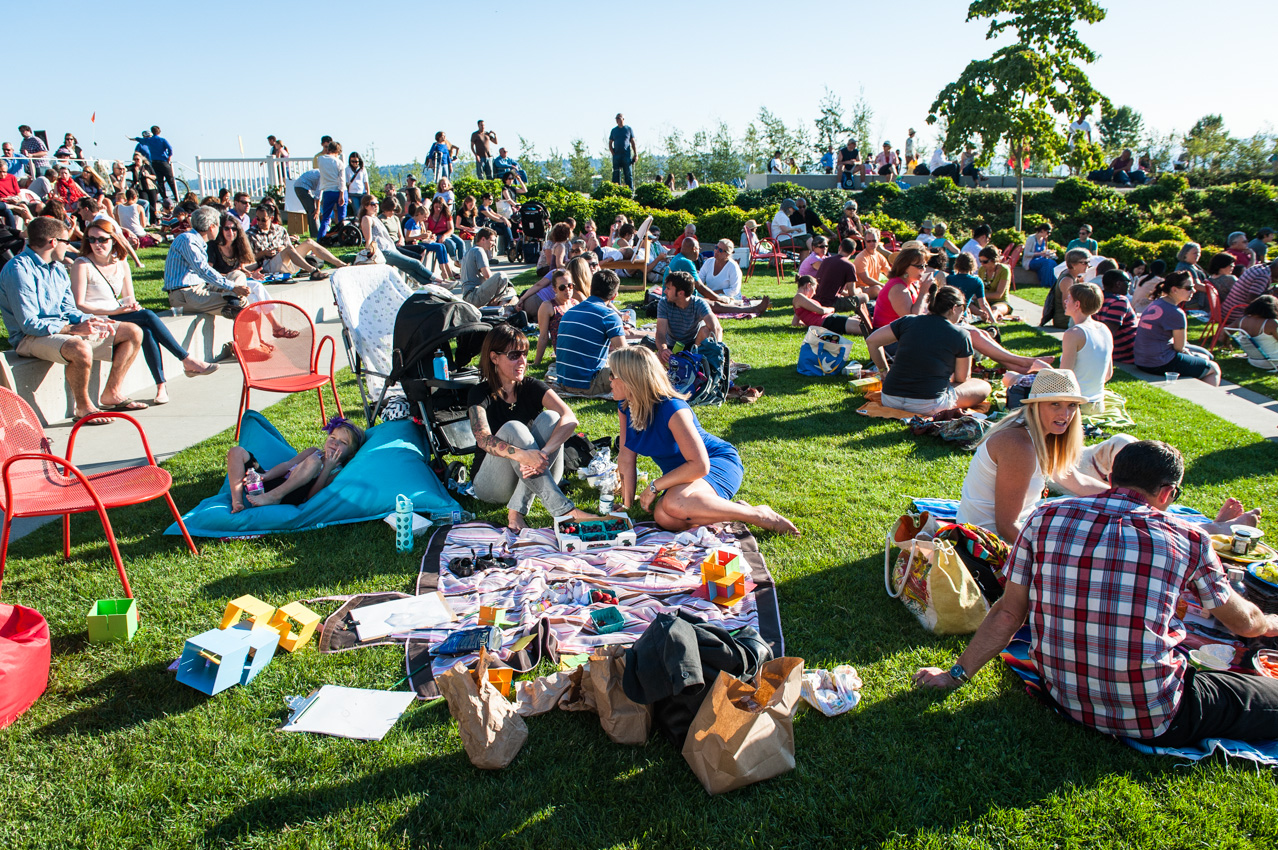 After many overcast months, I want nothing more than to spend as much time as possible outdoors and to enjoy the fleeting Seattle sun. Unfortunately, as a broke college student, I have little money to spend on summer activities. My solution? The Olympic Sculpture Park's free summer programs. So, here are my top five favorite things to see and experience at this summer at the sculpture park.
1. YOU ARE HEAR
Music, and more broadly sound, plays a huge role in my focus and aesthetic appreciation of the world. YOU ARE HEAR, created by respected artist and sound engineer Trimpin, recognizes the complexity of sound. This exhibit is a hands on, interactive approach to the concept of sound and how we as listeners and viewers experience it.
2. Echo
This is a 46-foot-tall sculpture by Spanish artist Jaume Plensa and inspired by the Greek mountain nymph who was cursed by goddess Hera by restricting Echo's speech to be only the words of another. I'm fascinated by Greek and Roman mythology, so this statue struck an academic chord in me.
3. Seven Cubes with Color Ink Washes Superimposed
This piece is absolutely beautiful. On display in the PACCAR Pavilion, this contribution by Sol LeWitt brightens up the sculpture park, and is a joy to see from now until March 8, 2015. I haven't seen it in person yet, so I'm looking forward to seeing it in reality.
4. Food, art, and music
When local music, delicious food, and interesting art are in one place, I'm there. Every Thursday, starting July 10, SAM entices the community with art activities, live music performances, food trucks, and art tours. Because the event runs from 6-9 pm, attendees will get a beautiful view of the waterfront during sunset.
5. Yoga and Zumba
If you're excited about yoga and Zumba, or have never done either before, I highly encourage you to stop by every Saturday (beginning July 12) for free yoga lessons at 10:30 am, and then for Zumba at 2 pm. This is a great opportunity to get the weekend started on a relaxing note.
I'm so excited for everything the Olympic Sculpture Park has to offer this summer. There's something for everyone almost every day of the season. Check out a full schedule of what's happening at visitsam.org/summer.
I hope to see you there!
Erin Dwyer, Seattle Art Museum communication's intern