Electronic Resources at the SAM Libraries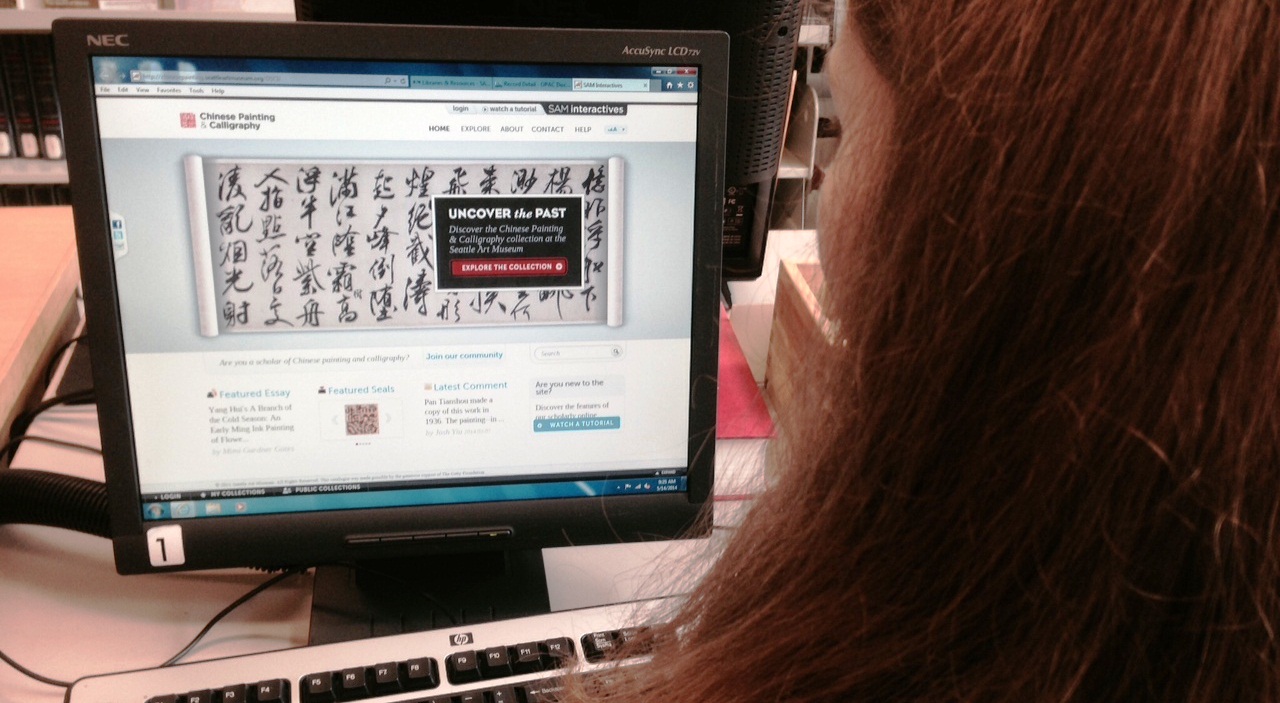 Did you know that in addition to our numerous printed resources, the SAM Libraries provide access to important electronic resources on art and art history through our online library catalogue (OPAC)?
For those digital immigrants among us, "electronic resources" in the SAM Libraries are documents, reports, e-catalogues, and websites that provide research-level information just like printed materials. They're just in digital formats: .pdf files, websites, Google Books, etc.
Here are some great examples:
e-Catalogues: Chinese Painting & Calligraphy (Seattle Art Museum, 2011)
Part of the Getty Foundation's Online Scholarly Catalogue Initiative (OSCI), this catalogue, which allows unprecedented access to SAM's Chinese painting and calligraphy collection, allows you to do things online that could never be done in person: view a thirty foot handscroll in its entirety on the screen, zoom in so close you can see paper fibers, and have marks and text translated with ease.
Reports: Supporting the Changing Research Practices of Art Historians (Ithaka S+R, 2014)
This report, gleaned from 70+ interviews with faculty members, curators, librarians, visual resources professionals, and museum professionals (including several from the Seattle Art Museum), investigates the research practices of scholars and shares how digital resources both enhance and created some challenges for the field of art history.
Collected Papers: Studying and Conserving Paintings: Occasional Papers on the Samuel H. Kress Collection (The Conservation Center of the Institute of Fine Arts, New York University, 2006)
This electronic version of the original print publication records the processes, with an emphasis on elements of discovery, that accompany conservation on paintings in Kress Collections throughout the United States. Many of the works currently on view in the Seattle Art Museum's European galleries are Kress Collection works.
Print to Digital: Native Paths: American Indian Art from the Collection of Charles and Valerie Diker (Metropolitan Museum of Art, 1998)
Published to accompany the exhibition of the same name at the Metropolitan Museum of Art in 1999, this catalogue, originally in print, is now available via Google Books and the Metropolitan Museum of Art. We'll be hosting an exhibition of works from the Diker Collection in 2015.
See the full list of more than 250 resources. Many other online resources from the Seattle Art Museum are included. We're constantly adding new material, so check back often.
To search for any of our library materials, start at the SAM's website. Click on Programs & Learning, then Libraries & Resources. Click on Art Research, then Search Catalogue.
Our library staff are here to help you with any of your research needs. Start here.