Remix: It's Got What You Need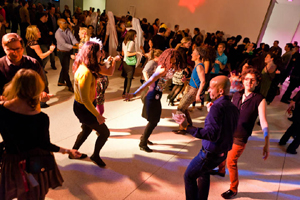 As a brand-new intern at SAM, my very first assignment involved getting up close and personal with the details of the upcoming Remix (as in tomorrow, Friday, June 7!), and let me tell you, the night is jam-packed with good stuff. After learning about all the events, activities, and performances planned, it's no surprise I'm counting the hours until the doors open, and you should be, too!
Every quarter, SAM holds Remix, an after-hours, 18-and-older event, drawing hordes of party-goers to SAM Downtown to get an intimate view of the museum's latest exhibition, test their own art-making abilities at various activity booths, watch some unbelievable dance performances, and, of course, bust a move (or two, or ten) of their own.
This season's Remix event is centered on the Modern exhibition and promises to be nothing short of a modern explosion and an event that you don't want to miss.
Come see SAM after dark, this Friday from 8 pm–midnight, when the lights turn low and the jams turn up.
DJ Riz kicks the night off in the Brotman Forum with an irresistible, groove-inducing variety of soul-meets-pop-meets-hip-hop beats.
As if that weren't enough reason to linger, the Brotman Forum will also play venue to three performances by Seattle's Alchemy Tap Project, whose dancers bring a whole new modern flavor to tap dancing.
Want even more dance?
Head up to the third floor galleries for Modern art-inspired dance vignettes by Seattle-based Salt Horse.
While you're there, take advantage of SAM's aptly-titled My Favorite Things: Highly Opinionated Tours to get a fresh and highly opinionated (surprise!) look at SAM's Collection Galleries. With a wide array of knowledgeable and outspoken guides to choose from, the only way you could possibly go wrong with these tours is by not taking one.
After seeing Fifty Works for Fifty States, you'll no doubt be itching to start an art collection of your own (if you aren't, you might want to get your pulse checked), and SAM's got you covered.
Head to the Chase Open Studio area where artist Joey Veltkamp and other local artists will be waiting to create and exchange mini artworks with you in the SAM Mini Fair; grab a FREE Remix tote bag to store your goods!
If all this dancing, art collecting, and opinion-hearing has you feeling wiped, swing by the Rec Room for libations at the bar and some good, old-fashioned (but not) bingo. If you're envisioning a room in Florida with faded floral prints and a slow-moving ceiling fan, stop right there. This is not your grandmother's bingo (and if it is, you've got one cool grandma).
Hosted by the fabulous members of the Sisters of Perpetual Indulgence, this bingo has a modern (art that is) twist with cards featuring pictures of SAM's favorite modern artworks. One game in, and you'll be dying to make a habit of it (SAM is not responsible for any pun-related injuries).
With all the excitement and endless stream of options offered, you may just feel like a kid in a candy store. If you want to make that metaphorical candy a reality, TASTE Restaurant is open 'til midnight to keep your sweet tooth satisfied. Didn't I say SAM's got you covered?
Whatever venue you favor, be it the dance floor, the art exhibition and galleries, or any of the numerous SAM creates studios (minimalist jewelry making, anyone?), one thing is for certain: SAM Remix has everything you need to make this Friday a night to remember.
-Carter Stratton, Communications Intern
Photo by Robert Wade.