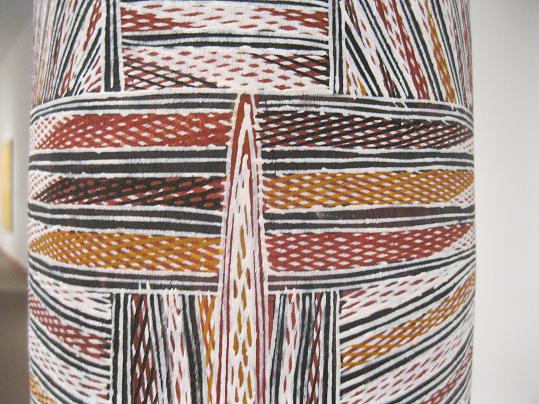 It's the feeling you get from hearing music that makes you want to dance, the break in a revolving and evolving drum beat, even a familiar routine that puts you "in the groove." Of the many definitions one is a reference to those small indentations, or grooves, on a vinyl record that, when it spins, give the needle a track to run on and produce a musical groove. Jazz musicians' use of the term refers to hearing one musician's seemingly effortless playing, and can be heard in the context of "that cat's deep in the groove." This is itself a reference to listening to records and the needle's ability to dig even further into the vinyl at that moment in time.
You can also see grooves expressed in the rhythmic patterns of visual art. This happened to me on a Friday morning at SAM as I explored the collection of Australian & Oceanic Art in SAM's Theiline Pigott McCone Gallery. I wasn't searching for grooves in particular, but looking closely at the elongated hollow log coffins in the Aboriginal Art collection and seeing the striated line work carefully drawn in steady rhythmic cadences I suddenly thought of the grooves both musical and pressed into vinyl records across the museum in the Listening Room's record archive.
These groups of tall Eucalyptus logs signify a place for "sorry business," and describe how the Yolnu, native to Australia's East and Central Arnhemland, practice remembering deceased members of their community in a very different way from ours in the West. During the ceremony bones of the deceased are placed in the logs during ritual dances known as Dupun. The log coffins have been naturally hollowed out by termites, and are then left to the elements following the ceremony. Yolnu artists cover the logs in images of the country and designs of the clan of the deceased using a brush made of long human hair.
The grooves I saw covering the log coffins, the interlocking white lines, represent "deep knowledge, sea foam and ribbons of tide."[1] Bones are infused into the log coffins of the Yolnu to connect deceased people back into the land. I see a further connection here with Theaster Gates: The Listening Room in that both records and the hollow log coffins provide an archive of shared history on aural and visual levels. Both of these customs are contemporary works of art that create and embrace cultural memory and shared history, highlighting the ideas and values of a culture that influenced their design. The jazz in here, or what continues to lure us in, is that they undoubtedly do this with a discernable groove.
-Ryan R. Peterson, Curatorial + Community Engagement Intern 
---
[1] Mundine, Djon. Quote taken from the information placard relating to the Hollow Log Coffins in SAM's Theiline Pigott McCone Gallery.
Last photo: detail of Rirratjingu Larrakitj, (clan coffin). 2003. Wanyubi Marika. Photo by author. 13 April, 2012. JPEG file.