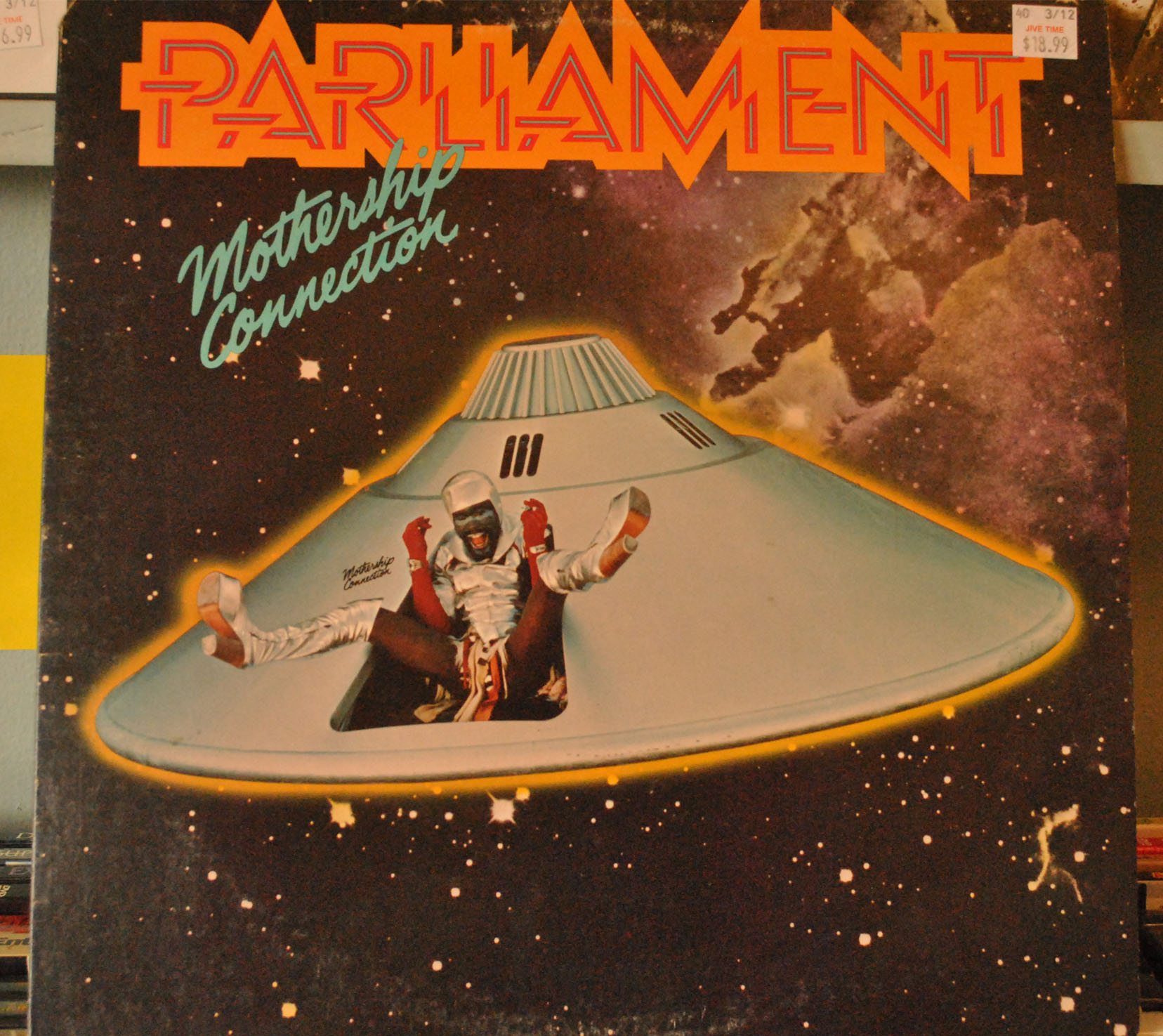 The Record Store, which closed its doors at [storefront] Olson-Kundig January 31st and was featured at SAM's Arnold Board Room during last February's Remix, is due for re-open later this year. I have had a lot of reflections on the energy that project has erupted.
I was alone at the Record Store one day, one of my first volunteer shifts towards the beginning of the store's opening. I was playing records as people filtered in and out throughout the day when I found an album I knew but haven't listened to much on a regular basis: Parliament's Mothership Connection.
I was familiar with Parliament's iconic status as Funk originators and with this album in particular, and I've listened to Funkadelic, the alter-ego band of Parliament. Later, both bands merged as one into P-Funk. I am familiar with the classic album cover and I knew I'd recognize the songs if I played the album. The first track was spinning and I immediately recognized the song, but was a little confused why it was so familiar if I don't listen to this group regularly. Then it came to me that I knew the song from Dr. Dre's The Chronic. The last song on The Chronic, "The Roach (The Chronic Outro)" samples this song, "P. Funk (Wants to Get Funked Up)" pretty heavily.
Of course I recognize a classic funk song because later a hip-hop album, very iconic itself, sampled this original funk classic. Apparently I hadn't researched into Dr. Dre's samples closely enough to already know he used this Parliament song. Once again I'm caught in a time in our culture where I learn to find legendary music of decades before not only from my parents but more through contemporary songs that sample classics of music history. The great thing about this was that I consistently heard other guest selectors at the listening events of the Record Store also play this very Parliament song during their own sets.
Everyone is pointing out that Funk music revolutionized musical creativity, and that later musicians pay tribute by referencing this iconic trend in their own music through samples and funk rhythms. Contemporary hip-hop, R&B and electronic artists and producers are all huge players in the reinterpretation and reference of past musical eras. Through both direct sampling and creating sounds that suggest those of iconic albums or eras of music, recent artists salute the innovation of past artists and evoke the moods associated with the iconic music they admire. The mixing of old and new sounds and the use of references and sampling in general is one of the clear innovations of current and contemporary music. The lines between genres have blurred and  undefinable.  The sampling and referencing of old songs makes them ever more memory-striking and iconic, and for the new generation of music listeners they solidify a history of musical culture. The truly classic records played at the Record Store reach the memories of both young and old generations because of their timeless listening quality and their celebrated influence over time across all types of contemporary musics.
-Paige Smith, Curatorial + Community Engagement Intern